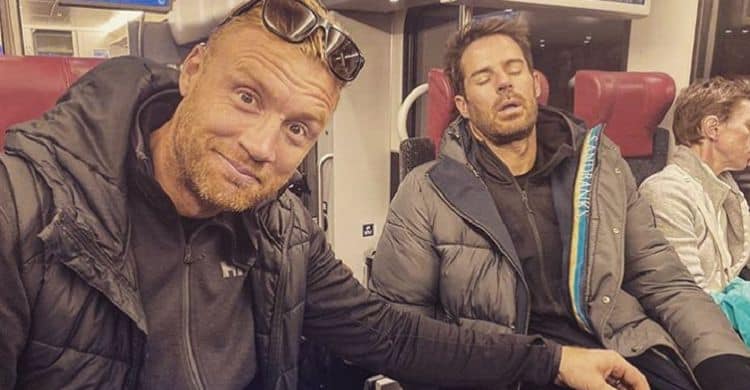 Andrew Flintoff is a former international cricketer, television personality, and entrepreneur who was born in Preston, England, on December 6, 1977. He began his career as a professional cricketer in 1998 and then later served as both the vice-captain and the captain of the English cricket tea. His career in sport was hugely successful, and he has won multiple awards throughout his career. He retired from cricket in 2010, although he briefly came out of retirement to play for Brisbane Heat in the 2014-2015 season of the Australian Big Bash League. Since his retirement from cricket, he has been involved in multiple projects and has become a television personality appearing as a panelist on multiple shows and even hosting his own game show 'Cannonball' and he is a co-host of motoring magazine series 'Top Gear'. Here are 10 more interesting facts about Andrew Flintoff.
1. His Nickname is Freddie Flintoff
Many people do not realize that Andrew Flintoff and Freddie Flintoff are the same person as Freddie is Andrew Flintoff's nickname. He has had this nickname since he was a child and he was given it due to the similarity and the surname of the cartoon character 'Fred Flintstone'. 'The Flintstones' was a popular animation series when Andrew Flintoff was growing up in Lancashire, England.
2. He Was Briefly a Professional Boxer
After retiring from cricket in 2010, Flintoff decided to pursue a career as a boxer. In an interview with The Telegraph, he described this as a big decision that meant a lot of commitment. Despite his commitment to training to become a boxer, he only entered the ring once for a professional fight. This was against American Richard Dawson in November 2012, and Flintoff won on a points decision.
3. Cricket Runs in His Family
It wasn't a surprise for Flintoff's family that he was a talented cricketer who became a professional as cricket runs in his family. His father Colin and his Uncle Chris both played semi-professional cricket. When Flintoff was growing up, his father was the captain of the Dutton Forshaw second XI cricket team, which he juggled alongside working as a plumber and a factory maintenance officer. Colin still plays cricket for the Whittingham Cricket Club near Preston.
4. He is Married with Three Children
Although he has a very busy career, Andrew Flintoff is also a devoted family man. He married Rachael Wools in 2005, and the couple already had a daughter, Holly, who was born the previous year. In 2006, their second child Corey was born while Flintoff was playing in the series in India. The couple has since had a third child, Rocky, who was born in 2008.
5. He is a Reality Television Star
Andrew Flintoff has become a star of reality television, and this is something he began while he was still a professional cricket player. His first reality show was 'Strictly Come Dancing', although he only appeared in four episodes before he was voted out. In 2015, he competed in the Australian version of 'I'm a Celebrity… Get Me Out of Here!', which he won. It was recently confirmed that Flintoff has signed up to take part in the 2020 season of 'Dancing on Ice'.
6. He Holds Multiple World Records
According to CricTracker, Flintoff holds 14 Guinness World Records. While you may suspect that these are related to his career in cricket, that is not the case. He enjoys attempting world records in rather unusual fields and some of his records may surprise many of his fans. Some examples of the records he holds include the most peas eaten with a cocktail stick in 30 seconds, the farthest distance to score a bullseye, the most party poppers popped in one minute, and the fastest 100m Zorbing.
7. He Has Produced a Documentary
In 2012, Andrew Flintoff appeared in a documentary that he had also produced called 'Freddie Flintoff: Hidden Side of Sport'. This was about himself and other sports stars who suffer from clinical depression. Some of those who featured in this documentary included Ricky Hatton, Vinnie Jones, and Steve Harrison. Due to his own experiences, depression and other mental health issues are close to his heart and something about which he wants to raise awareness.
8. He Has Written Several Autobiographies
Another of Andrew Flintoff's talents is writing, and he has already written several autobiographies. These include 'Being Freddie', 'Freddie', 'Andrew Flintoff, My Life in Pictures', 'Ashes to Ashes', and 'Good Times, Bad Times'. These highlight various aspects of Flintoff's life, career, and experiences.
9. He is an Avid Chess Player
This is something that he has loved since he was a child, and he was even good enough for his county. He first started playing the game at school because he had a teacher that ran a chess club. He admits that he didn't have the ability to plan his moves ahead like other players but describes himself as a maverick that his opponents couldn't second guess. This gave him a bit of an advantage, and he often played against older and more experienced chess players. As an adult, he continues to enjoy the occasional game of chess.
10. He Founded The Andrew Flintoff Cricket Academy
Andrew Flintoff wanted to give children the opportunity to enjoy the game of cricket and to have the opportunities that he had as a young cricketer. This inspired him to found The Andrew Flintoff Cricket Academy in 2008. Between then and 2015, more than 150 academies across 50 nationwide venues had hosted more than 10,000 children. He has seen the experience of founding the academy as a way of passing on his own passion for cricket to the next generation.