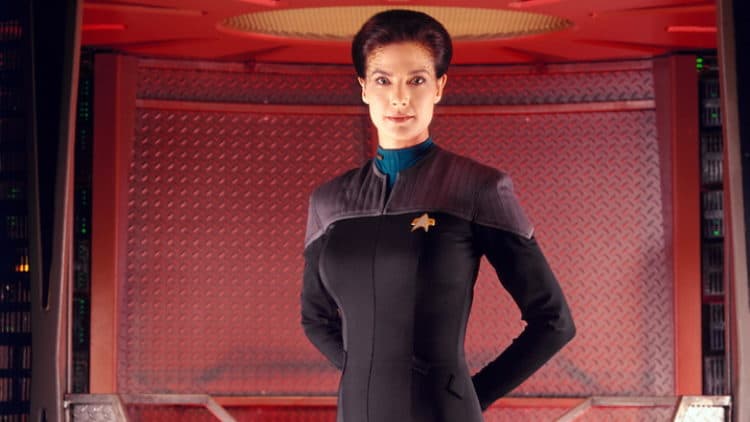 Terry Farrell should be recognizable to few people since she's been a part of a couple of franchises that people tend to gravitate towards, though one is obviously bigger than the other. But for those that enjoy old-school comedy, it's easy to remember where she's been seen before since she played the love interest of Keith Gordon, in the role of Jason Melon, in Back to School with Rodney Dangerfield and Burt Young, among other stars. Trekkies should remember her as Jadzia Dax from Star Trek: Deep Space Nine, a show that she spent a great deal of time on but eventually decided to leave since she wanted to focus more on her family. She did eventually return to the business in 2017 and has been keeping up with her career since. She currently has a project that's in pre-production, providing that the IMDb site has been updated recently, so fans should be able to see her again in the near future if they know where to look. As for anything she's done to date, Terry has had a solid career, but it's also fair to say that she's been one of the many celebrities that can take the spotlight but are usually relegated to a supporting role that keeps her visible but more or less tucked to the side until she's needed.
She has been able to take center stage in her career a few times since one movie that a lot of people should remember since it's retained some popularity over the years is Hellraiser III: Hell On Earth. It's not exactly one of the most sought-after horror movies, but it does have the advantage of being at least amusing and kind of interesting since it delved a little deeper into the Cenobite lore that kept people interested in the franchise. It was a pretty cheesy movie, to say the least, but it was another entry into the saga that at least kept it together by furthering the story instead of retelling it completely. Her part in the movie as Joey, the intrepid reporter that found her way into the middle of Pinhead's bid to infest the world with his kind was kind of amusing as well as worthwhile in a way since had the story been handled any better it might have been a fine addition to the tale and one that might have been among the best since it had a bit of promise considering that someone who knew what they were doing could write the script and fix all the glaring errors in the story that are there to be seen.
But in terms of her overall career and her success, Terry has been someone that people have no doubt enjoy watching since her acting has evolved over time and it's gotten a lot better from one movie and TV show to the next since it's fair to say that there are roles in which she was less than convincing while in others she was every bit as good as some might say that she is. As of now, it feels as though she's been relegated to the status of someone that people know is famous even if they don't know why since the bulk of her fame came before the turn of the century, and unless a person has continued to star in blockbusters or top-rated TV shows then the likelihood that they'll be looked at and regarded as big stars is kind of low. This isn't to say that they're not worth anything, it's simply an indication that they're not considered to be nearly as popular as other stars that have continued to rise throughout their careers and are still at the top of their game for one reason or another. She's a supporting actress at best and that's been able to suit her for a while obviously since as I said, she can step into the spotlight and take on a leading role without too much trouble, but it's a bit obvious that she's been taking on roles that don't demand as much of her and are still able to allow her to do what she's come to do so well over the years.
Being the best when it comes to acting isn't always the main goal even if it's something that many actors strive for since the awards and the bigger paychecks are obviously something that people love to see. But sometimes there are moments when people simply get into acting because they happen to enjoy it and are motivated more by the effect they can have on people than the overall fame that comes with it. Whether this is a driving reason behind Terry's decision to come back or not doesn't really matter, but it's evident that she does enjoy the opportunity to keep doing it.
Tell us what's wrong with this post? How could we improve it? :)
Let us improve this post!