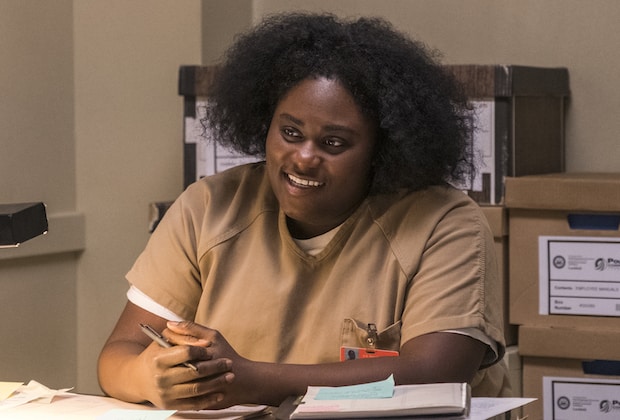 Danielle Brooks is an American actress who is best known for her role as Tasha 'Taystee' Jefferson in Orange Is The New Black. She has recently given birth to a baby girl. Here are ten other facts about her that you may not know.
1. She Grew Up In A Christian Family
She was born in Atlanta but her family moved to South Carolina when she was still very young. Her father was a Deacon and her mother a Minister and so her religion played a big part in her upbringing. It is still something that is very important to her today and she starts every day by listening to Gospel music. Her family has always been very supportive of her career and they are proud of all the things that she has achieved.
2. She Wanted To Be An Actress From A Young Age
She starred in a nativity play at school when she was six and had an interest in acting from this point forward. She told USA today that even though she knew she wanted to be an actress, she didn't know how she was going to achieve this dream because she came from such a small town. She was accepted into the South Carolina Governor's School for the Arts & Humanities for the last two years of high school. This was a residential school and it was the first time that she had lived away from home.
3. She Graduated From The Julliard School In 2011
After she had finished high school she attended the prestigious Julliard School in New York. The acceptance rate to this school is always less than 10% of all applications and so it was a real achievement for Brooks to earn a place here. She credits the training she received at Julliard with making her realize that acting could be the way that she earned a living. She had the realization that she was in an incredibly lucky position to be able to do a job that she loved and that she could do this for the rest of her life if she worked hard enough.
4. The Character Of Taystee Was Only Supposed To Be In OITNB For Two Episodes
When she accepted the role of Taystee in OITNB, it was only a guest role that was supposed to last for two episodes. However, the producers were so impressed with Brook's performance that they decided to make her a recurring guest star for the first season. In season two she became part of the main cast and continued in the role for the remaining seasons of the show. Her character in the show is the best friend of Poussey. She is played by Samira Wiley who became friends with Brooks when the two studied at Julliard together.
5. She Has Taken Part In Lip Sync Battle
EW reports that she performed Living On A Prayer by Bon Jovi when she appeared on the show. She was battling against her OITNB co-star Uzo Aduba. The format of the show usually sees two cast members from the same show go up against each other. The winner is chosen by the audience and Brooks received the largest percentage of votes on this occasion, giving her bragging rights over Aduba.
6. She Has Provided The Voice For Character On Disney Channel Shows
She has also done some voice acting work, predominately for shows that feature on the Disney Channel. She provided the voice of Ruthless Ruth in an episode of Tangled: The Series and Charica in one episode of Elena of Avalor. She also voiced two characters in The Angry Birds Movie. She may do more voice work in the future, although her focus so far in her career has always been TV and stage.
7. She Made Her Broadway Debut In 2015
She made her first Broadway appearance in 2015 as Sofia in The Color Purple. She received a great deal of praise for this role and was nominated for a Tony Award for Best Featured Actress In A Musical. She was also awarded the Theatre World Award for this role, which is an award given to an actor or actress that has given an outstanding performance in a New York stage production either on or off Broadway. She also won a Grammy Award alongside the rest of the cast for the Best Muscial Theater Album.
8. She Was The First Woman Of Color To Star In Girls
According to the Huffington Post, Brooks was the first black actress to appear on the HBO show Girls. This was a proud moment for her and it was a role that she was honored to play. Girls had received criticism in earlier seasons for not being diverse enough and steps were taken to address this. As well as casting Brooks in a guest role in the third season, Donald Glover was appeared in several episodes of season two.
9. She Has Released An EP Entitled Four
She released an EP of four original songs in July 2019. This was made on digital music platforms only. One of the songs 'Seasons' was dedicated to her co-stars from OITNB and will feature in the final season of the show. She sees it as a tribute to the friendships they have formed and the journey that they been on together. She has described the EP as four songs that reflect her as a person and as an artist.
10. She Has Kept The Identity Of Her Baby's Father Private
She has only ever referred to the father of her baby as D. There have been reports that his name is Dennis but this has never been confirmed. It is not believed that he is part of the entertainment industry and so it may be his choice to keep his identity private. This privacy over their relationship may increase now that their baby has been born so that they can enjoy their time as a family without media intrusion.