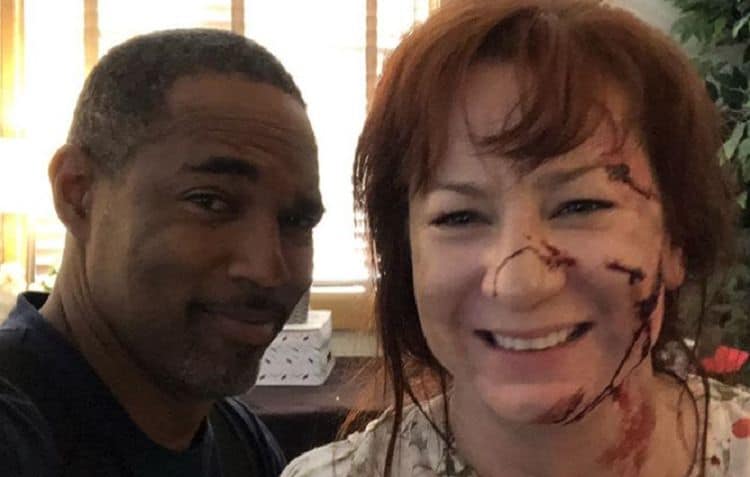 One of the people who have been in the acting industry for a long time and yet to win any awards is Jason George. If you are a fan of "Greys Anatomy," "Sunset Beach," and "Eve," then Jason might not be new to you. He was born in a military village on February 9, 1972. He got to acting after trying other fields, and that is why he is better known as a journeyman actor. When he decided to be a full-time actor, he decided to pursue a course in acting. Jason started acting in 1997, and due to his excellent performance, he went ahead to be in the cast of many other films. You must be curious to know more about this journeyman actor, and below are some facts about him.
1. He wanted to become a lawyer
Although we know Jason as a great actor, acting was not his dream profession. He wanted to become a lawyer but later discovered his interest in acting while in college. When he graduated in 1994 from the University of Virginia, he was sure to venture into law, but things changed. He went for an audition that changed that helped him switch gears. He was about to receive a Master of Fine Arts degree but went for an audition that diverted all his attention, and he decided acting was a much better option.
2. He is trained in fight choreography and stage combat
Apart from acting, George has other skills. He likes to keep fit and has experience in fight choreography and martial arts. Being a choreographer, Jason can also dance, tumble, and juggle. He has also acquired training in martial arts and is also into football. Most of these additional skills were obtained from sheer curiosity, but he now enjoys doing them all.
3. He is married
Jason is married to Vandana Khanna, who is an Indian-American. Vandana is an author and a poet who was born in New Delhi. According to Answers Africa, Jason and Vandana met while they were pursuing their studies in the University of Virginia. The two started dating while still in college and later married in 1999. They have three children together, Jasmine and the twins Nikhil and Arun. He lives with his family in California.
4. He once had a tragic car accident
Jason once had a near-death experience with his wife, Vandana, when she was eight months pregnant with the twins. Their car got into a scary accident, and considering that the wife was pregnant, they thought it could lead to a miscarriage. Thankfully, the wife survived the crash and did not suffer from many injuries. She, however, had to undergo an emergency C-section after the accident to save the babies. Thankfully, the twins were safe, and the incident remains a chilling memory for the couple.
5. He is also a philanthropist and a political activist
Apart from modeling and acting, Jason has an interest in politics. He uses his love for politics to support his fellow actors, who might not have the chance to explore their full potential. Jason serves in charitable establishments and leads a workshop that houses actors. He is in a union that represents people in different professions within the entertainment industry to help fight for diversity. He feels that some of the best actors may not get an opportunity because of their race hence fights for them. Additionally, Jason promotes young talents since he is passionate about educating young people.
6. He once faced discrimination in Hollywood
Jason was once a victim of discrimination in Hollywood hence his determination to promote equal opportunity for all. The main reason for his discrimination was because he was black. Jason now believes that people of different races can bond together to make their lives better. According to Article Plus, Jason says that he had to fight for himself having seen that the producers were against him being in the cast. He says that they could not get the story right until they had a black actor.
7. He is worth $1.5 million
Jason's wealth is worth $1.5 million. Most of his wealth comes from his acting and modeling career. He is also in the advisory board of organizations of actors and participates in the advertisement for products for companies. Apart from his job, Jason is also an investor, mainly in real estate.
8. He was nominated for Emmy awards in 1999
In 1999, Jason was part of the contestants for the Emmy award. By then, he was in the cast of "Sunset Beach." Jason got a nomination for the award as an outstanding young actor in the drama series. Jason's part by then was that of a young person who navigates around the love life successfully.
9. It was hard for him to switch his role in acting from a doctor to a firefighter
In an interview with a Capitol File, George says that switching from the part of a doctor to a firefighter was a hard task for him. He says that cops can be good or bad, but firefighters are the only ones who can rescue you. He finds a firefighting role in the series to be very demanding since all the people will have their eyes on you to save the situation. As a doctor in the play, he says that some people are afraid of hospitals, and hence it was not much demanding. He, however, feels that he is equal to the task and is ready to deliver his best.
10. He is also a storyteller
Apart from acting, Jason is also a great storyteller. He says that he has been through many stories and always finds it enjoyable narrating them. Jason also loves hearing stories and comparing them with what he comes across in life. He says that the habit goes hand in hand with acting since he also tells stories in the films. Luckily for him, he never lacks an audience since his wife gets to listen to his nonstop narrations.