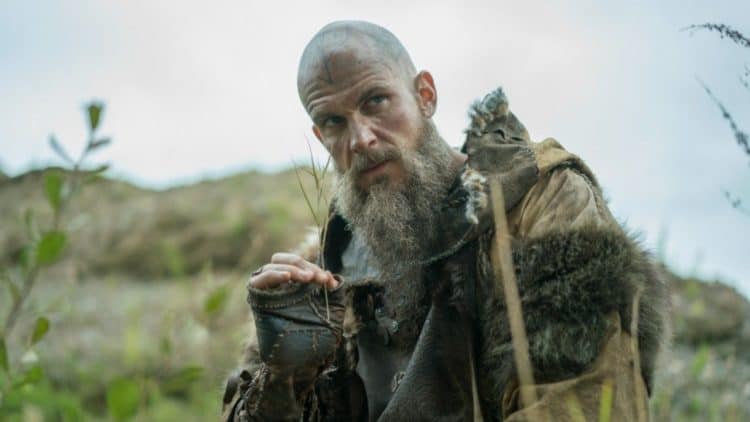 Gustaf Skarsgard, best known for his role as Floki in Vikings, is more than just a talented actor with a penchant for eyeliner. With a rich history in the film industry and a famous family, there's much more to this Swedish star than meets the eye. Here are ten things you may not know about Gustaf Skarsgard.
1. A Unique Childhood
Born on November 12, 1980, in Stockholm, Sweden, Gustaf Skarsgard had an unconventional upbringing. By the age of eight or nine, he was already working in the film industry, with his first role in Täcknamn Coq Rouge in 1989. Since then, he has appeared in numerous Swedish films and TV shows.
2. A Family of Stars
Gustaf's father, actor Stellan Skarsgard, has eight children, seven of whom are boys. All but one of the Skarsgard siblings are involved in the entertainment industry, either in film, TV, or modeling. With all the men in the family towering over six feet tall, they certainly stand out in a crowd.
3. An Impressive Filmography
Gustaf's filmography boasts over forty shows and movies, many of which are in Swedish. Notably, he provided the voice of Stan Shunpike for the Swedish version of Harry Potter and the Prisoner of Azkaban. This prolific actor has been a part of movie and TV history for two-thirds of his life.
4. A Multitalented Artist
In addition to his acting career, Skarsgard is also a writer and occasional director. Growing up in a theatrically inclined family, it's no surprise that he developed a diverse skill set in the industry. While we love his work both in front of and behind the camera, we can't help but crave more of his on-screen performances.
5. Award-Winning Performances
Although Gustaf hasn't received any awards for his work on Vikings or Westworld, he has won several accolades throughout his career. These include the EFP Shooting Star at the Berlin Film Awards in 2007, the 2004 Screamfest Festival Trophy for Best Actor in Den osynlige, and the 2007 Guldbagge Best Actor for Förortsungar. With his exceptional range and versatility, we expect many more awards in his future.
6. The Mystery of Westworld
After his beloved role as Floki in Vikings, Gustaf moved on to play Karl Strand in Westworld. However, much like Fight Club, actors on Westworld are sworn to secrecy about the show's plot to prevent leaks and spoilers.
7. Overcoming Personal Struggles
Growing up in a famous family and working in the film industry from a young age can take its toll. Gustaf has admitted to struggling with alcohol and drug use in the past, but he has since overcome these issues and now maintains a clean and sober lifestyle.
8. Sweden's Royal Family
The Skarsgard family is to Sweden what the Kardashians are to America. Paparazzi frequently follow the family, who are just as famous in their home country as Kim and her sisters are in the US. With a well-known family and a successful career, Gustaf was already a household name in Sweden before making a splash in the States.
9. A Private Love Life
Gustaf was married to actress Hanna Alstrom from 1999 to 2005, but the details of their relationship and subsequent split remain private. Gustaf is known for keeping his personal life under wraps and rarely gives interviews about his relationships.
10. Embracing Baldness
Gustaf has been open about his sensitivity regarding his hair loss, but we think he rocks the bald look with confidence. It sets him apart from his famous brothers and allows him to stand out in a family where almost everyone is in the same business.
Final Thoughts
Gustaf Skarsgard is an exceptional actor, and we're grateful he has transitioned from Swedish film to share his talents with a global audience. From his unforgettable role as Floki in Vikings to his intriguing character Strand in Westworld, we eagerly anticipate whatever comes next for this talented star.