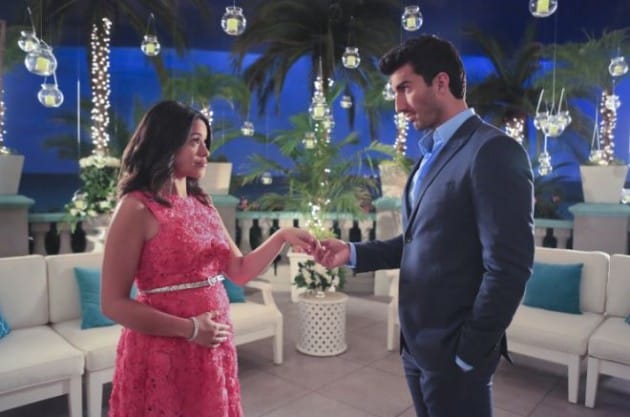 It's springtime and love is in the air on Jane the Virgin. Love and all that that entails that is, meaning babies, love triangles, and telenovela daydreaming.
Fresh off the news that their baby is healthy, Rafael and Jane are happier than ever. That doesn't mean that Jane thinks they are ready to move in together, though. By now, we know that Jane is practical to a fault. While she may be creative and bold in her writing, she doesn't quite feel the same way about real life. So when Rafael stages a romantic proposal during a reading by one of Jane's favorite authors, her response isn't what he hoped. She needs time to think about whether or not Rafael knows her to her core, according to Alba. It doesn't help that she keeps running into Michael who knows her very well, but is no longer apart of her life.
Jane gets the idea that she should test Rafael to see how well he knows her. Rafael passes, but is hurt that Jane would resort to that. Eventually Jane does turn down Rafael's proposal (while I shed a tear of disappointment). Neither one of them question their love for one another, but they are in different places in terms of how they handle life changes. Jane always has a plan, while Rafael goes for what he wants. They're going to have to learn how to reach a balance before the baby comes, and especially if they don't want Michael coming in between the two of them.
Meanwhile, Jane's parents are having a very confusing week as well. Rogelio is happiest now when he is with Xiomara, but working on his longtime rival's show is becoming very frustrating. When Xiomara announces that she might be pregnant again, Rogelio has what I imagine was his response the first time he and Xiomara had this conversation. Jane's reaction isn't any better. When it turns out Xiomara isn't pregnant (and what a relief since it doesn't get any weirder than having an aunt or uncle the same age as you), she's forced to confront what she wants for her future. Xiomara is the one who really needs to take things one step at a time. So after an honest conversation with Rogelio, in which they both agree they don't regret being together, they decide to move in together.
Finally, Petra is out to conquer the world and step on anyone who wronged her. This week, she has her sights set on Lachlan, who is determined to bring her down with a recording of the time they slept together. Lachlan hopes to recruit Rafael to his cause, but Rafael sees that siding with Petra would be better in the long run, so instead he warns her of what is coming. Petra actually makes a sound business decision. She decides to release the tape herself, tell the Marbella board members that her computer was hacked, and work alongside Rafael full-time since he saved her twice from making a fool of herself. It's too bad Rafael doesn't have the radar to detect another bad apple. It would seem that Aaron Zazo isn't as squeaky clean and peace-loving as everyone thinks. Can't wait to see what he's up to.
Will Michael come between Rafael and Jane? Is the Rafael and Petra partnership an unholy alliance? What do you think Aaron is really up to?
[Photo via The CW]