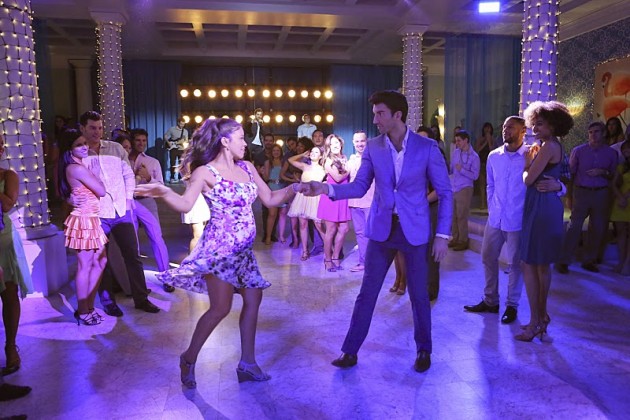 This week on Jane the Virgin, everybody needs to learn the tough lesson that life is not a fantasy.
Jane and Rafael are on shaky ground after she turned down his proposal last week. Instead of confronting the issue head-on, Jane chooses to bury herself in her writing. Too bad she can't focus because of her problems with Rafael. Enter the lovely Jane Seymour, playing romance writer Amanda Elaine, who is leading Jane's romance writer's club. You would think this would be the perfect solution to Jane's writer's block, but her scattered brain leads her to make a mistake in the meeting. Amanda ends up giving her some good advice, telling her that the problem isn't always where you think it is. Which is why Jane puts her foot down with Rafael, refusing to be the bad guy because he moved too fast, too soon in their relationship.
Rafael is also trying to focus on work on the Marbella. He gets Rogelio to ask an international pop star to perform at the Marbella during a dance competition. What neither he nor Petra count is them becoming said pop star's dog babysitter. Following a rather hilarious game of hide-and-seek with a dog (who turns out to really belong to the pop star's assistant), Petra and Rafael end up being in a very honest place. Despite the fact that Petra and Rafael are no longer married, they still know each other very well. Petra ends up giving Rafael some insight into his thought process when he proposed to Jane. Rafael realizes that he proposed too soon because he was afraid of losing Jane and the family they're creating, because his own fell apart so fantastically. So after re-solidifying his relationship with Jane, Rafael decides he finally wants to find out what happened to his mother.
A happier couple this week is Rogelio and Xiomara. The happy couple are moving in together, while accommodating Rogelio's pickiness. You would think that Alba would have been upset over hearing the news, but she seems fine with it. The operative word being seems okay with it, since she didn't actually believe her daughter was serious. The thing is this is the one decision that Xiomara actually has thought a great deal about, and is serious about, no matter her mother's objections.
In one of the most awkward and bizarre storylines yet (and given that this is a telenovela, that's saying a lot), Rogelio is struggling with his new TV role as a space detective, and so asks to shadow Michael around. He seems more Team Michael than Team Rafael, as he's royally ticked that Rafael didn't ask him for permission before asking Jane to marry him. Michael's insane impressions work to solidify this burgeoning bromance in an even more bizarre way. Rogelio proves to be helpful in a roundabout way when he uses his fans to help the police capture a suspect. Turns out to be a dead end in the case, but at least Rogelio was helpful. It's nice that things are somewhat looking up for Michael, especially since he gets a big surprise in the final minutes when his ex-girlfriend comes back to town. So Michael will be getting more screen time as he deals with old flames, not to mention the new piece of the puzzle Aaron brings him in the form of Zaz's secret USB drive.
So amid the dog chases, the criminal catching Twitterers, and the outrageous fantasy dance sequences, it's clear that life's best moments are the ones in which being honest and genuine brings two people together.
Are Jane and Rafael finally back on track? What trouble will come if and when Rafael is actually able to locate his mother?
[Photo via The CW]