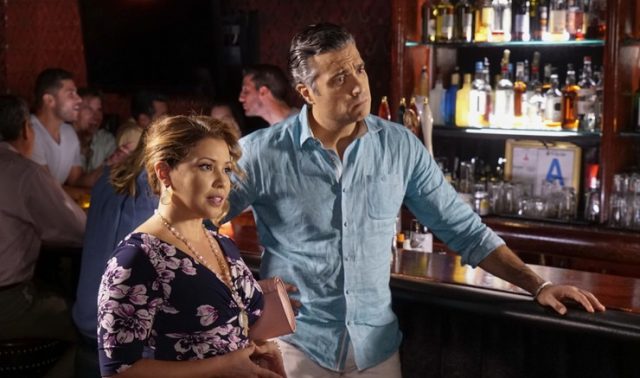 Jane the Virgin finally returned this week after a long winter break. This is one show we need in our lives, which is why those winter breaks seem extra long. Luckily the wait is over and we have a lot to discuss. While Jane's love life is finally settled, the drama with her parents is only just beginning. Jane tries to adopt not meddling into her personality, and let's just say it doesn't go over well. Jane wouldn't be the Jane we love if she didn't care so much about helping the people she loves. (And don't think we didn't notice that "I'm With Her…and so was the rest of the popular vote". Nice one!)
The good news is that Jane and Michael's marriage is solid. Jane does what she does, running around trying not to meddle (and failing). Jane can try all she wants, but she simply cannot keep quiet when she finds out her cousin Catalina has a husband. Catalina hasn't been at all forthcoming with Jane and Rafael since she's arrived, but Rafael believes Catalina when she says she is getting divorced. Jane meddles because Rafael tells her to be honest with him, but it strains the relationship between Jane and Catalina. In the meantime Michael does what he does, which is desk duty until he surprises Jane with the news that he's quit his job. After trying his hand at comedy, which Mateo finds most amusing, Michael has to seriously consider what kind of a career he can see himself in long term. Being a lawyer actually sounds like a fantastic idea! It's perfect for someone who already has a knowledge of law enforcement, and it's something Michael can be passionate about and support his family with. That's not to say law school will be easy. Michael still has a long road ahead of him, but the goal will be worth it.
It's a good thing that Jane's marriage is so solid because her parent's love lives are positively dizzying. Xiomara and Bruce have definitely not earned Jane's seal of approval. Jane can barely get through a conversation about Bruce without gagging, and she's convinced that her mother has brainwashed Alba into giving Bruce a chance. As much as Jane tries to hold her tongue, she can't when she sees Xiomara crying. As it turns out, Bruce's daughter is as happy with the situation as Jane is. For this reason Jane comes to feel a little more sympathetic towards Bruce, and a little less towards Xo. Now the shoe is on the other foot, and Jane can't help but think of how Bruce's daughter must be feeling. One last time Jane meddles in her mother's personal life, but this time it works out. After a rather uncomfortable conversation with Bruce's bratty daughter, everyone starts to get along a little better.
I'd say Rogelio's love life is much better, but all I can say is that it's more complicated. If you're just looking at the facts it seems simple enough. Rogelio wants to have a baby, Darci wants to have a baby, and both of them are alright without a relationship. Anyone buy that? Yeah, me neither. There's always emotional attachments and complications when you have a child with someone. Now to their credit, Rogelio and Darci agree on everything. Considering Rogelio wants the baby's last name to be "De La Vega Factor", we can go ahead and call Darci his perfect match. Unfortunately, Xiomara is not supportive of Rogelio and Darci's relationship. Alba has to remind her not to be the pot to Rogelio's kettle, so Xo backs off a bit. Everything seems to be going along well, until Rogelio realizes (in an absurdly awkward way involving nudity) that he might have feelings for Darci. The woman is nothing if not practical, making it clear to Rogelio to get over it for the sake of their agreement. Considering how passionate Rogelio is, let's see if he can actually keep his word on this one.
Truly Rafael is having the worst week, nay year. It's not as if Rafael's life has been turned upside down, inside out, and regurgitated in humiliating form several times over in the past few years. Finding out that he was secretly adopted definitely takes the cake. Now Rafael can't help but look back on his life and wonder if his Dad hated him because he was adopted. While we can't ask Emilio in the great beyond if he knew, Emilio can still mess with his son's head. Before he died Emilio added an addendum to his will saying that his estate was to be divided among his biological children, meaning not Rafael. Rafael's lawyer claims he's safe so long as no one else knows about the addendum. Cue Petra, who is positively fuming after finding out Rafael and Scott were colluding behind her back after everything she'd already been through.
On the bright side, isn't it nice that Jane can at least have limited drama in her own relationship? If only all newlyweds had that.
Jane the Virgin Season 3 Episode 8 Review: "Chapter Fifty-Two"
Summary
Jane the Virgin returns from winter break to deal with the dizzying relationships Jane's parents are in.