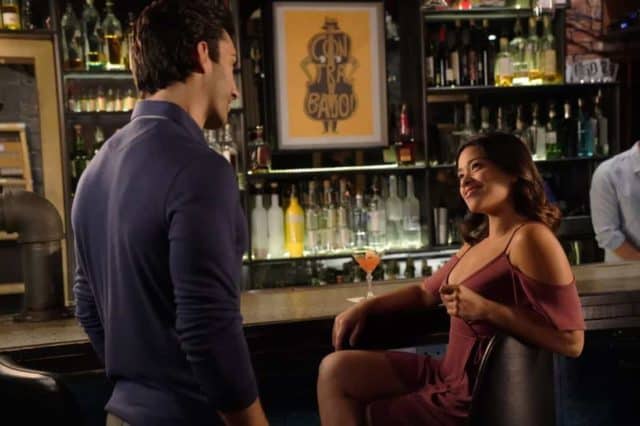 Temperatures are running hot on Jane the Virgin. Almost everyone on the canvas is having 'woke' moments, most of the intimate variety. There's the 'Jafael' moment we've been waiting years for, and then there are some fantasies that, while not completely out of left field, get some people much more open about expanding their comfort zones. And when I say expand, I mean a wide, unexpected margin.
Because Petra is so devious and business savvy, we've always assumed great things about her intelligence. Petra is very smart, and the Marbella definitely wouldn't have survived as long as it has without her. However, I don't think Petra knows what a book is. The whole point of Jane being her ghost writer is so that Jane can formulate a style, and Petra can focus on the content. But honestly, there has to be some kind of collaboration. It can't just be a dictation. Jane can't just shadow Petra around and write exactly what she sees. Petra probably wouldn't come off looking very well if she did that. And given the way the investigation into Anezka's death is going, Petra needs to look well in the public eye.
We now know that 1) Anezka's death was not an accident, 2) someone is trying to use JR to set Petra up, and 3) Petra is terrified that her mother is going to get to her children. That last part should definitely be included in the book. Whatever Petra's faults, she would die for her children. JR sees that, and vows to help Petra for real. But if she wants to help her new friend, it will come at a price for herself. I say friend, because the chemistry between these two has been building. And judging by Petra's awakening dream, she's beginning to realize it too.
As predicted, being a stay-at-home dad has Rogelio bored out of his mind. Xiomara's suggestion that he go to a parent-child class to relate to the other stay-at-home parents was a good one in theory. Rogelio needed some adult conversation. But Rogelio has a tendency personality trait of making things all about him. Thus, he determines that he has Male Postpartum Depression. You want a bunch of women to bash you on Twitter? Mansplain to them about their hormones. Rogelio's actions spark a Twitter feud with River Fields (guest star Brooke Shields). They take their fight to "The Talk". Rogelio was dead meat before he walked into the room. But the publicity from that debacle gets Rogelio's American telenovela greenlit. Though we're all happy for Rogelio, this wasn't the nicest, cleanest way for him to get what he wanted.
Did anyone ever think Alba would consider internet dating? No, that may work for some people, but Alba had enough trouble feeling comfortable with Jorge. She needs to meet people the old-fashioned way-in church! Unfortunately, because no one knows Jane and Rafael are secretly dating, Alba sets up a double date for them. The date goes great, for Alba. Jane's set-up is in her same situation. He just wants to see his grandfather happy. Alba's date goes swimmingly, but she still has Jorge on the brain. Now we get to the real reason Alba didn't accept his proposal. Alba has not been intimate with a man in over 30 years. That is a long, long, long time.
Jane is better than most at getting Alba out of her shell, but a sex shop? No. The environment does more for Jane, who becomes more assertive, encouraged by Petra's voice in her head thanks to the dictating. And as soon as Jane asserts herself with Petra, they come to an agreement about the book. Alba eventually gets brave too.
At first, Jane and Rafael are hot, hot hot. As soon as their real life comes barging in, they are cold, cold, cold. They've always had to put work into communicating with each other. If they have an argument, Rafael shuts down, Jane judges, and eventually they open up and work it out. It's a process. We just have to live with it, since it is not likely to change. Even I was a little thrown when Mateo asked why Rafael has never looked for his biological parents, so imagine how he must have felt. They just need to see if their differences make or break them. At least they are on the same page with their chemistry. Jane is no longer a Rafael virgin! Plus, we got a redo of the season opening's shower scene.
Jane the Virgin returns March 1 on The CW.
Jane the Virgin Season 4 Episode 10 Review: "Chapter Seventy-Four"
Summary
In the final seconds of this week's Jane the Virgin, the show and its heroine reach a milestone four years in the making.