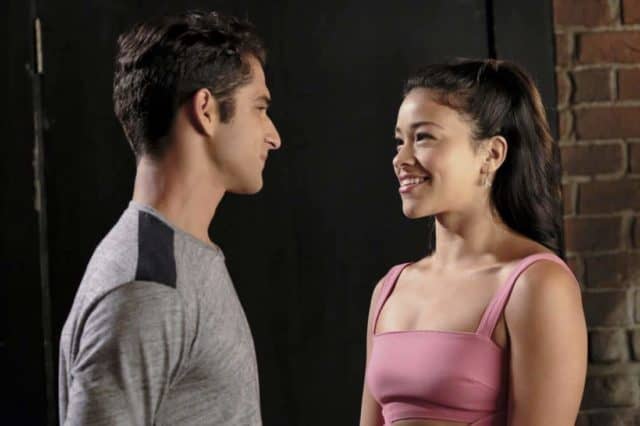 Jane the Virgin returns this October for its fourth season, and now we've got a new promo video to add to our excitement. In addition to all our beloved favorites, this season welcomes Teen Wolf's Tyler Posey as Jane's first love, who viewers got a glimpse of in the final seconds of the Season 3 finale. Posey's reunion with Jane and the Villanueva family will complicate the potential love triangle that was already brewing when the season drew to a close, but that wasn't the only surprise that was teased for this upcoming season.
Here's what we know so far about Posey's character Adam: he was Jane's first love, he is a comic book artist whose life is as carefree as Jane's is tied down, and in a moment of cosmic coincidence, he found the letter that Michael wrote to Jane before he died. While Jane's feelings for Rafael seemed to be bubbling back to the surface during her parent's wedding, early photos of the season premiere show that Jane might be willing to give Adam another shot. This may be helped by the fact that despite the potentially violent confrontation Petra was about to have with her sister, the promo shows a slightly disheveled Petra questioning Jane's feelings for Rafael.
But if you think that MTV's biggest drama star is jaw-dropping, that's nothing compared to Rogelio sans boundaries. Let's just say there is a short list of things you wouldn't want shown on Instagram, and Rogelio accidentally breaks that rule. If all of that doesn't entice you into Season 4, there's a certain shower scene between Jane and Rafael being teased! There are other questions that the video prompts. How did Petra's confrontation with Anezka end? Why do Rogelio and Xiomara look so horrified? How will the newlyweds adjust to Rogelio and Darci's new child? Does anyone know who they want besides the newlyweds?
https://www.youtube.com/watch?v=SVsiAwKOCHU
All these questions and more will be answered when Jane the Virgin returns to The CW Friday, October 13 at 9pm.