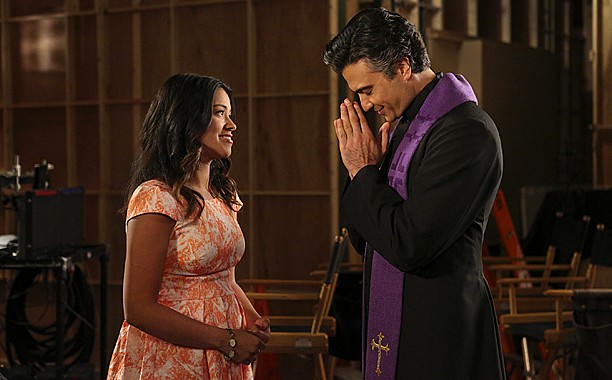 Welcome to my first review of Jane the Virgin! Let me start off by saying I can't watch this show without smiling, and I believe what Gina Rodriguez said during her Golden Globe acceptance speech, that her award "represents a culture that wants to see themselves as heroes." Latinos as a whole are too often portrayed in a negative light in television, and this show wins my personal praise for breaking boundaries simply by showing the world a true culture. Okay, now that I've got my soliloquy out of the way, and made myself tear up, let's recap what's going on in Jane's world this week (excuse me for the number of times I'm about to "aww").
So, at this point Jane is committed to being with Rafael as they get ready for their baby. However her mother Xiomara, out of continued loyalty to Jane's former fiancée Michael, very blatantly shows her disapproval of her daughter's new beau. Jane, ever the peace-keeper since childhood, decides to set up a family dinner so that Rafael and Xo can bond. Yeah, because family dinners with new members always go over well. At the same time Jane is offered a permanent teaching position at the Catholic school she's been working at, as well as a writing internship for Rogelio's telenovela. Rock, meet hard place. More on that in a minute.
Despite Jane's persistent training with Rafael, things go horribly south when the debate of Jane's career choice comes up, and Rafael makes the mistake of telling a room full of hard laboring Latinas that he will always take care of Jane financially. Yeah, speaking from experience and close observation, not smart at all.
Given all of this, it's shouldn't be a surprise that Xiomara's bad mood has only escalated since she took her vow of chastity in her mother's hospital room. Since she and Rogelio have been getting closer, he is undoubtedly confused when she makes out with him, throws him out, and then refuses to have their pelvises touch even for a hug. Xo is afraid Rogelio won't want her anymore once he finds out about her promise, but Alba reminds her daughter that Rogelio will wait for her if he thinks she's special and worth waiting for. Turns out, Alba's advice ended up working out just as she thought, with Rogelio agreeing to wait to be with Xiomara (awwww!).
Jane spends the episode trying to prove that she can do everything that she wants, including peace-maker. She finishes out her teaching, continues working, tries to manage her family, all while trying to write a scene for the telenovela to prove her worth as a writer. It is actually the men in her life who speak some true wisdom this week. Rafael, who becomes more affectionate towards the mother of his child everyday, tells Jane to follow her dream, but that she needs to slow down and realize it's okay if she can't do everything at once. Rogelio, who makes a newbie dad blunder by giving constructive criticism of the scene Jane wrote, makes up for it later when the head writer of the telenovela compliments Jane on her talent. He tells his daughter that she shouldn't look for validation for her work from others, but within herself. We continue to see that while Rogelio may not always get it right, when he does, he is awesome. So Jane decides to follow her writing dream in the end.
Rafael, to his credit, keeps a cool head throughout the whole episode given he begins investigating his own father to see if soon-to-be Grandaddy Emilio is a big bad drug dealer. Not a lot of progress is made on that front this week, but we're getting there. Where he does eventually make progress is with Xiomara. After a rocky dinner, and an even worse apology from Xiomara, Rafael continues to prove how much he cares for Jane when her sleep deprivation gets her into a fender bender and then the hospital. Mother, father, and grandmother-to-be end up bonding over the baby kicking (AWWWW!), and we start to see Xo's frosty demeanor melt a bit.
Elsewhere in the episode, Petra alternates between hiding out and running scared, utterly petrified that her ex Milos will find her. She eventually confides the whole truth to Lachlan, who in turn moves her and her mother up to a secure penthouse for their safety. But before we can get the "a" in "aww" out, Lachlan uses a tidbit Petra let slip about Milos' calling-card, yellow tulips, to scare her to death. It's clear Lachlan intends on keeping Petra prisoner for a while, although what his end game is we'll have to wait to find out.
Yet Petra, who potentially has a psychopath coming after her, is not the one having the worst week. That horrible honor, goes to Michael. After getting the stuffing beaten out of him while following Rafael, Michael receives a visit from Jane, since she is still his emergency contact. While he is convinced they are meant to be, Jane politely squashes that thought down, saying she is now with Rafael, and that's who she sees herself with moving forward. Michael's partner/lover Nadine, misconstruing the scene, places a call to their boss to rat Michael out for now following a direct order to stay away from Rafael. Like I said, the guy is having a very bad week.
Oh, and Rogelio's conniving assistant and boss, who are lovers, have conspired to get Rogelio fired. We will see the fallout from that next week.
What did you think of this week's Jane the Virgin? Are Rafael and Jane and Xiomara and Rogelio meant to be? Let's also keep theorizing the identity of Sin Rostro. That's going to get good!
[Photo via The CW]