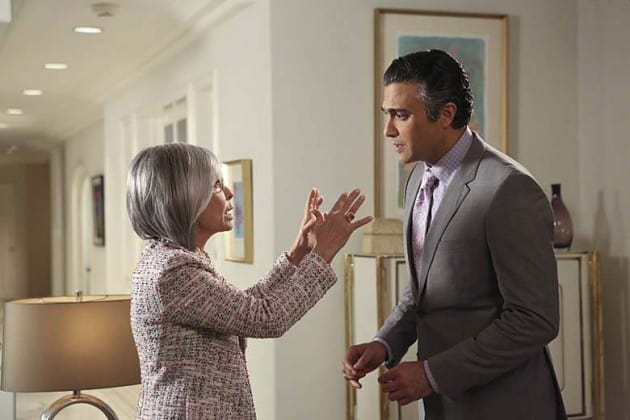 Mama De La Vega has arrived! Rita Moreno has come to Jane the Virgin to add to the drama.
Jane is on edge being stuck between her issues with Rafael and calming her mother's nerves with the arrival of Liliana de la Vega. So Easter should be the perfect time for some peace and reconciliation, right?
You'd think that with the Marbella's liquor license about to be pulled, Rafael's job couldn't get any harder. I'm going to put this out into the universe now before I go into the details. Settle your personal problems first, and the professional ones won't have nearly as much power. Rafael is not really getting that, as he's so determined to fix his professional life, he's not putting enough energy into his relationship with Jane. Rafael's stress level is not only up for professional reasons, but personal reasons as well. He has finally found his mother, or at least her email address. So with Jane's conscience on his shoulder, he gathered the courage to email her. What Rafael didn't expect was for his mother to show up on his doorstep. She confesses that she and Rafael's father weren't meant to be, and she was given a choice between staying and $10 million dollars. She chose the money and had a new family only a few hours away from where her old one was. Suddenly, Rafael has even more respect for his father, because at least he stayed.
This was not the week to mess with Jane. In the middle of having her doubts about Rafael, she defends herself against a rude hotel patron. It's unfortunate that this particular woman happened to be the city commissioner, who Rafael needed to win over in order to get the Marbella's liquor license back. Which meant that in order to smooth things over, Jane had to skip her family holiday and instead go to a different church with Rafael to kiss up to the mean commissioner. Jane always plans ahead, though, and she charms the country club ladies who are friends with the commissioner. It is not until Jane comforts the commissioner, who has the horribly stereotypical cheating husband, that both women start to feel more at ease and really embrace the spirit of the holiday. That spirit is the idea of faith, the idea of trusting your heart and what it says, instead of constantly overthinking, which is exactly what Jane always does.
Jane also finally finds out this week that her friend Andy is also Michael's ex-girlfriend and has been lying to her. When she sees that Michael is actually starting to have hope about the future again, she makes the decision not to tell Michael about Andy's deviousness, instead choosing to have faith that things will work out the way they're supposed to. It's with this attitude that Jane goes to Rafael to apologize and talk things through. Emotionally exhausted by his fighting with Jane and the conversation with his mother, Rafael thinks maybe Jane was right the first time, that they are too different. In the most heartbreaking moment of the night, Rafael breaks up with Jane. There are not enough sad face emojis in the world to define this moment.
In the meantime Petra is running around convinced that Aaron is in fact Roman. So she decides to do some snooping and some stealing. She even ropes Michael in to help her since Rafael thinks she is stretching her imagination a bit too far. Sure enough, Petra was right all along and just finds out too late for Roman to kidnap her.
While Jane has been dealing with Rafael, this leaves Xiomara to deal with Rogelio's mother, Liliana, without her daughter as her conscience. Alba convinces Xiomara to make peace with Liliana in exchange for Alba calling Edward from rehab and asking him out. When Xiomara tries to apologize to Liliana, she discovers that Liliana is under the false assumption that Xo never told Rogelio about Jane. Once Rogelio gets the courage to stop lying/Liliana understands the truth, she still doesn't approve of Xiomara and Rogelio's relationship. Xo being Xo, runs into her ex-boyfriend Marco and goes a step too far in her vulnerable state by kissing him. She runs away before things get more intense, and by the time she goes back to Rogelio, he has sent his mother packing and tells Xiomara he loves her for the first time. It doesn't sound like Xo is going to be telling Rogelio about her little slip with Marco anytime soon.
Oh, and did I mention that Alba's flirty friend is actually a priest? Did I mention that he actually agreed to a date with her, when she asked him out on Easter? Why isn't there a passage in the Bible that covers this stuff?
[Photo via The CW]