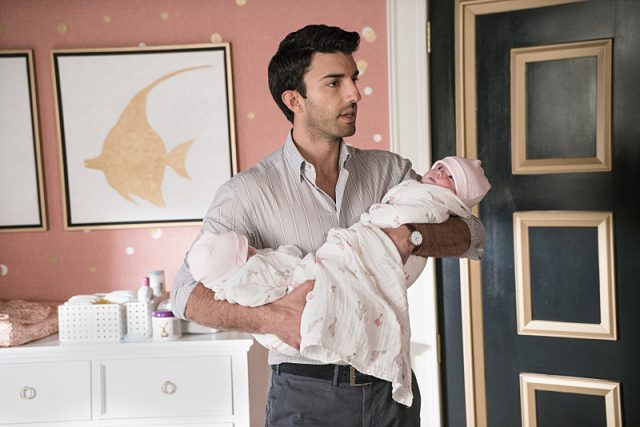 The big Jane the Virgin nuptials are around the corner, but first we have to wrap up everyone's issues since it was a year of great change. Jane and Michael's wedding is only weeks away. While the happy couple (and father-in-law) are in a bubble of bliss, the rest of the world is wading through their life changes, especially with what lies ahead.
Jane is the happiest she's ever been in her life. She's about to marry the man of her dreams, she's progressing in her graduate program, and she's setting up a new house. But trouble is on the horizon. Michael makes front page headlines for the Sin Rostro case, and not in a good way. The article blames him for Mutter's escape and Sin Rostro's death. It's absolutely not Michael's fight, but the department needs a fall guy. Michael is put on unpaid suspension for six months, leaving the couple in a bit of a financial pinch. The only small reprieve Michael gets is from Rogelio, who hires Michael as his new Security Consultant.
Petra's newfound twin Anezka is wreaking havoc as the new waitress in the Marbella. Truly the girl is the complete opposite of Petra, she's a little lost puppy. Since Jane needs the extra money, she asks for more shifts at the Marbella, and is put in charge of training Anezka. Jane can only put up with this for so long, so she takes a job helping a high school student write his college essay. What she misunderstands is that the mother wants Jane to writer the essay for her son. Jane refuses to compromise her principles, so she pushes her student to write about his passion. That doesn't go over so well with the mother, who is basically paying Jane to write what she wants. This teaches Jane a big lesson about not standing in her son's way.
Xiomara tells Jane she is going to ask Rogelio for a part on his telenovela as a silent movie star. (Side note: Recreating Emojis with real-life expressions is more humorous than you'd think it would be). Rogelio is a big believer of nepitism, so obviously Xo gets the part. The first problem is that Xiomara, well, isn't good at acting. Unfortunately she has a front row seat to figure out that Rogelio is seeing Dina. She points out what Rogelio does not yet realize, that he has real feelings for Dina.
The tension between Jane and Rafael has slowly been building over custody of Mateo. It's completely understandable. After their breakup they never really established anything concrete. Between Jane marrying Michael and Petra giving birth to the twins, there are alot of changes happening that affect Mateo's future. Rafael suggests they use a mediator to keep things peaceful as he and Jane hammer out the details of Mateo's custody, but it doesn't go over well. Eventually cooler heads prevail, because as much as they hate that Mateo has to be apart from them some of the time, Jane and Rafael trust each other.
This is not something Rafael can say about Petra. Though Petra has changed, her past may always play into the decisions Rafael chooses to make for the twins. Which is why the twins' trust is different from Mateo's, since Petra doesn't have control of her kid's money and Jane does. Petra can't argue Rafael's points, but that doesn't make them hurt any less. Wanting to protect her sister, Anezka sends an anonymous email to Jane's school which would probably get her in a little bit of trouble.
Though the person in the biggest trouble of all is Rafael, who should have always been watching his back to make sure his half-brother didn't stick a knife in it. I sense bad things to come.
Will Petra ever gain Rafael's trust like Jane has? Who is the mysterious leak responsible for Michael being fired?
Jane the Virgin Season 2 Episode 19 Review: "Chapter Forty-One"
Summary
External problems impede Jane's time with Mateo on this week's Jane the Virgin.