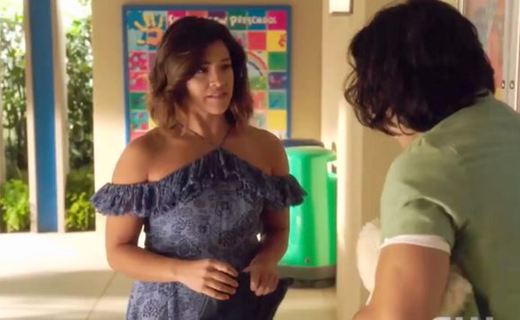 We start this week's Jane the Virgin review with a question mark because, if we're being honest, everyone is a little off their game when it comes to dating. This is pretty understandable when you consider how everyone progressed in the three year time jump. Professionally and personally everyone grew, but those skills which took you into the natural progression of a relationship are never really perfected. Putting bait in the water doesn't necessarily mean you'll reel in the fish.
Let me preface our flirt fail stories by saying that Jane should not be taking flirting tips from Alba. It's true, Grandma's got it going on these days! She's got stars in her eyes with her new romance. We're certainly not going to discount Alba's awakened inner youth. She had my jaw dropping in this episode (and thanking my lucky stars I've never had to hear my own grandmother say such scandalous things). However, the rules of the game when you are in your 20s are very different when you are a senior. Getting your signals crossed can happen at any age, but the pressure is a little more complex when you feel like any bad dating decision could make or break the rest of your life.
Case in point: Xiomara and Bruce are kaput, but Rogelio doesn't know that at first. Rogelio being Rogelio thinks he did something wrong. The poor guy was this close to sending Bruce an apology basket when Bruce finally came clean about the break-up. Too bad he did so right before quitting as Rogelio's lawyer. Rogelio now has to pay an obscene amount of money to get out of his reality show deal, but at least he got the girl. Now he can get back to the world of telenovelas where he belongs, even if his new co-star is prettier than he is (and when I say pretty, I mean wow!).
Since Jane doesn't cry at the mere mention of Michael anymore, she feels ready to get back into the flirting game. Not necessarily dating yet, but there's a difference between. However, her radar is so off she ends up accidentally yelling at Mateo's aide for flirting at her when he wasn't. Taking this as a desperate cry for help, Rafael and Petra take her to the Fairwick. It doesn't go that well. Jane is just not the type of girl who finds a guy at a single's bar. After their night together, Rafael and Petra should not be in such close proximity, even if Petra wants to make her ex-boyfriend jealous by flaunting her ex-husband. Thus Petra, Rafael, and Chuck are all confused and miserable.
Dating people you get to know as friends first takes some of the awkwardness away from dating, but not when they are your dead husband's best friend. I'm not saying there's not potential when Jane and Dennis start flirting, but if the subject of your dead husband/best friend keeps coming up, there's not much of a future. Jane can find love again, it's just going to take time. Look how long it took Rafael to realize he could fall for Petra again. It's too bad she fell for Chuck and proved it by losing a tooth for the man.
Will a third go around be enough for Rogelio and Xiomara?
Jane the Virgin Season 3 Episode 15 Review: "Chapter Fifty-Nine"
Summary
Jane experiments with her flirt radar on the latest episode of Jane the Virgin.