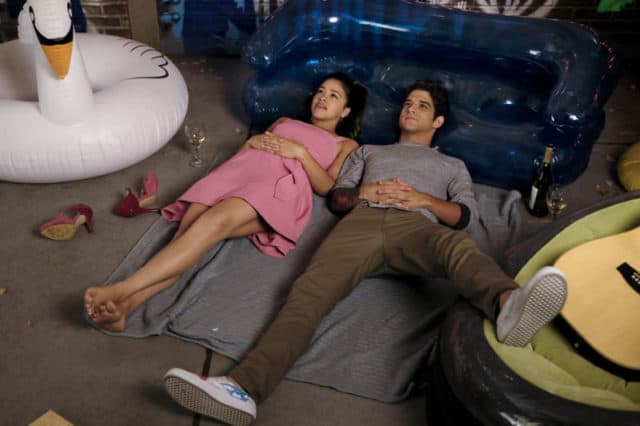 Jane Villanueva is back after a few years since the death of her beloved husband, Michael, in the fourth season of the dramedy series Jane the Virgin, or the not-so-Virgin-any-longer. Michael's death last season was hard to swallow, but his immediate replacement with Tyler Posey as Adam, who was Jane's first love/fiancé when she was only 19, makes the loss a little easier to bear. Along with Posey's presence in the premiere, here are 5 other Jane the Virgin moments that tops our list.
1. Mateo to the Rescue
We've got a newer and older actor playing Mateo now, which probably means that we'll get more involvement in the show from Jane's son. This proves to be true as one of the cutest scenes in the premiere involves the little guy. While everyone's fussing about Jane and Adam skinny-dipping in the moonlight, Mateo takes matters into his own hands and decides to run to the elevator to save mommy. He rips off his robe and reveals a superhero costume; with fists on hips, the elevator door closes as we see Mateo heading solo towards naked mommy and naked Adam.
2. Darci's "Privacy" on Instagram
For a show that's called Jane the Virgin, we expected a lot of talk about females and their virginity; we were right in the past three seasons, and we're right today. In an effort to include himself in the life of his unborn child, Rogelio marches to Darci's sonogram appointment. Of course, he does so while live on Instagram. The result? Darci's womb became public domain. She doesn't care, though, because Rogelio just violated his contract with Darci.
3. Rafaelus
Jane is still in love with Rafael; that we know for sure. Rafael doesn't feel the same way, as he's back in love with Petra again. So Jane plays it cool and goes to a date with long lost lover Adam. It's the most romantic scene: rooftop dinner, guitar on hand, star gazing under clear skies, and a private lesson on constellations. Adam thinks Jane finally gets it, but instead, she connects the stars only to see Rafael's face in the night sky. It's cheesy, but it's Rafael after all. Who can ever get over the guy?
4. I'm Sorry for You
We finally see the three Villanueva ladies sitting on the porch like they always have, marinating on things they've done wrong and those they've done right. In this scene, we see Xo finally let her tears out about her failed honeymoon, and as Jane says she feels sorry for her mom, Xo returns the favor and says that she feels sorry for Jane too. In retrospect, Jane's the one who stripped naked for Rafael after reading the signs wrong; that's probably one of her funniest and most pitiful moments in the show, which you can see below.
5. The Other Voice
Lastly, we can't ignore the fact that there's now a female narrator to accompany the one that's been telling us the story from the beginning. Why this development? Who's this female voice? We're not quite sure why or who, but we like it. It's as if there's finally some dialogue where it needs to be. It also helps that she's quite funny. Maybe we'll discover why she came about in the next episodes, but for now, we're glad that the Jane the Virgin banter hasn't lost its touch even after 65 chapters. Now on to the next.