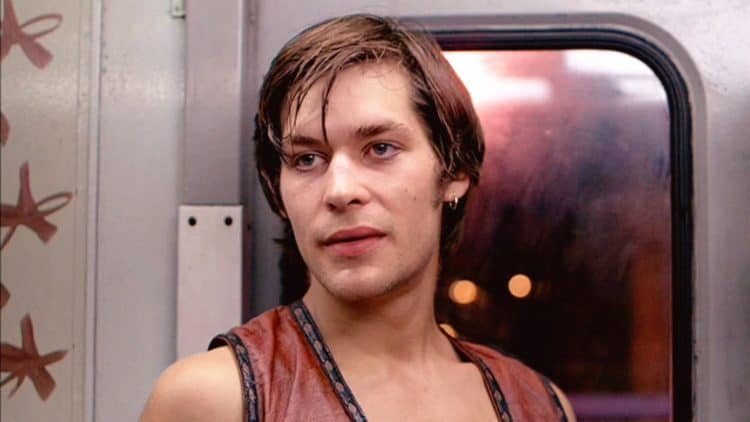 Actor James Remar has been in the industry for years. Famous for playing the bad guy in films like The Warriors, 48 Hrs. and The Cotton Club, he's currently keeping us entertained in his latest role as Peter Gambi on The CW's Black Lightning. With a fourth season of the superhero series recently announced, there's never been a better time to find out more about the veteran actor.
1. He's known for playing the villain
If you're a Hollywood casting director looking for your next villain, it's almost guaranteed the name James Remar is on your list. The actor's made a career out of playing the kind of characters we all love to hate, from the violent Ajax in The Warriors (1979) and the sociopath Albert Ganz in 48 Hrs (1982) to the real-life gangster Dutch Schultz in The Cotton Club (1984). Despite the proliferation of villainous roles in his resume, it's not something he's necessarily too happy about. "I was really thrilled and honored (after being cast in 48 Hrs)," he's explained. "But afterward, I started getting a lot of bad guy offers and became concerned about being typecast. I didn't want to be seen as that kind of guy because a lot of those roles are not well written. They're there only to drive the action and give the protagonist something to do. So, it becomes repetitive and boring."
2. He made his TV debut in 1981
Remar had already starred in several films by the time he made his TV debut on Hill Street Blues in 1981. Since then, he's appeared on numerous shows, but is perhaps best known as Kim Cattrall's on-off boyfriend Richard Wright in Sex and the City, Dexter Morgan's adoptive father, Harry Morgan, on Dexter, Syd Vaslo in State of Affairs, and Peter Gambi in Black Lightning.
3. He's a multi-award winner
Remar may have started his career in the 1970s, but it's only over the past decade that his name has started cropping up at award ceremonies. In 2007, he picked up his first nomination for a Saturn Award for his work on Dexter: although he ended up missing out on that occasion, he's made up for it since with a Screen Actors Guild Award in 2008 for Sex and the City and a Saturn Award for Lifetime Achievement in 2012.
4. He's the voice of Lexus commercials
In 2009, luxury car maker Lexus made the decision to replace longtime pitchman James Sloyan with Remar, a decision they explained by saying they needed a new voice that could "could appeal to a broad audience that can encapsulate our brand as it moves forward." Remar's continued to work with the brand ever since but is still some way away from breaking Sloyan's work record of 20 years.
5. He doesn't take his work home with him
Given the kind of characters Remar is known for playing, it's fortunate for his family that he's got out of the habit of bringing his work home with him. "I try to invest myself emotionally, intellectually & physically in every film I do," he told Gruesome Magazine. "I don't live with my roles afterward anymore, though. I used to take them home with me, but I've learned to leave them at work when I'm done with them."
6. He was fired from Aliens
In 1986, Remar was fired from James Cameron's sci-fi epic, Aliens. At the time, his departure was put down to him needing to attend "urgent matters at home". Years later, he opened up about the real reason for his abrupt exit. "I had a terrible drug problem, but I got through it," the actor told Sidebar during a podcast. "I had a great career and personal life, and messed it up with a terrible drug habit… I was initially cast as Corporal Hicks, but I was fired after a couple of weeks because I got busted for possession of drugs."
7. Playing Gambi is a challenge
Remar's been playing the character of Peter Gambi in Black Lightening since 2018. Despite his years of experience, he's found the part a challenge- albeit one he relishes. "The character has got challenges that make it challenging for me as an actor," he tells CBR. "He's got a backstory. He's got secrets. He's got a rich emotional life. When you play characters that have got a lot going on… that's the recipe for a satisfying role. I'm challenged by this part. I have to step up and bring my A-game."
8. He's never watched Sex and the City: The Movie
Despite being an integral part of the Sex and the City TV show, Remar didn't get an invite to join the rest of the cast in the movie sequels, despite saying he'd be thrilled if Richard made a re-appearance. Asked by Vanity Fair if he'd seen the movie anyway, the answer was a resounding no. "It would have been too sad for me! I'm a very emotional guy," he said. "I wasn't invited to the party! I don't want to stand at the window looking in! Of course, I say this without any hostility. In time, somewhere down the line, I will watch the film. They were a great bunch of people to work with, and I just loved being a part of it."
9. His Net Worth
Given his veteran status in Hollywood, it probably won't come as too much of a surprise to learn Remar is sitting on a pretty fortune at this stage. According to the latest information from Celebrity Net Worth, the actor is currently worth a very impressive $5 million.
10. He's big in the video world
As well as making a good living as an actor, Remar has earned an impressive amount from his work as a voice-over artist. In addition to being the voice of Lexus, he's also featured in numerous video games, including The Warriors (2005), Batman: The Brave and the Bold — The Videogame (2010), Killzone 3 (2011), Destiny (2014), and Destiny 2 (2017).