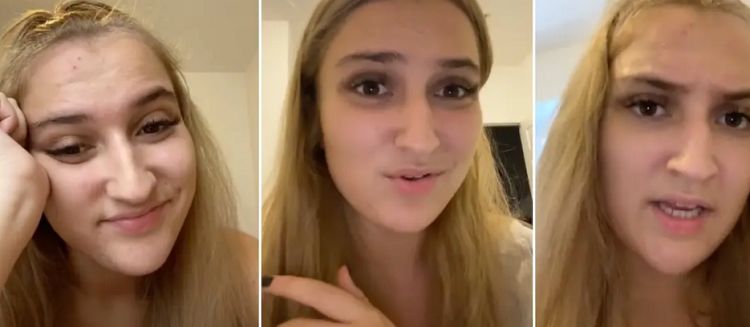 2020 has been a huge year for TikTok, but the platform's popularity hasn't been without controversy from some of its most popular users. Emmuhlu who has over one million followers on TikTok found herself on the verge of being canceled in April when an old video started circulating of her repeatedly yelling "die" followed by the n-word. While the incident certainly impacted her following, she's still managed to maintain a strong fanbase. However, a recent online altercation with rapper, Cardi B, might just be the knife in Emmuhlu's social media coffin. Apparently, Cardi didn't like the jokes that Emmuhlu has made about her music, and she clapped back harder than Emmuhlu could have ever imagined. Keep reading for 10 things you didn't know about Emmuhlu.
1. She Deleted Her Instagram Account
Emmuhlu is used to getting a lot of attention on social media, but unfortunately, the attention she's been getting lately hasn't been the kind she's looking for. After her recent exchange with Cardi, Emma decided to deactivate her Instagram account. She also hasn't posted anything on TikTok since.
2. She Makes Custom Videos On Cameo
If you're a big fan of Emmuhlu's content, you can ask her to make something exclusive just for you. She has an account on Camera where she makes custom videos for her fans for just $10. For just $2.99, you can also have the option to chat with her. She donates the money she makes from Cameo to charity.
3. She's A Huge Nicki Minaj Fan
Emmuhlu is a self described Barb which means she is a devoted fan of rapper, Nicki Minaj. She even offers to rap a Nicki verse for her customers on Cameo. Although it is totally possible to support an artist you like without tearing another artist down, Emmuhlu struggled to find that balance which is what led to her getting dragged by Cardi.
4. She's Struggled With Mental Health Issues
Over the last several years, more and more people have started to acknowledge the importance of mental health. Unfortunately, though, it's still not something that many people feel comfortable discussing. Emmuhlu hasn't gone into detail about her mental health, but she did post a video on TikTok that insinuated that she's dealt with mental health issues and has been treated for them in the past.
5. She's A Private Person
Limiting the amount of personal information you share online is one thing, but there seems to be a trend with Gen Z social media influencers hiding their true identities. Emmuhlu never shares details about her personal life and has never revealed her real full name although she has shared that her first name is Emma.
6. There Are Petitions To Get Her Off TikTok
Emmuhlu is definitely a polarizing figure on TikTok. While she does have a big fan base, there are also a lot of people who believe that her presence in the platform is harmful. Several petitions have been started on Change.org to have her account removed from TikTok. On the flip side, there are also petitions to keep her on the platform.
7. She Was Kicked Out Of Her House
Despite being very vague about her personal life, it's become clear that Emmuhlu and her mother don't have the best relationship. In an Instagram Live video, Emmuhlu's recording was interrupted by her mother who proceeded to ask Emmuhlu to leave the house.
8. She's From New York
Even though Emmuhlu's has tried to keep her real identity out of the public eye, information has started to get leaked about her amid the controversy. Evidently, she is from Staten Island New York where her father works in the legal field. Out of respect for her family's privacy, we won't share any personal or business names.
9. People Were Trying To Find Her Mother On Facebook
After Emmuhlu's n-word videos began to circulate, people were so upset that they wanted to let her parents know what their daughter had been up to online. People began digging into Emmuhlu's life as much as they could and someone was able to uncover her mother's name. People began to request her mother on Facebook but Emmuhlu quickly spoke out and asked people to leave her mother out of the situation.
10. She Interned For A Republican Senator
On TikTok, Emmuhlu has repeatedly expressed that she doesn't support the republican party. However, it appears that her values in real life may not align with what she shares on social media. At one point in time, she was an intern for a republican senator in New York.