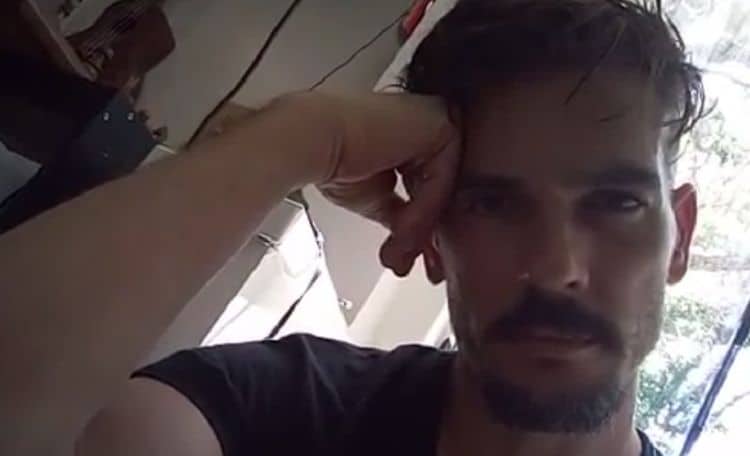 It is said that the sins of the past always have a way of haunting us in the present. Furthermore, they are said to have a bad habit of hitting us when we least expect it. For the pop star, Katy Perry, this is her current nightmare. Barely after a grueling court case in which she lost after charges of having copied her famous hit song, "Dark Horse" has cooled down, another ship of trouble has left the dock sailing towards her. This time, the trouble ship's name is actor Josh Kloss. Josh Kloss is an American actor and modeling maestro who worked with Katy Perry on the video of her hit song, "Teenage Dream" back in 2010. The actor rolled in the video as Perry's boyfriend. Nine years later, the actor has come out with dark claims that Katy Perry sexually disgraced him in front of her friends in a party. These revelations are expounded on by Gossip Gist. Until making these allegations, Josh Kloss had not been audible or visible on the celebrity maps. Here are several things that you probably don't know about him.
1. His Personal Life
Josh Kloss was born on the 14th of January 1984 in Portland, Oregon in America. He is an American citizen who flaunts the zodiac sign, Capricorn. There are no records of his father, mother, or any known siblings. However, Josh Kloss is a dad to a daughter named, Izabella Kloss whom he got from his marriage with his ex-wife, Chere Rochelle. Furthermore, the new talk in town seems not to have a distinct education background, which is a trend with many celebrities. He is currently residing in Los Angeles, California from whence he runs his modeling business as well as acting.
2. His Relationship Status
Josh Kloss is currently single, but for a man of his looks and stature, it is hard to verify such information. However, he could still be recovering from the breakdown of the first marriage hence might have lost trust in women. There are claims that his first wife, Chere Rochelle, cheated on him while out working hard for his family. He, however, commits his time taking care of their daughter, Izabella Kloss, who takes up all his love after her mother's messed up.
3. His Popularity
Josh Kloss might not be your over-hyped Hollywood superstars like Nicolas Cage or Liam Neeson, but well, the celebrity has a church of his religious followers. According to the CelebrityHow, Josh Kloss is doing very well. The star is ranked 795th amongst other actors of his age group. Furthermore, the hotshot appears 13th amongst other celebrities with whom he shares the day of birth. For him to have made his way here is enough proof that Josh Kloss is headed to the top in his career. However, it is worth noting that the celebrity is self-made and his popularity is the fruits of his hard work.
4. He starred in Katy Perry's song, "Teenage Dream."
Amongst his most significant achievements, starring in the pop star, Katy Perry's music video for the song, "Teenage Dream," was probably his most significant achievement as a model. In this project, Josh Kloss acted as the pop star's lover. He is seen in the video getting very cozy with Katy Perry and handling her quite romantically. There are claims that the hotshot even fell for the pop star but could not make a breakthrough in that line. Friends of the pop star also claim this could be the motivation for his recent accusations on the pop maestro. Nevertheless, Josh Kloss made quite a show in that video and was paid accordingly.
5. His Social Media Presence
To thrive in his career, Josh Kloss has had no option but to create a strong social media presence. He has hordes of adoring followers on the different social media platforms. The celebrity has about 33.4k followers on his Instagram account with over 890 posts under his name. His Facebook page has nearly 900 likes while his Twitter has over 400 followers. He uses his Instagram account to flaunt multiple shots of his athletic body to his fans. Furthermore, he hosts sponsored ads as well as adverts for brands. He has posted many pictures advertising a variety of products for his clients. Such products range from inner wears, gym attires, and other wears.
6. His Hobbies
Josh Kloss has a soft spot for good music and traveling. He even plays the piano as a form of pleasure. Kloss has posted many captions of his traveling adventures on his different social media accounts. Modeling, apart from being one of his careers, is also a thing he enjoys doing. As such he religiously hits the gym each day in a bid to keep his super body in shape.
7. He has worked with Kim Kardashian and Kris Jenner
Josh Kloss has also had the pleasure of working alongside superstars, Kim Kardashian, and Kris Jenner. According to Distractify, the celebrity worked with the two women in the shooting of Sketchers advert back in 2011. He even praises the professionalism of these two celebrities.
8. His Acting Career
Josh Kloss is an ardent movie writer, actor, and producer. He has been involved in many successful projects. In 2003, the hotshot starred in the teen series, "The O.C" and went further to write movie tracks for the short films, "Switch and Hedges" and "You and Me." Kloss has also appeared alongside his daughter in, "Lost Angeles" a movie by William Wayne. Currently, the celebrity is filming an upcoming film, "The Hunter."
9. His Past Life
Before making it to the limelight, Josh Kloss was a common man with everyday life and doing typical jobs for survival. He is said to have been doing odd jobs to make ends meet. Josh worked as a fast-food worker, a delivery boy, a barista as well as a mill employee. This proves how far he has come.
10. His Net Worth
There are no distinct records of Josh Kloss's earnings and net worth, but his money is drawn mainly from his acting career, his modeling career as well as advertising. His net worth can, however, be estimated to range between $100 and $1 million as of this year.