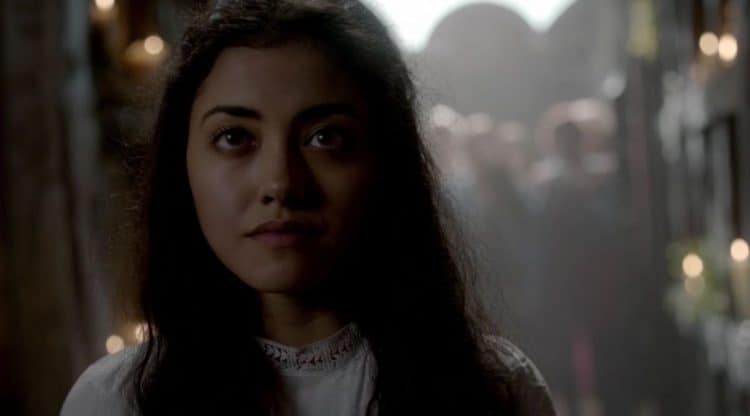 Yasmine Al-Bustami is an American actress who is best known for her role in the television series "The Originals." She's an interesting young actress who is just beginning in her career, and she has already grown a large fan base on social media. We, like her other fans, wanted to know more about her since she hasn't been in the limelight very long. After looking into her past, we learned some new information about her that we think fans would want to know, so here are 10 things that you didn't know about her.
1. She played the role of twin sisters
Yasmine starred in the television series "Quantico" which aired on the ABC network. In her role, she played the part of sisters named Nimah and Raina Amin, who were identical twins. She co-starred in the show with Priyanka Chopra. This showed the world that she is, in fact, a versatile actress who has the ability to portray two separate personalities at the same time.
2. Yasmine Al-Bustami has an impressive portfolio in television series work
Yasmine first appeared in a series of short films beginning in 2010. She hasn't been in the film industry for that long, but in the time that she's acted professionally, she already has thirteen films and television series roles to her credit. She's already got an amazing start on her acting portfolio. She has appeared in "Nessyane Nour," ""Nashville," "Film School Shorts," "The Originals," "The Inspectors," "Orbital Redux" and "I Ship It" which are all regular television series in which she appeared in some recurring roles.
3. She was born outside the United States
Al-Bustami was born in the city of Abu Dhabi, in the United Arab Emirates. Although she was born in the Middle East, she is a citizen of the United States. She spent a great deal of time living in the state of Texas among other places.
4. Her family shipped her to Jordan
Yasmine's family was concerned because they felt that she was becoming far too Americanized for their liking. She picked up the Texas drawl and lingo and even formed the habit of saying y'all. She's a Dallas Cowboys fan, drinks Shiner Bock which is a beer made in Texas, and she enjoys country line dancing. The family sent her to live in Jordan when she was just 13 years old but it didn't seem to make a bit of difference because the damage was already done and she's a true Texan at heart.
5. She has a diverse ancestry
Many fans are curious about Yasmine Al-Bustami's family origins. She shares a diverse family background. She was born in Abu Dhabi, UAE, but she was partially raised in the country of Lebanon. Her mother is of Egyptian ancestry and her father's family originates in Palestine. We also learned that there are some Filipino bloodlines in her family.
6. She's a comedienne
Yasmine is a regular on the CW musical comedy series "I Ship It." She has such a great sense of humor that it's easy to watch her performances. She also became involved in another project for an independent kiteboarding film which is titles "Send It!" and this will be released at some unspecified date in 2020.
7. Yasmine is internationally recognized
Yasmine has lived all over the world, but predominantly in Jordan and in Texas, which are the places she received her greatest cultural influences. She appeared in the film "Miral" in 2010 which was studded with stars in an international cast which included Vanessa Redgrave and Freida Pinto, among others, gaining her international recognition for her performance
8. She lived in France for a short time
When Yasmine was just 20, she relocated to Paris. This was so she could study at L'Ecole des Beaux-Arts de Paris. During her time there she majored in two specializations and earned both degrees in live performance as well as in multimedia. She has a dual degree and is not only an excellent actress but also a very smart and educated lady.
9. She isn't very tall
Yasmine is filled with energy and she is a powerhouse of stamina when it comes to performing. She looks and is highly capable, but we also learned that she isn't very tall in her stature. Yasmine Al-Bustami is just five feet and three inches in height.
10. Yasmine has accomplished a great deal at a young age
In addition to being a talented young actress, she has also done some work in the music industry. She appeared in the video "Surefire," which is John Legend's single release which was launched in 2017. This gave her yet another healthy boost in her celebrity career as an actress. She's a very capable young woman who comes from a family with a diverse background, she herself having exposure to a variety of different cultures. She also received a degree in the study of Finance, on top of her media and acting programs. She could have gone either way when deciding upon a career, and although for now she's chosen the filed of entertainment, she also has a profession to fall back on if she decides to change her mind. She's one of those very special people who seems to have it all. She's beautiful, has a great sense of humor, her resume is spectacular and she's loaded with talent. We believe that Yasmine Al-Bustami is going to go very far in life indeed. She has all of the tools necessary to continue on her current upwards trajectory in the entertainment industry and with the encouragement of her fans, we believe that we're going to be hearing a lot more about her in the near future.