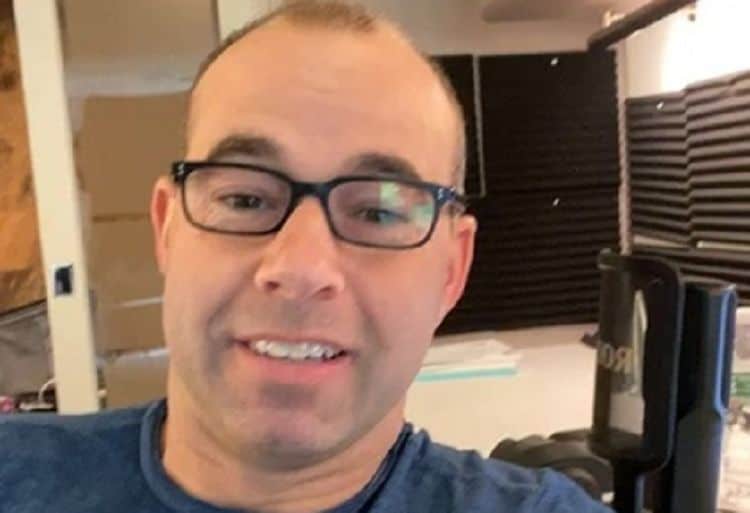 If you loved "Punk'd" then you are likely an avid follower of "The Impractical Jokers" that is now in its 8th season. The four stars of the show met in high school, and the idea came as they were eating chicken parmesan. James Murray was then in marketing and knew that hidden camera shows were coming back. As the four friends brainstormed in the best way to do their unique prank show, they settled on playing pranks themselves so that the fans are not hurt. Today they have become a must-watch in every household, so here is your chance to know more about one of your favorite comedians, James Murray.
1. He always wanted to be an author
James Murray knew he wanted to spend the rest of his life writing books. Consequently, he went to Georgetown University to do his undergraduate degree in arts and majored in English. Still, his love for performances cannot be overlooked because he got involved in community theatre even before going to college. Now that he has already released "Awakened," horror fans cannot wait for its sequel, "The Brink," which should come out before the end of the year.
2. He was not successful at first
Looking at how the four friends have crowds of fans in every show, you would think that was always the case. Just like in any business, their first attempt brought a total loss. As James recounts, the group did their first show in March 2004 in New York City, and by then he was also teaching improv and sketch comedy. They rented a 50-person theater for $65 and unfortunately, only two people came. As if to dampen their spirits, the two were his students who were only there to support their teacher. Since each ticket was selling at $5, they made a $55 loss, but their persistence has kept them going.
3. He has a tattoo to commemorate the group's accomplishment
After starting on a low note, James could not wait until they had made it in their chosen career. Therefore in November 9, 2017, when they had a sold-out show at Madison Square Garden, the experience was incredible. James had to take a few weeks to fully comprehend that the 12 years they had been doing pranks were finally paying off. To ensure that date stuck in his head, he got a tattoo to help him remember what he believes to be among the most exceptional experiences ever.
4. It took him fourteen years to publish "Awakened."
James had always been fascinated by thriller and horror stories which informed his decision to start writing "Awakened." He was in Brooklyn when he decided to pen down his debut book. Once done, he did not bother getting an agent nor adviser; instead, James sent the book to every publisher he knew. The move proved unfruitful because the book was sent back, unopened. It was demoralizing for the author, so he placed it on his computer where it stayed for 14 years. At around June 2016, James remembered he still wanted to be an author, so he sent it to HarperCollins. This time, the publishers bought the trilogy from James and the debut book became the No. 1 international bestseller.
5. His favorite punishment
James and his colleagues can go to some extremes, but one incident stands out for him. The punishment was dubbed "Strip High-Five" in which they dared each other to get a high —five from a stranger. Failure to get it, one was supposed to remove a piece of clothing. James remembers stripping down to a thong, and since they applied oil on his body, he thought he was going to compete in a bodybuilding competition. To his surprise, he found himself in front of his childhood crush, Danica McKellar, to do an intimate interview.
6. How he met his wife
Most relationships happen by chance, and James Murray's and Melyssa's is no different. James had thrown a launch party for his debut novel, and Melyssa happened to go. The moment they met, they hit it off, and the chemistry was undeniable. James admitted that he had never before experienced what he felt with Melyssa. To this day, he thanks God that he wrote the novel.
7. How he proposed to his wife
James and Melyssa spent their first vacation as a couple in Turks and Caicos. It is during that trip that James confessed his love for Melyssa. James planned to propose to her in the same spot he said he loved her. However, this plan did not work out because they could not travel to Turks and Caicos after Hurricane Dorian wreaked havoc in the Bahamas. Determined not to let his proposal plan be ruined entirely, James lied to Melyssa that they had to go and sign some documents for their New Jersey home. As he told People, he set up a picnic along with a bottle of champagne and a Scrabble board in which he spelled out "Will you marry me?"
8. He once got married and divorced within 24 hours after the wedding
So far the shortest celebrity marriage is between Zsa Zsa Gabor and Count Felipe de Alba. After a day, the two had to annul their union after Zsa Zsa discovered she was still married to Michael O'Hara. James also legally married Sal's sister as punishment to Sal. The marriage had been planned for a few months, and it was not until after the wedding that the friends revealed it was a prank. Hence after the honeymoon, James and Jenna Vulcano divorced.
9. His sexuality
In early 2016, Sal Vulcano came out of the closet during the "Talk Show with Sally Jensen." Allegedly it was but a move to give James the courage to admit that he is gay, and it worked because James came out. However, although many sources claim James to be the openly gay person on "The Impractical Jokers," he has never been spotted with a boyfriend. He now is married to a woman, which makes you wonder if admitting to being gay was also a prank.
10. The band he would like to play during Super bowl's half time show
In 2014, Fox Sports asked the four friends who they would like to perform during halftime at the Super bowl. James did not hesitate to say the Jackson 5 joining forces with Justin Timberlake and Jay Z would be great. James partly got his wish, since Justin Timberlake performed in 2018. However, with Jay Z being comfortable with being the producer of the show, seeing him perform will remain a far-fetched dream.
Tell us what's wrong with this post? How could we improve it? :)
Let us improve this post!