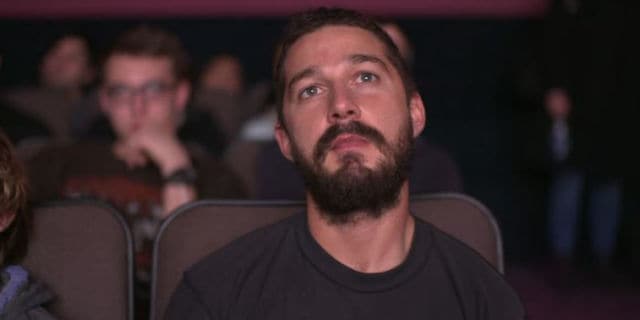 Shia LaBeouf got his big break thanks to the Disney Channel series, Even Stevens; however, it was the actor's transition to films that quickly helped him skyrocket into A-list status. In 2007, Disturbia was the film that finally got the world to notice the former Disney Channel star and Transformers officially confirmed LaBeouf as a leading man. Magazines and all forms of media dubbed him the next big thing and for a while, the actor was a hot commodity within the movie world. For the next five years, LaBeouf was living the high life by starring in successful blockbusters; however, once his time in the Transformers franchise ended, so did the height of his fame. This was around the time that LaBeouf's onset behavior started to come to light. One of the most notable accusations was LaBeouf's behavior on Lawless, in which his co-star Mia Wasikowska spoke about the difficulties of working with the actor; however, the actress wasn't the only one who had issues with the former Disney Channel star as LaBeouf and Tom Hardy reportedly got into an altercation onset, with the director of Lawless, John Hillcoat, confirming some type of altercation between both men on Reddit AMA, "there was definitely a fight between them. It escalated to the point where they had to both be restrained."
However, LaBeouf addressed these rumors by confirming that they did get into a fight with Hardy, but the two would "wrestle all the time." In an interview with Complex, LaBeouf actually described an incident regarding him and Hardy just joking around that resulted in Hardy accidentally falling downstairs. According to LaBeouf, Hardy joked that he knocked him out during the shoot. LaBeouf's recount of the side of events hasn't been confirmed by anyone else, but that's not the point. The main narrative is that the actor has reported allegations about his behavior behind the scenes. The actor has been in trouble with the law that has seen him catch a criminal trespass, disorderly conduct, and harassment charge. At this point, LaBeouf notably became a liability to many studios and wasn't seen in many mainstream features, though he still managed to get work on the indie scene. However, a pair of movies put him back in the mainstream, namely Peanut Butter Falcon and Honey Boy, both of which were critically acclaimed.
That was short-lived though, as LaBeouf's career took a downward spiral after ex-girlfriend FKA Twigs accused him of abuse. She filed a lawsuit in conjunction with another ex, Karolyn Pho. The allegations against him stem from physical violence, choking and head-butting his partners, as well as psychological torture. To add the cherry on top, more behind-the-scenes bad behavior was reported, but this time with Olivia Wilde, who exited the music video, Love Me Like You Hate Me," which featured the actor. That rumor was fueled when Wilde allegedly fired LaBeouf for his attitude on Don't Worry Darling. Currently, LaBeouf's career is in limbo, and he's essentially been blacklisted from Hollywood. It's always possible that LaBeouf makes a come back years down the line, but as of right now, that appears to be an uphill task. As with these articles, I will not make any personal judgment in regards to LaBeouf's behavior. The 35-year-old is reportedly focusing on treatment as he has admitted that he needs help. So, with all the controversy, does this tarnish LaBeouf's legacy? In all honesty, it depends on the person you ask. For some, it can be hard to watch LaBeouf's performances and separate the actor from the human being. There's no denying that his reported behavior is bad, and, in some ways, this does ruin the legacy that was going strong in the early 2000s. However, LaBeouf isn't the only actor to spiral out of control. It happens. We're flawed individuals that make mistakes from time to time. The key thing is that LaBeouf needs to grow and evolve from everything he's done. The guy is a talented actor. Even if you didn't like him in Transformers, or Indiana Jones and the Kingdom of the Crystal Skull, he's shown his versatility thanks to roles such as Honey Boy or Peanut Butter Falcon. If LaBeouf is unable to recover then unfortunately, he'll be remembered for the heinous crimes that he's done instead of the films he's made. But hopefully, the actor is truly getting himself better. While he can't take away the pain of what's he's done in the past, he can surely prevent himself from hurting others in the future.
Tell us what's wrong with this post? How could we improve it? :)
Let us improve this post!