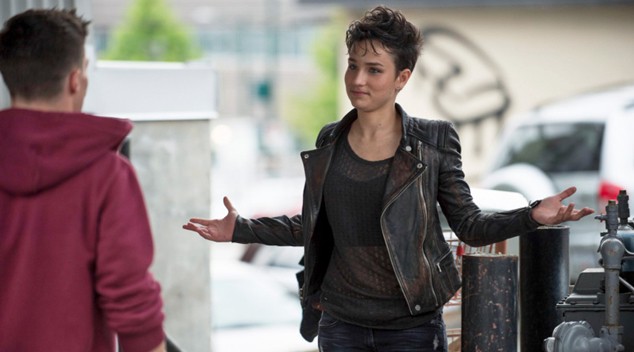 Bex Taylor-Klaus is an American actor who was born in Atlanta, Georgia, on August 12, 1994. In 2016, Taylor-Klaus revealed they are gay and non-binary, so asked that pronouns such as 'they' and 'them' were used when referring to them. This actor is best known for their role in the crime drama series 'The Killing', in which they play Bullet. They are also known for roles in 'Sin', 'House of Lies', 'Scream', and '13 Reasons Why'. Furthermore, they have provided the voice for Katie 'Pidge' Holt on 'Voltron: Legendary Defender, a Netflix animated series. While this actor is quite well-known, there are some things that are not well known about them. Here are 10 interesting facts about Bex Taylor-Klaus that you probably didn't know.
1. Bex Was a Child Model
Before Bex became famous for her acting roles, they had already experienced some time in the limelight from a young age. They became a child model at the age of just six months old. At the age of nine months old, they appeared on the cover of three toys in Kids II. They also appeared in several magazine advertisements. Now, Bex has no interest in modeling and prefers to focus on their acting career.
2. Shakespeare Inspired Their Love of Acting
While some students find studying Shakespeare boring, it was the work of this English playwright that first inspired Taylor-Kalus' love of acting. When they were in the third grade, they took part in a Shakespeare performance that was part of an after-school program. This led them to fall in love with performing, and they continued to take part in drama as an extra-curricular activity from then onwards. As a teen, they even formed a Junior-High Acting Troupe that trained young actors.
3. They are Engaged to Alicia Sixtos
Bex's girlfriend is actress Alicia Sixtos. In August 2019, the couple announced their engagement. Alicia Sixtos is best known for playing Maya Martinez in 'East Los High' and Cameron Cruz in 'The Fosters'.
4. They Love Outdoor Activities
According to IMDB, Bex Taylor-Klaus likes to spend their free time enjoying lots of physical outdoor activities. She particularly enjoys hiking and water-based activities. One of the best times she has ever had was spending 19 days rating and kayaking along Colorado River. Another physical activity that she enjoys in her spare time is Krav Maga, which is a military self-defense and fighting system that was developed by the Israel Defense Forces. Bex once attended sailing camp and, when they returned, they were also an expert marksman in riflery. These are just some of the outdoors hobbies that this actor enjoys.
5. They Have ADHD
As a child, Bex Taylor-Klaus was diagnosed with ADHD. One strategy that she was given to help her cope with this condition was to take part in sports and athletics. Bex has said that this helped to control their condition. Luckily, Bex was naturally sporty and good at athletics. As a freshman at high school, they were in the varsity softball team. They were the starting catcher and also played third base. In addition to ADHD, Taylor-Klaus also suffers from depression, anxiety, dysgraphia, and celiac disease.
6. They Have a Role in Blackbird
2018 was a busy year for Bex Taylor-Klaus. Not only have they had a recurring role in '13 Reasons Why', but they were also working on several films. In 2018, they played Taylor in 'Hell Fast', Violette Paich in 'Discarnate', and Hannah Perez in 'Dumplin". Their latest project is the film 'Blackbird'. It is not known what role Bex is playing and the release date is not yet known.
7. Bex is a Dog Lover
They are a massive dog lover and they have three dogs of their own. They love spending their free time with their dogs. One of the dogs is called Bullet after the first character they played in a television series. They chose this name as they wanted the character to live on. Their other two dogs are called Rocky and Kat.
8. They Have a Huge Fan Base
Bex Taylor-Klaus has grown a cult following which means they now have a huge fanbase. They have so many fans partly because of their acting talent, and partly for being a non-binary lesbian who is open about how they identify themselves. The number of fans they have is evidence from their social media accounts. On their Instagram account, they have 466 followers. Their profile says that being interesting is exhausting and that on weekends they are boring. In addition to posting personal photographs, Bex also uses this account to raise awareness of mental health issues. On their Twitter account, Bex has 131 thousand followers. Their account indicates that they are a huge fan of Harry Potter because there are several references made to the different Hogwarts house teams on their profile page. They also promote LGBTQ issues and post pictures of themselves having fun with friends and family.
9. Bex Has a Scar on Her Eyebrow
An interesting fact about Bex Taylor-Klaus is that they have a scar on their left eyebrow, which is quite a distinctive feature. They have explained that this scar is the result of having their skull drilled when they were a child, but they have not given any further information about why this was necessary.
10. They Are Close to Their Family
Whenever they have free time, Bex Taylor-Kirby likes to spend time with her family who is a Jewish family from Atlanta, Georgia. They refer to their mom and dad as Ema and Aba. Their two brothers are Syd and Josh. Bex also has a baby sister who they jokingly call 'The Mayor of the Munchkin City'. Although Bex now lives in Los Angeles and has done since her 18th birthday, they return to Atlanta whenever possible to spend time with their family.
Tell us what's wrong with this post? How could we improve it? :)
Let us improve this post!