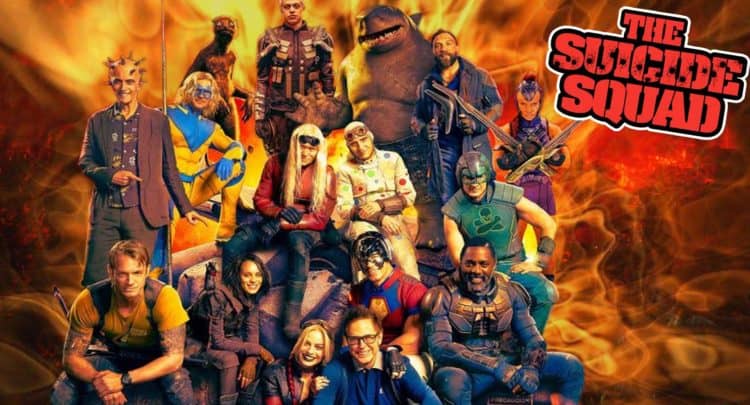 The first trailer for James Gunn's Suicide Squad released earlier this week and boy is it filled with tons of gore, violence, and not enough Sylvester Stallone as King Shark. I am in no way shocked that Suicide Squad looks as good as it does as James Gunn is a brilliant director with the perfect talent to direct a wonderfully goofy and off-the-wall group of anti-heroes including everyone's favorite Harley Quinn, portrayed again by Margot Robbie. The film sees a couple of other returning cast members from the previous 2016 installment of Suicide Squad alongside Margot Robbie, including Joel Kinneman, Viola Davis, and Jai Courtney. So let's take a look at the trailer for the brand new "The Suicide Squad" premiering in theaters and on HBO Max on August 6, 2021!
Characters
First up, let's talk characters in The Suicide Squad. We currently know a pretty solid list of the characters that will be appearing in The Suicide Squad including:
Margot Robbie as Harley Quinn
Joel Kinnaman as Rick Flag
Sylvester Stallone as King Shark (voice)
Viola Davis as Amanda Waller
Idris Elba as Bloodsport
Jai Courtney as Captain Boomerang
Michael Rooker as Savant
Alice Braga as SolSoria
Nathan Fillion as T.D.K.
Pete Davidson as Blackguard
John Cena as Peacemaker
David Dastmalchian as Poka-Dot Man
Sean Gunn as Weasel
Mikaela Hoover as Camila
Peter Capaldi as Thinker
Storm Reid as Tyla
Flula Borg as Javelin
Steve Agee as King Shark / John Economos
Jennifer Holland as Emilia Harcourt
Mayling Ng as Mongal
Joaquin Cosio as General Mateo Suarez
Juan Diego Botto as Luna
Daniela Melchior as Ratcatcher II
Marisol Correa as Soldado
That's quite the list of characters, most of whom we'll probably see bite the metaphorical bullet at some point in the movie. You know, considering the movie is called The Suicide Squad – someone's bound to die. I definitely think that King Shark will be the single best part about James Gunn's Suicide Squad, because he just seems so precious and ironically innocent (yes, even as he rips people in half). I can't wait to get an even closer look at King Shark in The Suicide Squad, but I also can't wait to see more of everyone else, especially Pete Davidson's character, Blackguard. I was also surprised to learn that Idris Elba is not, in fact, taking over the role of Deadshot from Will Smith, who played the character in Suicide Squad (2016). Elba is portraying a character named "Bloodsport" rather than Deadshot. Bloodsport is an allias that is used by various supervillains in DC Comics, and was initially brought into the live-action world in the CW show, Supergirl, where he was portrayed by David St. Louis, where the Robert DuBois version of the character was introduced.
Plot
Taking a look at the synopsis of the film on IMDB, "Super-Villains Harley Quinn, Bloodsport, Peacemaker and a collection of cons at Belle Reve prison join the super-secret, super-shady Task Force X where they are heavily-armed and dropped off at the remote, enemy-infused island of Corto Maltese." So we don't have much to go on in terms of the actual plot of the movie, however, we do know that the classic JLA villain, Starro, will be the main antagonist of the film. Starro is the big "kaiju" that the guy in the trailer is referring to, and is one of the JLA's original villains, being the first villain to actually face the original Justice League of America. He is from the planet "Star Planet" (yeah, real original name there) and get this….his species is "Star Conqueror." I definitely wasn't expecting to see Starro in a DC movie anytime soon, though I suppose that it makes the most sense for the character to appear in Suicide Squad of all properties.
Overall, I'm super excited to see James Gunn's version of The Suicide Squad when it releases in theaters and on HBO Max on August 6, 2021. I'm sure that theaters will be packed (as long as they are able to be open at semi-full capacity) and this movie will definitely not be an exception. So many people have been waiting for a good Suicide Squad movie and with the recent release of The Snyder Cut of Justice League on HBO Max, this movie is sure to bring in the big bucks. I can't wait for this movie and I hope that it's what we all want to see and have learned to expect from James Gunn from his previous films like Guardians of the Galaxy and Guardians of the Galaxy Vol. 2.