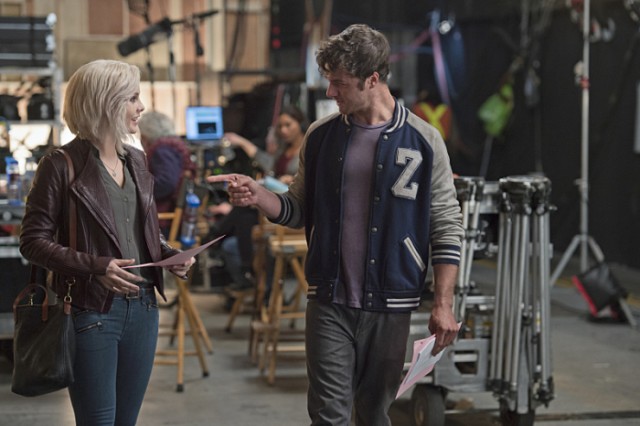 iZombie is one of the best shows on television right now, and the main reason behind that is the CW series' incredible ability to mix humor, heart, and horror all together into one spectacular blend. "Method Head" is a near-perfect example of how all of these different elements can work together so seamlessly on this show and produce an excellent hour of TV.
Honestly, if I really wanted to, I could just make this review a bullet list of the moments I loved from tonight's episode of iZombie, starting with the awkwardness of Liv and Major's break-up undercutting the seriousness of the opening scene and ending with the hour's closing moments, as Clive and Bozzio link Blaine to the Meat Cute murders and her missing persons cases. In between all of that is also a lot of fantastic meta humor that veers right on the edge of being too much, nicely skirting that line. However, I feel like just coming up with a list of great moments would be doing a marvelous episode like "Method Head" a disservice, so let's dive into the real heart of the story on this week's iZombie: Liv and Clive.
The richest and most powerful emotional moments throughout "Method Head" come from Liv's attempts to reunite with Clive, who still won't let her back on cases with him. Well, that is until the star of Zombie High (Liv's favorite TV show) is killed on set, and Detective Babineaux turns to Liv's expertise on the TV series to help him solve the case.
Each new clue discovered by Clive and Liv during their investigation brings them closer together, to the point where it's as if almost no riff had occurred between them. The two of them fall back into the rhythm of working together so effortlessly, and as an audience member, it's easy to forget that the pair just split up in December's midseason finale. Watching the two of them reconnect again, becoming as much friends as they are partners, was so well done throughout the hour, and it helps build up to that terrific scene near the end of "Method Head," where Liv uses her newly acquired acting talents (after having eating Jordan's brain) to help convince Fitz into confessing to the murder. iZombie is always at its best when it can tie in its more major, serialized arcs with its cases of the week, and "Method Head" does that extremely well, while also offering a nice parallel between Liv's acting with the Zombie High cast and her actual "acting" in real life, as she continues to play many roles and still keep her zombie identity a secret.
Furthermore, the quick passage of time near the beginning of "Method Head" helps ensure that iZombie's decision to repair Liv and Clive's relationship doesn't feel cheap or too quick. Sure, it's only been one episode of separation for us, but it's been almost a month for the two of them, which makes their eventual reunion so much more sweet and satisfying (I had the biggest smile on my face when Clive told Liv "see you tomorrow"). Plus, iZombie is a show that needs Liv and Clive's partnership in order to function on a weekly basis; their case-of-the-week investigations are a major part of the show's DNA.
In addition to Liv and Clive's investigation on the Zombie High set, Bozzio also discovers some intel of her own, which leads her to Blaine, and while he's able to ward off her questions for the time being, it's clear that she's suspicious of his behavior and his business. Add in the fact that she has now seen the sketch that Clive has of Blaine (connecting him to the Meat Cute massacre), and it's pretty clear that a major showdown between the crime boss and the police will soon be happening. And with how stellar iZombie has been throughout its second season, there's no doubt in my mind that whatever is coming next will not only live up to but surpass our expectations.
Other thoughts:
Another important development that occurs in this episode: Major gains Vaughn's trust after passing his test (man, what a tense scene that was with the doctor in the lab, right?). However, the best part is that not only is Vaughn clueless to what Major is really doing with the zombies on the list, but he also has no idea that his trainer/hitman planted a listening device on the fitness wristband he gave him. Have I said Major is the best in a while? Because Major really is the best.
All the meta jokes throughout this episode were amazing, from Clive calling the basic premise of iZombie "dumb" to Liv getting mistaken for a zombie on set. However, my favorite one had to be the Power Rangers reference, since Rose McIver actually played the Yellow Ranger on Power Rangers R.P.M. back in 2009.
One thing I really loved about "Method Head" was that I had no idea who killed Jordan until it was revealed at the very end. This was one of the best cases of the week that iZombie has ever done, because I actually found myself invested in the Zombie High actors and crew and was left guessing about who the murderer was for most of the hour.
Liv's reaction to receiving Zombie High Season 2 on DVD is pretty much my reaction anytime I buy a new movie or TV season on Blu-Ray. My collection is embarrassingly large.
So Ravi knows that both Major and Blaine will turn back into zombies eventually, but he can't give either of them an exact time frame. The best he told Major was six months to a year. Does that mean we'll be waiting until Season 3 before we see them regress into members of the undead?
You don't get much goofier than Vaughn Du Clarke mimicking his  robot's movements. How funny was that?
The entire scene about Jordan's unusual piercing was comedy gold. "It's called a 'Prince Albert.' I wonder how you get it through airport security."
Also, Ravi and Liv "acting" in the morgue (her eating an apple, and him finding popcorn) was incredibly charming.
"This is what you get when a TV show worships at the altar of youth: bimbos and himbos running around screaming in a school where apparently shop class isn't the only place to see something wooden and poorly constructed."
"See you tomorrow, Liv."
It was so great to have iZombie back tonight, but we'll have to wait until Feb. 2 for the next episode, where Liv essentially becomes a Fifty Shades of Grey character after eating the brain of a librarian that writes erotica. Man, I can't wait to see that.
What did everyone else think about this week's episode of iZombie? Comment below and let me know.
[Photo credit: Cate Cameron/The CW]
iZombie Season 2 Episode 10 Review: "Method Head"
Summary
Liv investigates a murder case on the set of her favorite show in a fantastic episode of iZombie.