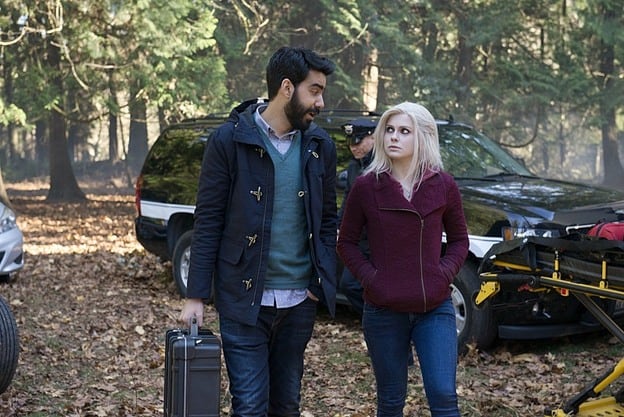 With the 2014-15 TV season coming to a close, TVOvermind is taking a closer look and reviewing the most recent seasons of some of network TV's biggest shows. We last examined NBC's "Chicago PD." Next up: The CW's "iZombie."
To call iZombie's premise "high concept" would be an understatement: young medical professional Liv Moore (get it?) gets turned into zombie at a party and discovers a zombie-creating energy drink conspiracy, while eating brains as an M.E. in the morgue and helping the police find murderers with the visions she has from eating said brains. Adapted (very) loosely from Chris Roberson and Michael Allred's 2010 Vertigo comic, iZombie was one of the most-hyped new pilots of the 2014-15 midseason, mostly because it boasted Rob Thomas (previously of Party Down and Veronica Mars) as developer and showrunner. It certainly was an intriguing proposition: could Thomas's sharp wit and pop culture knowledge mesh with such a goofy, over-constructed premise?
The answer, unsurprisingly, is an overwhelming yes: iZombie is one of the best new shows of 2015, a fact reinforced by this week's fantastic, twisting finale, "Blaine's World." From the beginning, iZombie embraced its low key Thomas-isms without ever dialing down the ridiculousness baked into the premise. In fact, as the first season built out a world around Liv Moore, her colleague Ravi, and ex-boyfriend Major Lilywhite (one of the greatest names on TV in recent memory), it accentuated its most outlandish traits, refusing to ever slow down with the serialized story about the energy drink Max Rager, its effects on humans, and the side business central antagonist Blaine DeBeers was building off creating zombies and charging them for brains. And it did so with the usual infectious combination of sharp characterization and reference-laden dialogue Thomas' previous shows are remembered so fondly for, creating one of the more unique little creations on television, regardless of network or genre.
It wasn't a show without its faults; as a series tried to both be a serialized story about a woman trying to re-configure her life and a crime procedural, iZombie often found itself trying to twist case-of-the-week stories into more meaningful macro stories, often putting a strain on the former. Like many crime shows, the details of each episode's murder case left a long trail of forgettable exposition between Liv and her unofficial partner, Detective Clive Babineaux, an upstart homicide detective who really likes to explain his critical thought process out loud. Thankfully, these pointless details about murdered hitmen or hackers don't completely obfuscate what is a wonderful little back-and-forth between the three characters of the procedural, Liv, Babineaux, and Ravi. Their light-hearted conversations keep those segments of each episode afloat and, more importantly, provide an integral avenue for which the show explores its central character, and her changing persona.
The strongest elements of iZombie, of course, stem from Liv, the show's wonderfully realized protagonist. That superlative is actually quite important, here: as a character whose personality is constantly changing, the onus is on iZombie to create a strong character underneath those week-to-week transformations. In this way, it reminds me very much of a show like NBC's The Pretender, a cult drama about a man who could become a chameleon in any profession, anywhere in the world. Without a strong, consistent character underneath that audience-grabbing quirk, there would be no emotional investment in the show: ultimately, how iZombie portrays Liv's struggle to retain her humanity, her own humanity, through this odd new life she's living, is what keeps this series ticking among the hard-to-understand pile of details that lead to the events in the back room of Meat Cute in "Blaine's World" (I'm still trying to remember exactly who the A**hats were, and why we cared about them beyond Bex Taylor-Klaus), and helps build emotional bridges to the characters around Liv.
There are fits and starts along the way, of course: Liv's zombie lover Lowell has a tragic arc that comes together a little too quickly (and obviously), and "Blaine's World" has the feel of a season finale trying to cram three episodes worth of material into an hour. But on a larger scale, iZombie is a show trying to cram three or four different shows into the space of a same hour, and that unhinged, unfettered ambition comes together in the third act of "Blaine's World," a bloody madcap finale to the season that finally explains Major Lilywhite's name and offers Liv new challenges in the wake of professional success and personal tragedy, somehow managing to manipulate events into a satisfying ending, but one that doesn't remove any of the show's more intriguing, unexplored elements for the second season (like Ultimate Max, Blaine being human, or Vaughn Du Clark's plan to wipe out the zombie problem he created).
It's unclear right now whether iZombie's second season will be for 13 or 22 episodes, and this could end up being an important element. 22 episodes suggests the weaker procedural elements will need to stay prominent, presenting the second season with the sizable task of re-jiggering its world so these cases hold a little more importance (maybe each week is Liv investigating a death of one of the zombies Vaughn has assassinated?). Without that back nine, iZombie's sophomore effort would be able to double down on its strongest elements: the show's unabashed dramatic flourishes and the strong stories about human connection, giving definition to characters like Ravi and Major in ways most CBS series (or even fellow shows on The CW) would even bother. Either way, I'm excited to see where iZombie takes itself when it returns this fall, after being one of the most promising, confident, fun new dramas of its kind, crime or zombie-centric, in recent memory.
[Photo via The CW]