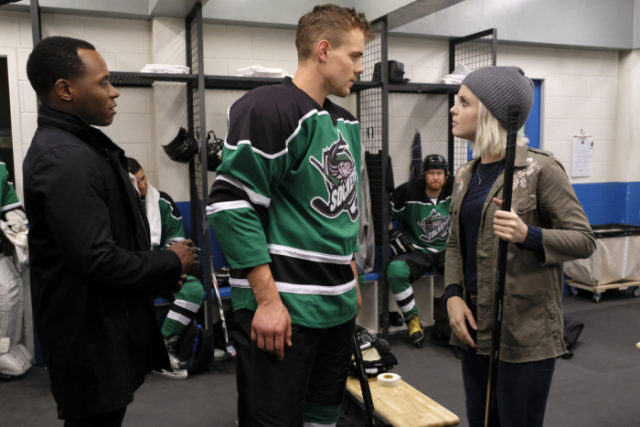 "Goon Struck" serves as a major turning point in iZombie Season 4. While this episode has been hyped up for months as the one where Liv eats the brain of a hockey goon, the entertainment value that comes from that personality is nothing compared to the devastating shock of losing the character of Mama Leone so quickly and brutally. I speculated in my review of last week's episode that Chase Graves would take his time interrogating Mama Leone, attempting to discover each member of her smuggling operation, but the final 10 minutes of "Goon Struck" prove me wrong, as Chase, under great pressure from his Fillmore Graves colleagues, decides to publicly execute her for her crimes.
Mama Leone's death is a major moment not because of how attached we've become to her character (although I did love Linda Park's performance as the zombie activist); it's more because of how this loss pushes Liv in a new direction for the remainder of this season. As soon as the guillotine drops, Liv makes her way over to Levon Patch (Daniel Bonjour, who makes his iZombie debut tonight but will be recurring for the rest of Season 4), a member of Mama Leone's organization, and asks him to gather the troops so they can continue the good work that she was doing. With Fillmore Graves controlling every single aspect of New Seattle, even going as far as to dictate who the killers are in murder investigations like we see with Blaine in tonight's episode, Liv has begun to feel helpless and weak. Gone is the sense of purpose that she's had inside of her for the past three years. If she's not able to do her job to its full extent and put away ruthless murderers like Blaine because of Fillmore Graves' constant meddling, she's going to find another way to fight against their corrupt system. Taking control of Mama Leone's operation allows her to do that, and given Major's behavior throughout "Goon Struck," especially in that final scene, Liv's new role is guaranteed to put the two friends at odds.
Compared to the romantic drama we're used to seeing between Liv and Major, this new type of conflict should be more emotionally rich and rewarding. How the two friends respond to Chase Graves' tougher, more dictator-like reign over New Seattle is informed by their past zombie experiences. Liv was a zombie do-gooder for years before anyone even knew about the existence of zombies; she made her own rules and sought to help people, zombies or humans, above all else. Major, meanwhile, turned to Fillmore Graves at two of his lowest points: at first, it was when the public only knew and regarded him as the Chaos Killer, and then again after he lost Natalie at the end of Season 3. For Major, Fillmore Graves has given him a home of sorts in this new zombie life of his, and while he might not agree with every decision Chase Graves makes, it's easy to see why he's loyal to him.
However, before either Liv or Major became a zombie, both of them always tried to help others, her through being a doctor and him through being a counselor. As Mama Leone tells Chase Graves before she's frozen in the Fillmore Graves prison, her actions have always been humane–they stem from genuine, human compassion. Her answer here is what makes Chase hesitate to execute her in the first place. In Mama Leone, he sees a glimpse of the humanity he lost when he helped create this militant zombie group, an organization that clearly puts zombie life ahead of human life. Chase's struggle here is palpable. He's in an incredibly difficult predicament, as he's undermined by his council and concerned over not just the brain shortage in New Seattle but the city's existence period, as General Mills threatens to nuke them all. It's an impossible situation, and it makes Chase Graves less of a mustache-twirling villain and more of a real-life leader, someone who's forced to make the best decision from a selection of bad options.
Still though, after Chase chooses to kill Mama Leone, full redemption for his character appears to be a more dwindling possibility than it was before her execution. If this season needs a bad guy, it looks like both he and the newly minted prophet Angus will fill the role. But there's still a chance for Major to pick the right side in all of this and perhaps he will, once he sees Liv and the others in action. Maybe, just like Chase Graves felt that spark of humanity from Mama Leone, Major will feel that same spark again from Liv. I can see this evolution of Major taking place over a longer period of time, perhaps over the course of two to three episodes. Ultimately, though, despite whatever brutal fights and monstrous disagreements await him and Liv, I believe he'll align himself with his true friend, the person in Seattle who has the biggest and best heart out of anyone, who wants to make life good for all people, not just zombies. In the end, Major will choose Liv.
Other thoughts:
In addition to dealing with Mama Leone in this episode, Chase Graves also tries to tackle the General Mills issue by having Major and Don E. kidnap his daughter, Sloane. Things, of course, don't go according to plan, though, and Major is forced to scratch Sloane to keep her alive after she overdoses. Chase points out that the outcome is still a win for New Seattle, though: the General is a lot less likely to bomb the city with his newly zombified daughter in it.
It's not given as much focus as the Mama Leone storyline, but Peyton's story involving the zombie bus driver serves as a nice reminder about New Seattle's brain tube crisis (Harrison passed out and crashed the bus because he was malnourished) and as an excellent doorway into more real life-inspired storylines about discrimination. The councilman objecting to Harrison driving the bus purely because he's a zombie feels all too real to some of the discriminatory policies we see certain politicians trying to implement in our world today.
While Hockey Goon Liv is not quite as hilarious as Hopeless Romantic Liv, this week's brain does provide us with that terrific sequence of Liv on the ice, checking every single player as she tries to interrogate them. Ravi and Clive watch it all play out, completely amused and with Ravi even recording parts of it. Hockey player brain also gives us Liv missing a tooth, which becomes a great recurring joke throughout the episode, and Clive doing an amazingly horrible Canadian accent that lets Malcolm Goodwin be big and showy with his comedy in a way that he rarely ever gets to be.
Blaine's reactions to both Don E. and Major climbing out of the boxes of ices are so fun. "G.I. Joe!"
Thoughts on the Fillmore Graves Inspector? Was the French accent a little too cartoonish, even for iZombie?
Favorite comic-book title card of the week: "Ice, Ice Zombie."
Funniest moment of the episode for me has to be Clive's reaction to Liv slapping him on the butt. Malcolm Goodwin's facial expressions will never get old. "Copy. Gloves stay on. Good talks, Babs. Go get 'em."
iZombie's off next Monday. I'll see you all back here for Season 4's sixth episode, "My Really Fair Lady," on April 9.
What did everyone else think about this week's episode of iZombie? Comment below and let me know.
[Photo credit: Bettina Strauss/The CW]
iZombie Season 4 Episode 5 Review: "Goon Struck"
Summary
Liv eats the brain of a hockey player, and Chase Graves makes a difficult decision about Mama Leone in a strong episode of iZombie.