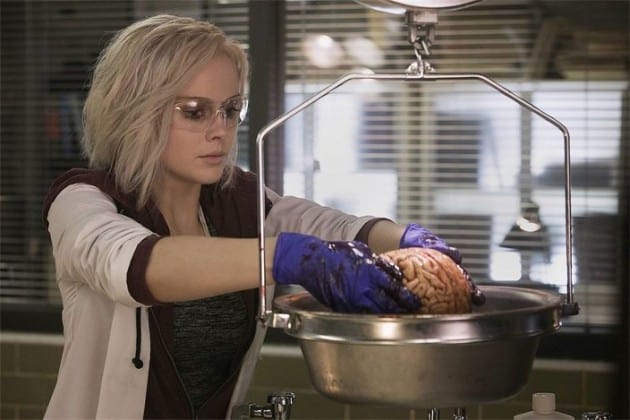 The CW has been all about fun this TV season, with two of its new shows, The Flash and Jane the Virgin, being some of the most enjoyable hours of television I watch all week, and so my hopes for the network's latest series, iZombie, were pretty high. Could this new show follow The Flash and Jane and be yet another winner for what has, in my opinion, become the best broadcast network on TV? Thankfully, the answer to that question is yes, as iZombie (much like its fellow freshman series companions) feels fresh and new and does a great job at establishing itself in its series premiere.
iZombie, which is very loosely based on the DC/Vertigo comic book series created by Chris Robertson and Michael Alfred and was developed by the Veronica Mars duo of Rob Thomas and Dianne Rueggerio-Wright, follows Liv Moore (the fantastic Rose McIver), an ambitious medical resident whose entire life changes after she joins her coworker at a boat party that turns into a deadly zombie outbreak. After getting scratched and drowning in the water, Liv wakes up the next morning as a zombie herself, and as you would expect, this new change dramatically affects her life.
As we flash-forward five months later, we see that almost everything in Liv's life is different. She decided to leave her residency and instead works at the local morgue (which gives her better access to the brains that she eats); she broke off her engagement with her fiancé, Major; and she now, for the most part, finds nothing about life exciting or interesting–all of which causes her family and friends to stage an intervention because of how concerned they are for her.
With constant reminders of her old life everywhere, the only place that Liv can really be this new version of herself is at her job, especially after her coworker, Ravi, not only discovers and accepts that she is a zombie but is actually ecstatic about it. In its first hour alone, iZombie makes the newfound friendship between Liv and Ravi feel real and genuine, despite the supernatural circumstances surrounding it. While Ravi is certainly interested in the specifics of how Liv turned and how she lives now, we also see how much he cares about her through his work on a potential cure and his packing her up some brains to eat so that she doesn't feel the need to steal them. Ravi, unlike the rest of the people in Liv's life, actually knows what she's going through and is trying his to best to help her deal with it, making it easy to see how and why the two would become fast friends. Plus, his geeking out over learning more about Liv is hilarious and very similar to the fanboy-like behavior that we see from Cisco on The Flash.
However, while Liv is certainly comfortable at the morgue, she doesn't truly start to feel alive again (seriously, no pun intended) until she begins having visions and inheriting traits from those whose brains she eats, which leads to her working with Clive Babineaux (Malcolm Goodwin), a detective for the local police that she helps with a murder investigation under the guise that she's psychic (or, as Liv puts it, "psychic-ish). It's Liv's moments with Babineaux where iZombie begins to show us the determined, hard-working individual that its main character used to be, and how, even as a member of the undead, that part of her doesn't have to disappear. These scenes would work a little bit better with less of Liv's voiceover (much of her emotional change is shown–we don't need to be told about it, too), but for a pilot, it's impressive how well-established her bond with Babineaux, an outcast himself (he's the low guy on the totem pole at the police office), already feels.
And these relationships will be crucial to iZombie's success moving forward. While the show's cases of the week (in the premiere, it's the death of an escort, who turned out to be murdered by one of Babineaux's fellow police officers) don't need to be anything revolutionary, we do need to feel a strong connection with Liv and the show's other characters; otherwise, iZombie risks becoming just a new twist on the cop procedural instead of something really special. The show still has to do some work in convincing us to care about Liv's family friends (although casting Aly Michalka as Liv's roommate Petyon is a big plus, and McIver totally sells the scene where Liv sees Major with a new girl, just as she's about to tell him that there might be hope for their relationship), but for a pilot, it's pretty spectacular how solid and well-defined most of these relationships already are.
If iZombie can continue to be as witty, compelling, and just plain fun as it was in its premiere last night, it has a real shot at becoming another must-see show on The CW. As for right now, it's a strong start to another new series on a network that has been knocking it out of the park all season long. I can't wait to see more.
Other thoughts:
– Rose McIver is so, so good in this show, and as a fan of her from her other work on series like Once Upon a Time and Masters of Sex, I couldn't be happier to see her get her own starring role in a show that's this much fun.
– As should be expected from Rob Thomas, the dialogue throughout iZombie's premiere is sharp, funny, and witty. I particularly loved Liv and Ravi's discussion of Elton John's music.
– I may be reading into this a little too much, but I think there could be, at least from this first episode, a good discussion about how iZombie is depicting depression in a new and innovative way through Liv. It'll be interesting to see if this continues in the show moving forward.
– McIver's delivery of "Maybe he was celebrating drunk cowboy style," followed by her shooting her finger pistols in the air, got the biggest laugh of the night from me.
– This episode ended on a really strong cliffhanger, too, with Liv seeing David Anders' Blaine, another zombie, chasing down and killing the person whose brain she ate. It'll be very interesting to see the two of them meet up again when they eventually they do.
– Hope you guys liked my review of the premiere. I'll be covering iZombie all season long for TVOvermind. Here's hoping the rest of the episodes are as good as the show's pilot!
What did you think of iZombie's premiere? Will you be tuning in next week for Episode 2?
[Photo via The CW]