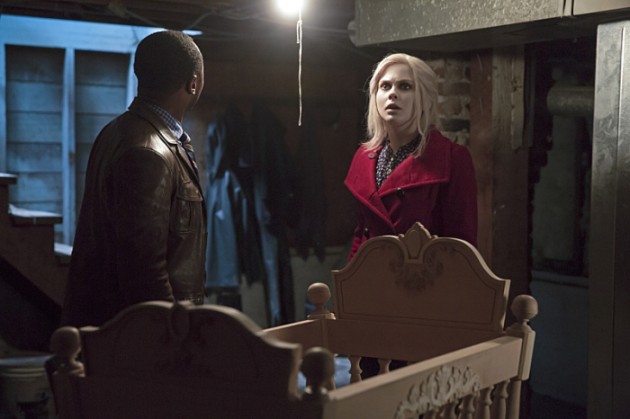 Liv Moore has been a caring person since iZombie's very first episode, but her interest in the well-being of others gets turned up an extra notch in "Maternity Liv" after she eats the brain of a pregnant woman, who died while trying to escape her kidnappers (her baby, fortunately, survived). Whether it was fixing Ravi's hair, encouraging her brother to get a part-time job, or telling Clive that she was going to give his lieutenant "a piece of my mind," Liv was the stereotypical, overly worried mother throughout tonight's iZombie, but even though having her maternal instincts kick in provided many comedic moments, it also allowed for Liv to grow in a more serious way as well.
Feeling the need to constantly go and visit Emily's baby boy in the hospital, Liv is confronted with the fact that she, as a zombie, will never have kids. That desire to love and protect a person that is truly a part of you is never something that she'll experience for herself, which is why she soaks up every last opportunity to look at Emily's baby and embrace her motherly ways with the people in her own life. For Liv, the way she felt and acted after eating Emily's brains is the closest she'll ever get to being an actual mother; kids for her have become a faded dream from her past life, something she could only imagine doing with Major, and now she can't really see a future where she could go back to that.
Although that initially seems like quite the downer of a realization, something that would cause Liv to lament her zombie existence, iZombie instead uses it as an opportunity to have Liv embrace her new life. Sure, she can't be a mother, but that natural instinct to care for and love others still exists inside of her; she can just express in it in other ways. And that's why it's so satisfying to watch as Liv spends time with her mom and brother, who she has grown to value more and more throughout the season, and get excited about a text from Lowell, in the episode's final moments. iZombie is continuing to the journey of Liv's spiritual reawakening and letting her appreciate all the possibilities that her undead life still grants her, not the ones that it has taken away.
Despite being a show that has a lot to do with death, iZombie, throughout its first seven episodes, has never felt dour or gloomy. This is a series that is witty and charming but also soulful and reflective. As exciting as it is to see Major start to enter into the zombie world, as he breaks into Julian's (aka the Candyman) car and finds a human brain before being arrested by the police, or Clive's lieutenant suspect that Liv is, like himself, a member of the walking dead, what makes iZombie so special is its ability to take a seemingly dark and hopeless subject and turn it into something hopeful.
This is one of TV's most fun and confident shows, but it's also one of its most optimistic. Even though the final image that "Maternity Liv" leaves us with is an unsettling one, as one of the Ravi's rats goes into full-on zombie mode and begins eating the other rodents involved in the test, it can't and doesn't take away from what Liv proves to us throughout the hour: no matter what happens to her, she'll find a way to make the best of it–that's just who she is, whether she's got maternal instincts or not.
Other thoughts:
– Liv and Lowell's scenes are just as great tonight as they were last week, as the new couple initially struggles with the fact that the most recent brain Lowell's eaten has turned him gay for the time being. However, that doesn't stop the two of them from having a great night together, as they get drunk, look at old pictures, and dance their way through a pretty terrific montage. Watching it seriously put the biggest smile on my face.
– iZombie really deserves credit for what it's done with Major's character. Even though he doesn't have all the facts yet and kind of screws over Clive in this episode, the fact he's getting closer and closer to the truth about zombies is just thrilling to watch. Major needed to have a purpose outside of being a romantic option for Liv if his presence in this show was going to work, and he was given just that. It's been a great story to watch unfold over the past couple weeks.
– So Liv's mother handing Evan the application for Blaine's butcher shop all but guarantees that he'll be working for the zombie crime lord. I'm interested.
– Loving all the zombie pop culture references the show gives us in every episode. A couple of weeks ago, it was Warm Bodies, and tonight, Liv and Lowell talk about Zombieland.
– I really hope Clive ends up getting some type of promotion or something by the end of this season. It's hard to watch someone that's as good of a person (and as good at his job) as he is constantly get belittled by his fellow officers.
– Rose McIver continues to be the best. She's killing it in every single episode.
What did everyone else think about tonight's episode of iZombie?
[Photo via The CW]