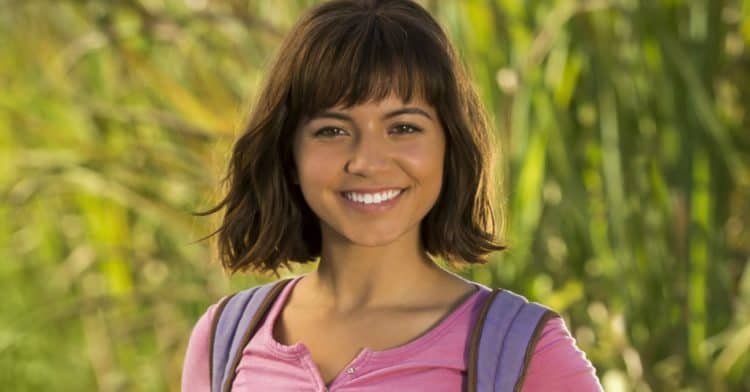 17-year-old Isabela Moner rose to fame thanks to her stellar performance as C.J in Nickelodeon's 100 Things to do Before High School. She's since gone on to carve out a successful career in film, with credits including the Michael Bay directed "Transformers: The Last Knight" and the Mark Wahlberg comedy "Instant Family". With upcoming roles in "Dora and the Lost City of Gold" and "Let it Snow", 2019 looks set to be the year Moner makes the transition from child actress to bona-fide movie star. To find out more, let's look at 20 things you may not already know about the talented youngster.
1. She plays the Ukulele
We may know her best as an up-and-coming actress and singer, but Isabela Moner has some hidden talents up her sleeve. Any entertainer with half a brain knows the pulling power of a well-rounded resume, and Moner is no exception. The talented youngster can truthfully pad out her list of skills with the title of "musician". As she told Variety :- "I play the ukulele and I've got like a million ukuleles that I cannot wait to play".
2. She was accepted into college at 15
Moner may have been lightening up our screens since a young age, but she's not been neglecting her studies in the meantime. The Transformers actress is clearly no slouch in the classroom, as in 2017, she managed to skip two grades of school and gain acceptance into college at only 15 years old. The bright teenager shared the news with her social media followers, telling Facebook fans:- " In my family, a good education is invaluable and cherished. I really hope all of you realized how important it's to be smart rather than a movie star. I can't wait to start working towards that degree".
3. She's fluent in Spanish
Moner's mixed heritage (her mother was born in Lima, Peru, while her father hails from Louisiana) has given her a head start when it comes to mastering languages. While Moner is known for her English-speaking roles, Spanish was her first language as a child. Despite subsequently developing into a talented linguist, she initially struggled with English when she started grade school. Moner's Latin roots are clearly close to her heart, and she's claimed to feel more Peruvian than American. Moner was thus delighted when Transformers director, Michael Bay, gave her the opportunity to add a few Spanish words to her part, after hearing her speaking Spanish with her mother on set.
4. She's best known for playing C.J Martin on 100 Things to do Before High School
Despite already having a few credits to her name at the time of joining 100 Things to Do Before High School, it was Moner's performance as C.J Martin on the Nickelodeon hit that really propelled her into the spotlight. The show, which ran from 2014 to 2016, bought a whole host of future stars to our attention, including Jaheem King Toombs (who played C.J's best friend since kindergarten, Fenwick Frazier), Owen Joyner (who starred as the "coolest kid in school", Christian "Crispo" Powers), and Jack De Sena (who, as the school's guidance counselor, Jack Roberts, proved a frequent and loyal ally to the kids).
5. She appears as Dora in the upcoming movie, Dora the Explorer
Fans of Moner were delighted when it was announced in May 2018 that the teenage star had been cast in the upcoming live action adaptation of Dora the Explorer. Moner will star as a a teenage version of the show's protagonist and is clearly thrilled at the prospect. "We don't have Latina heroines in theaters; I haven't seen Marvel doing it," she revealed to USA TODAY. "I'm excited to play that for young audiences." The film, which is currently in post-production, is due to hit our screens later this year.
6. She made her Broadway debut at the age of 10
Moner's ambitions kicked in early; inspired by the musical movies of Judy Garland and Shirley Temple, Moner convinced her parents to allow her the opportunity to take part in local community theater. Moner impressed early on, and just 4 years later, she made her Broadway debut at the age of 10 in a production of Evita. Moner's performance dazzled theater goers, who were particularly taken with the youngster's impressive Spanish duets with Latino pop-star, Ricky Martin.
7. She loves sports
You may imagine the proceeds of Moner's TV work would have given her a taste for the high life, but in reality, Moner enjoys the same kind of everyday activities as any other typical US high school student. Moner loves chilling out in front of the TV as much as the next girl, but also loves taking part in more active pursuits. As she describes on her website, Moner delights in conquering the slopes with some skiing and snowboarding, but is equally passionate about skating and messing around the trampoline with her brothers, Gyovanni and Jared.
8. She's a solo star
While most of her work has been performed as part on an ensemble cast, Moner is no stranger to performing as a soloist. Moner's vocal abilities have taken center stage at various benefits and venues across New York and Cleveland, including the Lincoln Center, Severance Hall, The Cutting Room and the legendary 54 Below. Despite being so young, Moner is clearly not shy when it comes to standing alone on stage, and can list solo performances with the Cleveland Pops Orchestra among her many credits. She's not averse to the odd duet, however, and has drawn applause for her performances with Jon Anderson from "Yes" and singer-songwriter, Billy Jonas.
9. She was considered for The Suicide Squad
Like any other actress or actor worth their salt, Moner has seen her fair share of casting rejection. When the upcoming Tom and Jerry movie was announced, Moner's name was mentioned for the role of Kayla, a hotel employee who deviously hires Tom to try and rid the hotel of resident guest, Jerry. The role ultimately went to Kick-Ass star, Chloe Moretz. Moner was also considered for the role of Ratcatcher in The Suicide Squad (due for release in 2021) but lost out on the part to the star of Massa Fresca, Daniela Melchior.
10. Her film debut was in The House that Jack Build
Moner's first appearance in a movie was 2013's The House that Jack Built, in which she played the part of the young Nadia. The film starred Orange is the New Black's Rosal Colon as the adult Nadia, and E.J. Bonilla and Melissa Fumero as the film's protagonist's, Jack and Lily. Moner followed up her debut with Middle School: The Worst Years of My Life in 2016, which saw the actress take on the part of Jeanne Galletta. Although the film received a less than favorable reception on its release, the talents of its young stars didn't go unnoticed, with Deborah Dundas of the Toronto Star praising the casts "solid" performance and commenting:- "As they manage the world between childhood and being a teenager, this film gives middle school kids a way to deal with their shared experience – overbearing adults, school bullies, first crushes, impossible rules – and giggle at the things that grind 'em down".
11. Isabela Moner's net worth is $1.5 million
She may be only 17 years old, but Isabela Moner already has a personal fortune most of us would drool over. Thanks to her extensive TV and film credits, and the money that's rolled in from her musical projects, Moner can claim a very healthy net worth of $1.5 million. With more projects planned for the coming year, it's a fortune that's only set to increase.
12. She's active on Social Media
Like most kids her age, Moner is a fan of social media. Unlike most of her peers, however, social media likes her back just as much: her Facebook account boasts more than 318k followers, while her Instagram account has attracted a massive 1.9 million fans since its launch. Her 9 years on Twitter, meanwhile, have drawn the attention of over 100k fellow twitterers.
13. She dated a fellow Nickelodeon star
In 2016, Moner and fellow Nickelodeon star Jace Norman went public with their relationship. Rumors of a romance had been circulating for some time, but it wasn't until the spring of that year that the pair confirmed they were more than just friends. Norman (who is best known for playing the titular character in the Nickelodeon hit, Henry Danger) and Moner seemed the ideal couple, regularly delighting their fans with cute snaps of their antics on their respective social media pages. However, the romance was not to last, and within just 7 months of declaring their relationship, Norman confirmed to JustJared that it had ended.
14. She's released an album
We know Moner can belt out a tune thanks to her numerous Broadway and theater performances, but her musical ambitions extend beyond the stage. In September 2015, she demonstrated her impressive pipes to a wider audience when she released her debut studio album, Stopping Time. The album included a range of original material (such as the single, Dream about Me, which Moner wrote when she was just 11 years old), and cover tracks, including a version of Beyoncé's Halo and a reworking of the Oasis britpop classic, Wonderwall.
15. She's been nominated for several awards
Despite only being active in the industry since 2013, Moner has already been recognized by award committees. Her stellar performance in Transformers: The Last Knight (in which she played young scavenger Izabella) earned her a nomination at the 2017 Teen Choice Awards in the category of Choice Summer Movie Actress. Two years later in 2019, she earned another award nod at the Young Entertainers Awards, which saw her nominated as Best Leading Young Actress for her stellar performance in the 2018 comedy film, Instant Family.
16. Her role model is Debbie Ryan
In an interview with Variety, Moner revealed that her Hollywood girl- crush is Debbie Ryan, the American actress and singer best known for her work on the Disney Channel television series, Jessie, and black comedy, Insatiable. The actress's edgy approach to her roles has won the young Moner's heart… although Ryan has some stiff competition from that other talented actress, Jennifer Lawrence, who's accomplishments (and Oscar win) Moner would love to emulate.
17. She was a huge Nickelodeon fan as a child
Growing up, Moner was a huge fan of the Nickelodeon shows, Zoey 101 and iCarley. Coincidently, she was also a devoted Dora the Explorer watcher, and even got to meet Fatima Ptacek, the voice of Dora, after she secured the part of Kate in Dora and Friends, the Dora the Explorer sequel that ran on Nickelodeon between August 2014 and February 2017. Ptacek had previously voiced Dora in the original series of the show, which aired on Nickelodeon between 2010 and 2014.
18. She used to love Hot Wheels
Moner was born in Cleveland, Ohio on July 10, 2001 to parents Katherine, a Peruvian by birth, and father Patrick, a Louisiana native. Moner is one of 3 siblings, with younger brother Gyovanni and older brother Jared completing the Moner family lineup. As a child, Moner was a bit of a tom-boy, preferring to play with her brother's toys to her own. She was a particular fan of Hot Wheels, the classic line of toy cars. According to IMDB, Moner has claimed: "… those [Hot Wheels] were the most interesting toys to me. I just gravitated towards them. No one told me to; no one told me I shouldn't. I just kind of did".
19. Her first TV role was in Growing Up Fisher
Moner got her first chance to star in a TV series when she was cast in the NBC sitcom, Growing Up Fisher, in 2014. The series saw Moner take on the reoccurring role of Jenny, who she went on to play for 7 episodes. Unfortunately for Moner, the show proved to be short-lived: after premiering on NBC in February 2014, the series was canceled on May 2014 after just one season.
20. Her casting in Dora the Explorer received a mixed reception
Despite Moner's own enthusiasm for taking on the role of Dora, some of her fans have proved less than receptive to the idea. "Please please don't do this movie …You have such a promising career don't flush it down the drain," one commentator was moved to plead, while others felt the 17 year old was simply too old to play the titular role of Dora. Moner, however, was undeterred by the criticism, telling Forbes:- "I'm so excited for Dora, you don't understand" .