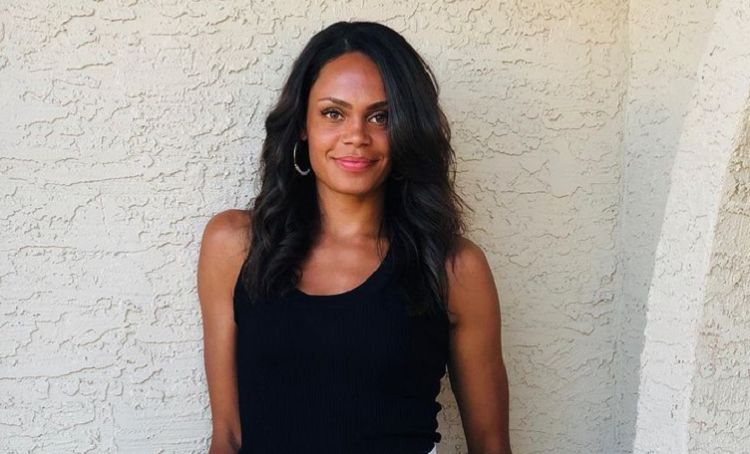 'Tis the season, friends. No, the holidays are over so it's not that season any longer. It's Bachelor season. It's time to curl up with your girlfriends or your husband on the couch with a glass (bottle) of red and watch "The Bachelor," every Monday evening. Michelle Young is one of the 32 hopeful young women recently cast to win the heart of Matt James, though we have no idea if she wins or not. What we do know, however, is that people have not already seen her on television, and they are looking to learn a bit more about her.
1. She's Not a Season OG
What does this mean? Well, it means that she is one of the five women very dramatically introduced to the Bachelor at a later date than the first night. She wasn't one of the original women to show up to meet the man of her dreams, so we imagine that the women in the house aren't going to love her from the start. No one likes a new girl coming in to date your man, especially when you're already sharing him with 26 of your new best friends, right?
2. She's a Minnesota Girl
She's from a town we've never heard of – but we are Floridians, so we know next to nothing about Minnesota except what we've seen on the news in the last year, and that's less than flattering. She's from Woodbury, Minnesota.
3. She's New to the 'Gram
While most of the other women on the show have been on Instagram for some time (we imagine many of them are on the show for no reason other than to boost their engagement and their followers so that they can live that influencer life), she's only just joined. Her account is brand-new, and it features a staggering three photos.
4. SPOILER ALERT: She Makes it Far
We aren't big fans of spoilers…so we will say it again: SPOILER ALERT. Rumor has it that the 27-year-old beauty is going to end up making it to at least the top four with the new bachelor. She may make it farther, but we just know that Reality Steve (who is rarely ever mistaken) already announced she makes it until at least the top four.
5. She's a Teacher
If there is anyone we all love and appreciate more than anyone right now, it's an educator. They are working harder, longer, more delicately than just about anyone else right now – and they're doing it with so much grace. She's an elementary school teacher, and we are just here for her and the fact that she had to deal with the most disturbing year of all in 2020, and she probably received very little appreciation for all she did during that time. As the mother of four (three in elementary school and one in middle), I'd personally like to thank Michelle Young for all she's done for her students in the past year.
6. She's Athletic
She's got all of three photos on her Instagram profile, but one of them is her sitting on a basketball on a court saying she misses the game. We imagine she must be an athlete based on the many comments from what appear to be teammates. Here we are just hoping she can get back to it as soon as possible. Sports are the best.
7. SPOILER ALERT: We Just Found Out She's Runner Up
All right, so we are hearing that she is the runner up to the winner, and that's because the winner hails from Cumming, Georgia, where apparently her friends and family all know she won and are happily telling anyone who will listen. So, we don't know if this is verified to be true just yet, but we do know that this is the rumor – so she does make it to the top two and much further than the top four we predicted earlier.
8. Could She Be the Next Bachelorette?
She's a lovely young woman who isn't too young, who has a great job as a teacher, who will probably be super likable, and who makes it to the top two only to find out she's not getting engaged – according to spoilers. Does this mean she could be the next Bachelorette? We imagine so.
9. She's Very Private
She shares next to nothing. She has three Instagram posts. Her profile on the Bachelor fan page is all but blank, and now everyone is dying to know more about her. We can't get enough, but she doesn't appear to be sharing anything with anyone.
10. She May Fall for This Man
We cannot confirm this, of course, but she is seen kissing him in promo videos. She also comments that she might have found the man who will change the world with her. Will that happen?