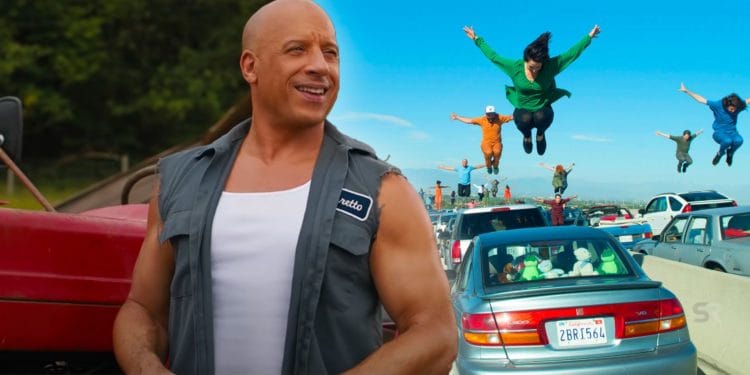 Vin Diesel has certainly made a habit out of building rivalries with his colleagues. His most signature role is undoubtedly Dominick Toretto from the Fast and Furious franchise. What started as a fun movie about street racing and undercover cops slowly morphed into a bonkers action franchise. And by golly these movies just keep getting more and more ridiculous. To be fair, it has worked in its favor, given that these movies keep bringing in the money. And the main star leading the franchise is the bulging, hairless Vin Diesel. In every Fast and Furious movie, he'll just keep reminding you what these movies are about. They're not about driving very fast and flashy cars or mindless action. Oh, quite the opposite.
According to Vin Diesel, the main theme of Fast and Furious is family. You may not understand as to why, but it doesn't matter. When you're in doubt, just listen to Dom reminding everyone on the importance of family. It's just a little strange that the whole family lesson doesn't seem to apply to the actual cast of the Fast and Furious franchise.
By now, fans of these movies should be well aware of the ongoing rivalry between Vin Diesel and Dwayne "The Rock" Johnson. It seemed like a funny little sideshow attraction at first, given that their two characters initially had a beef in Fast Five. I will say, that enmity between Dwayne Johnson's Luke Hobbs and Vin Diesel's Dom made for one epic brawl. That has got to be the best fight scene of the entire franchise. So, it was kind of odd, but not totally surprising when news broke out that the two beef cake stars had an actual enmity behind the cameras.
While many fans, including me, initially believed that it was all for show, it was later revealed that their rivalry was in fact legitimate. There was never a concrete reason as to why, but Dwayne Johnson hinted on his social media that he didn't exactly approve of Vin Diesel's work ethic. He did eventually reveal that they kind of buried the hatchet, however. It ultimately came down to the two of them establishing that they were on two different sides of the spectrum. In other words, they are two totally different types of people who approached handling these movies in two different manners.
Okay, so to be fair, the Fast and Furious movies are Vin Diesel's babies. He's the lead and has served as a producer for them since the beginning. However, ever since Dwayne Johnson joined the franchise, he has been bringing in the cash by the truck loads. To be honest, he's the reason why I got back into these movies. It's no secret that Dwayne Johnson probably has no intention of returning to the main Fast and Furious movies. I mean, he's already found tons of success with the Hobbs and Shaw movie, so he'll probably just continue with that. It's a shame he probably won't patch things up with Vin Diesel and return for the final movies, but hey, things can always turn around.
Well, it turns out that maybe they can't. While Fast 10 has already begun shooting, the movie has hit a very unexpected snag. Justin Lin, the director, has officially stepped away from the movie. That is very odd, especially since filming had already started. Why would Justin Lin just pack up and step away so soon? Well, according to some rather curious reports, Vin Diesel may have been the cause of it. Now let's just be clear for a minute here, there is nothing that totally confirms this news. Reports have claimed that they have heard this from a "reliable source". But as you would expect, that reliable source wouldn't be named.
Does that mean what these reports are saying is untrue? Not really, but they don't exactly make things look good for Vin Diesel. The reports claim that Justin Lin exited Fast 10 due to the on-set behavior of Vin Diesel. This included him showing up to the set late, not knowing his lines, and looks completely out of shape. Considering that this franchise is basically the baby of Vin Diesel, that sounds like very unusual behavior coming from him. If that is indeed how he behaved, it would be beyond unprofessional on his end. As the face of the Fast and Furious franchise, it seems unfathomable he would hinder the movie's production like that.
Again, none of this has been confirmed. For all we know, Justin Lin could have left for totally different reasons. For the sake of the movie and Vin Diesel's reputation, I hope these reports are not true. How could he possibly expect his colleagues to take the production seriously if he won't even do it? That rule applies to every boss in any kind of job. And keep in mind, Fast 10 would have been the sixth Fast and Furious movie Justin Lin would have directed. He's had such a big hand in extending this franchise and he's done a decent job of it so far. So with that in mind, why would he just quit after shooting just began?
I'll just say, based on the whole drama he had with Dwayne Johnson, there could be some validity behind these reports. If there is, then Dwayne Johnson probably had a point about Vin Diesel. There may be some truth behind the, but either way, Fast 10 will find another director. In fact, they probably already have.
As a fan of Vin Diesel, I find it disappointing to hear this news. Even if the news isn't true, you should still wonder why Justin Lin left after literally just started shooting. Dwayne Johnson had his reasons for exiting when he did and it was unfortunately due to his beef with Vin Diesel. The same situation could have happened between him and Justin Lin.
But then again, they worked on five Fast and Furious movies together and it didn't seem like they had many problems. On the other hand, maybe there was and we just never heard about it? It honestly could be a lot of things, but it does surprise me that Vin Diesel would act so unprofessionally. If the man spearheading the charge doesn't show the right work ethic then it starts to rub off on everybody else. Oh man, that's exactly how his beef with Dwayne Johnson got started.
What are your thoughts, Fast and Furious fans? Do you think Vin Diesel is the reason Justin Lin exited Fast 10? Let's hope we hear something a bit more concrete in the future. Oh, and let's just all have faith in family. Now let us all hear Vin Diesel say it with his raspy voice.