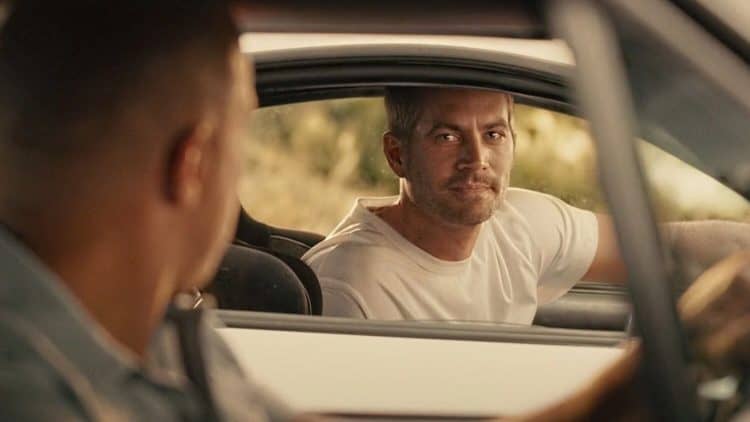 Anything we say online is bound to have little effect on what will be rolled out in the theaters, but it might give rise to whether or not people think that one thing or another is a good idea, and bringing back Brian O'Connor for the last two Fast and Furious movies feels like something that might need a lot of serious thought before making a final decision. Obviously that's already happening since despite the fact that the technology exists, the moral implications that come with bringing a person 'back to life' still exists, and should continue to exist since otherwise it becomes fair game for anything and everything, and there's no telling who's going to get hosed in the end. Bringing back Brian for the last two movies would be accomplished by the efforts of Paul Walker's brothers Caleb and Cody, as well as the VFX software that would reproduce his image. But it's enough to wonder if this is going to be something that the fans are willing to accept, since the answer from some is a resounding yes, while others aren't quite so sure yet.
Cody and Caleb are down, and Justin Lin, the director that's attempting to make this happen, is ready to go. But he's still debating on whether it would be a good idea apparently, even if he's prepared to move forward at any moment. Brian was a big part of the franchise, there's no doubt about that, but with Walker's death in 2013 things had to change in a big way. Bringing him back into the lineup is going to require a pretty big explanation of why Mia came back for F9 but not Brian. Okay, so there was an explanation, but it's a smokescreen more than anything to highlight the fact that Brian isn't there, since a lot of fans are going to cite the idea that Brian would never allow Mia and Dom to go on a mission without having their backs. It can be argued that Brian watching the kids, his and Mia's and Dom's, was more important and needed to be done, but it still feels like a pretty thin explanation.
If Brian is brought back into the mix it's going to have to be seamless as possible for the fans to accept it, and even then there are going to be plenty of naysayers that don't like the idea of using someone else to bring back a deceased celebrity. Plus, if Paul's family agrees to and accepts this, it's still going to feel at least a little awkward to a lot of people, but like a lot of folks say 'it is what it is'. Arguing against it isn't really going to do anything, especially if Lin is already making up his mind at this point. With Cody and Caleb on board, it's likely up to the rest of the cast to say whether they're good with it or not, and it would already appear that a lot of them want Brian back for a proper sendoff for the last two movies. It's kind of a sticky issue right now, but there's a lot of support behind it, which is why it probably will end up happening.
Brian O'Connor was one of the original characters after all, and since Vince and Jesse were shot, and Leon, well, Leon was kind of there one moment and gone the next, as he turned out to be a loner that had just kind of gravitated towards Dom and didn't really get any serious character development. Of the bunch, only Dom, Letty, and Mia are actually left, with the character of Brian off in the wings protecting the kids. But if Brian is brought back for the last two movies it feels fair to say that there might be a bit of a divided reaction simply because, well, people were resigned to the fact that Paul Walker was gone, and as a result, so was Brian. Bringing him back might dredge up a lot of mixed feelings and possibly a lot of debate on whether or not this was the right move. It's bound to happen that he'll end up coming back and things will be sorted out somehow, but it also feels as though it could be a little odd.
Plus, without any idea of what the next two movies are going to bring, apart from a possible grand finale, it's very likely that Lin will want to have everyone on hand that's available to end this story, and on that note it's hard to say no. So long as Paul Walker's family is okay with it and everything possible is done to make it a respectful attempt, then it shouldn't be too much a problem to see him back for what should be the last ride.
Tell us what's wrong with this post? How could we improve it? :)
Let us improve this post!