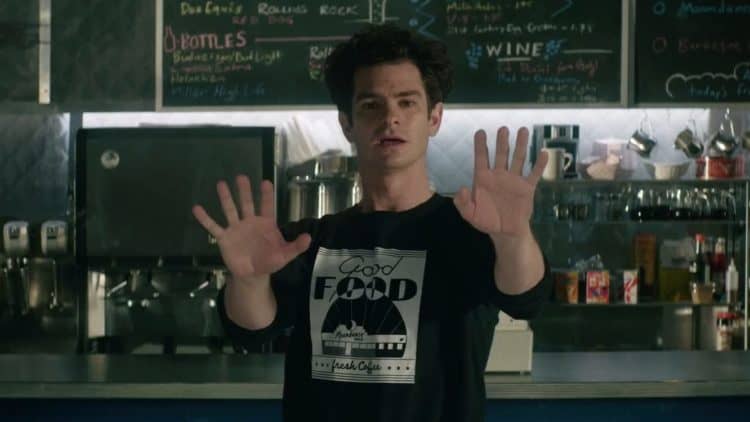 In the latest Netflix exclusive and possible award-winning hopeful, Lin-Manuel Miranda steps behind the camera to tell the story of Jonathan Larson, the creator who revolutionized Broadway theaters thanks to musicals such as Rent. However, before that big production, the film follows the young thespian creating Suburbia, a musical he feels will change the world of Broadway for good. One of the issues is that Larson feels there's a ticking time bomb to his career that has yet to be started, even though the world around him is crumbling without Larson noticing. A big disclaimer, I hate musicals. Prior to watching Tick, Tick,..Boom!, the last musical I saw was High School Musical, for five minutes, and I just couldn't get into it. Les Miserable, La La Land, In The Heights, The Rocky Horror Show, Chicago, completely ignored them all. I've never even been in a building that had Broadway shows! So, what actually drew me into Tick, Tick…Boom!? I was curious. One of the songs from the movie had some nice dark flavor in it and I laughed every time it came on. While I don't necessarily have any interest in revisiting every popular musical ever made, I can happily tell you that Tick, Tick…Boom! is a great movie that once again shows off the talents of Andrew Garfield.
The former Spiderman is a star; Which isn't much of a surprise thanks to his performances in Hacksaw Ridge, 99 Homes, or even The Amazing Spiderman itself. It's not just impressive that Garfield can actually sing, it's his mannerisms and the way he simply throws himself into the role of Jonathan Larson. Garfield moves around with infectious energy and the way that he interacts with the cast, namely his friends and girlfriend, to him crafting his musicals, to his talks with Rosa, you feel every emotion and beat that plays throughout the 1 hour and 55 minutes. Of course, that performance is in part because of the incredible direction from Lin-Manuel Miranda. Despite this being his first film in the director's chair, Tick, Tick…Boom! feels that it's been expertly made by a seasoned professional. The story and musicals blend together seamlessly and the film feels lively and personal. Miranda likely understands a creative mind and lifestyle, which is brilliantly told here. Larson is so caught up in his world of trying to prepare for the Suburbia workshop that he doesn't understand how it's tearing his relationship apart or the distance he's created between him and his friends. It feels like his life is on borrowed time because the immense pressure he's put on himself not being able to show his success at the age of 30.
You understand the journey that Larson is going through because of how relatable the subject matter is; How many people have felt like a failure in life because they didn't reach a specific goal by a certain age? It taps on one of the biggest insecurities people have and effectively tells the story in a compelling manner. Another standout is Robin De Jesus as Michael, who's the best friend of Jonathan Larson. His story is definitely the rawest and most emotional portion of the film. We get hints that everything isn't perfect in his life; however, with Larson being so consumed with his art, he barely pays attention to his friends. The chemistry between Garfield and Jesus is amazing as they genuinely feel like brothers. Does the story dive into the melodramatic? It does, but it doesn't drown itself into sappy subjects and the melodrama never overstays it welcome. Also, be on the lookout for cameos like original cast members from Rent and Phylicia Rashad (who sadly doesn't do much despite her name).
Of course, this is a musical, so how are the songs? They're good. Granted, they won't get stuck in your head like Frozen's Let it Go or even Rent's Seasons of Love, but there are several memorable quotes and damn it, Garfield can sing! He's aided by Vanessa Hudgens, who knows a thing or two about musicals. A quick note here, Hudgens isn't given much to do here sadly. She's great in every scene that she's in, but the High School Musical star isn't part of the main subplot of the film. The way the songs interweaves with the story feels natural and you will find yourself enjoying these fun and sometimes emotional ballads. All in all, Tick, Tick…Boom! was a great film from beginning to end. Even if you know absolutely nothing about musicals or Jonathan Larson (like I did) then you'll be able to easily follow along on the journey. For 100 terrible Netflix exclusives that the streaming site churns out each year, Tick, Tick…Boom! is that rare gem that demands to be seen.
Tell us what's wrong with this post? How could we improve it? :)
Let us improve this post!