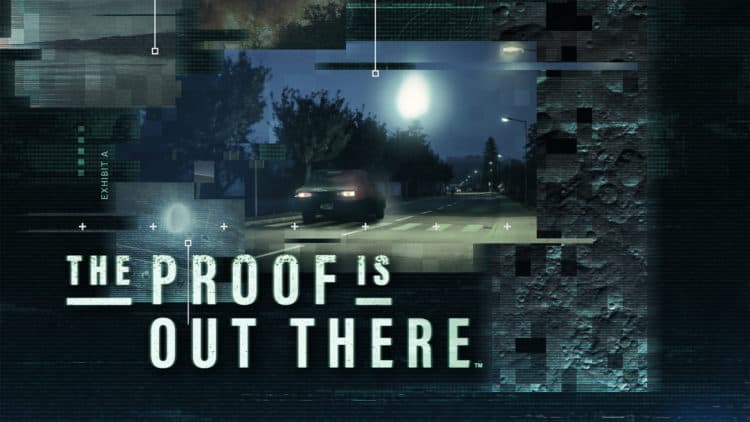 Have you ever seen or heard something so bizarre that it was almost impossible to believe? The new History Channel series, The Proof Is Out There seeks to explore situations just like those. The show is hosted by journalist Tony Harris and takes viewers on an interesting ride through some very strange mysteries. Each episode of the show is 30 minutes and during that time Tony will investigate an unexplained picture, video, or audio clip. He will seek the help of experts who will work to try to come up with an explanation for what they're seeing and/or hearing. At the end of each episode, they will provide a 'verdict' based on their findings.
Even if you're someone who does typically believe in super natural occurrences, this series will put your beliefs to the test. Not only will you question the validity of some of the submissions, but you also may find yourself questioning the show as well. If there's one thing we all know by now, it's that reality TV shows can't usually be trusted. At the same time, however, there's a possibility that this should could be an exception. Is There any proof that The Proof is Out There is real? Keep reading to find out.
What Tony Harris Has To Say
Since The Proof is Out There is a new show, fans haven't had much time to formulate opinions on whether or not they think the show is fake. That being said, is absolutely nothing to indicate that the show is fake. With the way that the show is formatted it would be pretty tough to fake. The whole show operates under the premise that sometimes you can't even believe things you see with your own eyes. That mindset is especially true now that technology has made it possible to edit and alter almost everything. The only significant things that could be faked are the submissions and the rulings, but so far there's no evidence of either of those things happening.
The show's host, Tony Harris, is adamant about the show's authenticity. During an interview with Monsters and Critics, Harris, indicated that what you see is what you get with the series. He said, "…, we absolutely have a number of videos that were at the end of the day, our verdict was, "This is credible, and this deserves further exploration." And it doesn't make sense just to be a debunking show. You know what I mean?"
Tony continued, "This show is coming at the right time. The [premise] of debunking everything that's out there…that's easy, that's cheap. But the trickier thing is to say, 'Hey, look, our experts have looked at them and there deserves to be a deeper dive on this. We find this credible enough that we're going to continue to look at it, and we find it credible enough that we're going to say so.'"
You Decide
At the end of the day, it will be up to viewers to decide whether or not they believe what they're seeing and hearing on the show. Even though the experts will use their knowledge and skill to get to the bottom of things, it'll all come down to what viewers are willing to accept. There are many people out there who will still be skeptical even after something has been 'proven' one way or another, because even experts have been known to fabricate. This element is one of the things that always makes the show fun and exciting. Even if you're not someone who typically gets caught up in the super natural realm, this is one show that will definitely make you think.
The Proof Is Out There Season 2
The proof is out there has just wrapped up its first season, but there's still no information on whether or not it will be renewed. Although most were hoping for an official announcement by now, many viewers are still hopeful and to be honest, chances are there could be a second season. The show should have no problem attracting viewers, though. With all of the crazy things going on in the world lately, many people have become extra skeptical and a show like The Proof is Out There will likely appeal to them.
If the show can maintain a good balance between keeping people on their toes and providing them with helpful information, there's no reason why it could come back for a second season and more. In the meantime, viewers can catch full episodes from season one on the History Channel website.