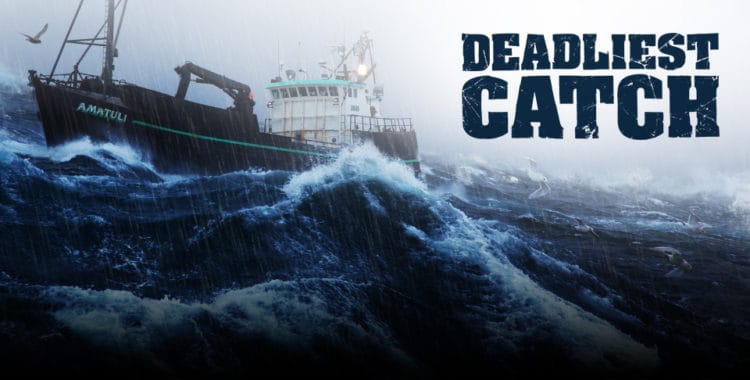 Deadliest Catch may be the most aptly named show of all time. The level of risk the men on that show take daily is more than most of us would want in a lifetime. Sure, the job pays well, and they get to be on TV (which is a nice bonus) but let's be honest, they are risking their lives. Perhaps only a couple of jobs in the world are more dangerous. Choosing who we'd add to that crew is a very tough call.
Anyone who might join the Deadliest Catch crew needs a core of solid steel and a titanium backbone. Celebs who would break down and cry the first day without sleep wouldn't make it back to shore. Holding your own in dangerous waters is no small thing. If we could choose anyone, we'd sure like to see some women out there in the mix, but a whole lot of Hollywood's leading ladies are a bit more runway than rough seas types. Still, there are a handful of hardy souls, both male and female, who might make the show a whole lot more fun to watch and survive the season.
1. Jane Lynch
Tall, blonde, gorgeous, outspoken and hilarious, at 58 years old actor and comedian Jane Lynch might not be someone that most people would pick for a dangerous job. Unlike everyone else on this list, she is not known for doing her own stunts or being an action star. Just the same, there is more to surviving a dangerous situation than just muscle tone. As a philanthropist for many causes, his educated and funny lady is willing to stand up for what she believes.
If any 'normal,' Hollywood personality who hasn't devoted their career to time at the gym and working with stunt coordinators could make it through this trip, we think she's the one. Furthermore, Jane Lynch might just end up in charge of the whole operation. Her no-nonsense take command attitude leaves us in awe of her talent. The only thing that might hold this bombastic and fantastic woman back is her love of animals and connection with PETA, who might not approve of the show because they do catch fish.
2. Datuk Chan Kong-sang
He's got the guts, he's got the reflexes and he is surprisingly adaptable. More than just a great martial artist, he has a ridiculous learning curve. If you don't know him by his real name, maybe we should just call him Jackie Chan. The man, the myth, the legend who jumped off a building onto a helicopter, if anyone can handle rough seas he can.
As one of the most recognized celebrities in the world, he's basically a good addition to anything. Forbes also recognizes him as one of the 10 most charitable celebrities, so we know he's got the heart to match the fighting spirit and sense of humor. On top of all that, we just know it would be fun to watch him handle the nets and physical environment of the ship in his uniquely acrobatic way.
3. Jennifer Lawrence
With her experience in the Hunger Games and Sucker Punch, we know she's tougher than she looks. In addition to making Time's 100 most influential people in the world list (2013), and Forbes Celebrity 100 list (2014 & 2016) she started her own charity. The Jennifer Lawrence Foundation supports many charities that empower children. Her heart of gold is backed up by some serious skills. She did her own stunts in the Hunger Games. We feel like this makes her an ideal candidate for a celebrity appearance on Deadliest Catch. Anyone who saw the second movie knows she can swim and handle herself around water and maybe her experience as a dystopian teenager will give her an edge.
4. Christian Bale
He's Batman. We all know Batman can do literally anything. He's fought everything you can imagine from gods to his own inner demons, and Christian Bale plays him so well. Most people don't know he did stuntwork as well. As a dedicated method actor who has undergone massive physical changes in the process of studying for various roles. Anyone so committed to playing a part he will lose 63 pounds, which Mr. Bale did for his 2004 role in the Machinist, is probably going to be prepared. After he played that part, which, for the record, involved a character who hadn't slept in a year, he transitioned back to his Batman physique. Between his familiarity with sleeplessness, and willingness to obsess over what is needed to do his job Christian can probably deal with some fish, even really dangerous fish.
5.Naomie Harris
The incomparable Naomie Harris may be most recognized as Tia Dalma/Calypso. As the former sea goddess, she might have a few tricks to teach the guys on Deadliest Catch. Of course, she might also decide to capsize them and send them swirling down to meet Davy Jones. Either way, it would make for excellent television and she clearly knows her way around ships after filming in the Caribbean. Fun speculation aside, Naomie Harris is utterly amazing. Like most of the actors on this list, she has worked hard to do her own stuntwork as a bond girl. Her unique experiences doing movies like 28 Days Later have prepared her for stressful situations, and she's always got that degree in social and political sciences from Pembroke to fall back on if every movie studio and television company in the world stops casting brilliant, beautiful women. We think she'd make a spectacular member of the crew and we already know she looks great when you film her with the sea as her backdrop.
Final Thoughts
There are so many amazing celebrities to choose from that narrowing this list down to just five was incredibly difficult. With all the worlds' talent to choose from, plenty of famous faces could show up on reality TV, but we all know Deadliest Catch is special. The difficulty of doing even a cameo, let alone a full season of a show like that is something most Hollywood celebs wouldn't even consider. What's more, not everyone could make the cut, but we're confident that these five would put on a good show and make it home safe again.