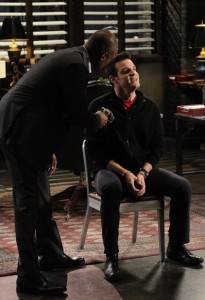 Do you believe in the Butterfly Effect? Have you noticed the smell of fudge, when there is no fudge? Tonight (12/6) Syfy gifts Warehouse 13 fans with a dazzling nod to Frank Capra's Christmas classic, It's a Wonderful Life, in which Agent Pete Lattimer's swept from existence causing tragic effects to his beloved teammates' lives.
Executive Producer Jack Kenny deftly helms this heartwarming tale named, "The Greatest Gift," after the story Capra's cherished classic was based on. When I last spoke with series co-lead Eddie McClintock for TVOM (previewing Warehouse 13's season finale) he still hadn't seen this episode but was proud that Kenny had asked him to up the angst since last year's Christmas special was criticized by a certain segment of fandom. Eddie reiterates on the subject, "I just like this year's Christmas episode better because I felt it was a little too, dare I say, "Schmaltzy" last year. Not that it was a bad episode, I enjoyed it but I just like this one better. Roger Rees is back as Macpherson, you know, there's an actual 'bad guy' and the stakes are much higher this year. Don't get me wrong, there's still some good lighthearted, funny stuff and there's some good heartfelt moments as well. It's not that dark, but I think what it primarily does is give you the same feeling, I think, that It's a Wonderful Life provided for viewers. That sense of redemption and struggle and at the end I think it'll leave everybody nice and happy and ready to go see Santa."
Questions routinely arise about Syfy special episode timelines, and, where they fit in within their respective shows? McClintock clarifies, "The episode exists out of time. It doesn't exist within the timeline of the show, so you know, Jinks and everybody is still alive. There's been no deaths yet."
Holiday specials were a tradition in the McClintock home which is why getting the network's flagship Christmas show right is very important to him, "When I was growing up you couldn't just dial up a Christmas show on iTunes or watch it on your phone, you actually had to wait an entire year to see those shows again. So it was exciting, it was like, "Wow, I remember this from last year." You know, I mean, my kids watch Rudolph The Red-Nosed Reindeer now like once a month. So, hopefully, the tradition will be able to stand up in the face of all this new technology."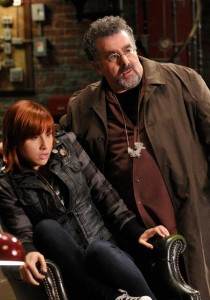 Either as Agent Lattimer or in real life, Eddie is usually the funniest guy in the room and never fails to bring a sense of fun and wonderment to everything he does. So, what did the funnest guy on set find most fun about making the Christmas special? "I think any chance for Pete to nestle his head between Mrs. Frederic's ample bosom will be a fan favorite. And it kind of comes out of nowhere. That was really fun because everybody's so,… the viewers and everybody on the show, all the characters, are so afraid of Mrs. Frederic and the fact that she ends up spending Christmas with us gives Pete a chance to give her a big hug at the end. I don't know if that's a spoiler or not but that whole scene at the end with everybody there, when Pete tells them how happy he is to have them in his life and how much he loves them, it was really nice for me because I really feel that way about my cast-mates. So it was a sneak chance for me to tell everybody how I felt about them and then just be able to say, "Hey it's just my character." So I would say the funnest part for me was that – the last scene there where everybody kind of comes together."
In case you wondered if the mood is different while filming a holiday special, Eddie describes how he felt, "It was very joyous for me. It was our last episode so when we finished we were all able to leave Toronto and go back to our respective lives. Nothing against Toronto, but my life is here in L.A. and I spend six months in Toronto each year; in the middle of winter – alone." Rest assured the multi-talented family man won't be alone during the holiday, "We take our boys over to Scottsdale to see their 'pap-pap', my dad. And that's really become the new tradition for us. It's good to be able to spend time with my dad and my two sons, Jack and Max."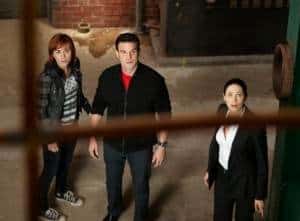 What was Eddie's all-time favorite Christmas present? "I remember waking up one Christmas morning and my parents had gotten me The Guns of Navarone action set. So it was, you know, this like plastic mountain with the two guns. There was a bunch of German soldiers. And then I had like American landing ships and commandos. And then I got tanks and stuff. And then I had like a rubber alligator that I'd put in the water. And the rubber alligator would eat the guys and then the Germans would fall into the water and then the alligator would eat them too. The Guns of Navarone action set; I swear, I had it"
Keeping in the spirit of the season, Eddie shared his Christmas wish for his happy-go-lucky character, "I'd like Pete to find himself a good woman. You know, he gets tired of being alone at night back at Leena's." Speaking of, Leena plays a great part in this story which somehow managed to make me an even bigger fan of her character. Show your love for Leena by getting an attractive tee promoting her Bed & Breakfast in Univille for yourself, a friend or loved one here.
Warehouse 13 premieres its intense Christmas episode tonight at 9/8c on Syfy.
Just for fun, here's a brief interview clip featuring Allison Scagliotti describing her favorite part of the holidays.