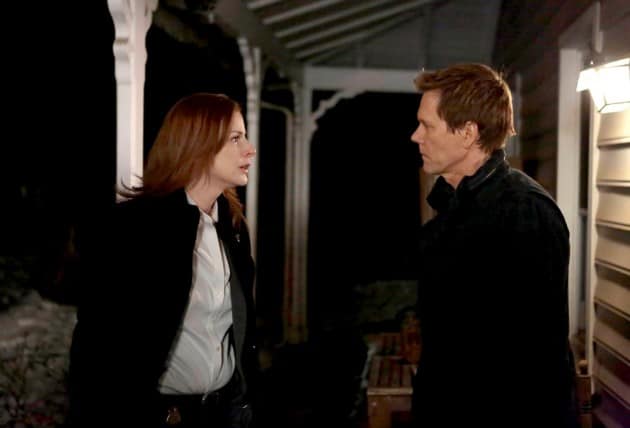 This week's The Following probably had the single most appropriate episode title of the run thus far. "Demons" is not only appropriate figuratively, but seemingly literally, as our heroes deal with the post-Joe Carroll world. New killers and psychopaths emerge, others unite, and even more might be created.
This week on The Following: Ryan deals with the aftermath of Joe's death, and falls off the wagon, which in turn pushes Gwen away. comfort Ryan, as someone new joins their team. Erin's internal investigation brings her closer to finding Tom's secret. Max finds info about Theo's past that might lead them to him. Mark and Daisy work to get in touch with Theo. Theo and Penny uncover even more villainy in their attempt to get at Ryan.
There was a lot of substance in this week's episode. The Following has been dealing with major blowback after Joe Carroll's death, so every character has giant shoes to fill. Though James Purefoy didn't "exit" the show, per se, Joe's death sent the story into some pretty interesting, twisted, and just plain strange spirals. When the episode first started, I felt pretty empty, like the show had lost its soul. However, there was enough action, along with some seriously thrilling elements, to keep me engaged and my mind off Joe.
My favorite part was definitely Ryan's downward spiral. We have seen Ryan dark before, but not this dark. In previous seasons of the show, Ryan was driven mad trying to catch Joe and end him. But it seems that Joe's final words got to Ryan better than Joe's killing people ever could. Ryan is drinking and going on missions. He's putting other people in danger. He's straight up self-destructive. Though the trigger isn't totally clear, outside of Joe's death and his parting words having a little too much truth in them, the spiraling Ryan Hardy is an extremely compelling one. Kevin Bacon plays Hardy with such ease, and brings a certain energy to him that's so much fun to watch, regardless of the villain he's chasing. I'd kind of like to see Ryan get plastered before every mission he goes on, but I will settle for seeing his realized "demons."
I like the serial killers. That's why I watch the show. Michael Ealy is sooooooo creepy as Theo. Daisy, and Mark, and now "Eliza" (played by The Americans' Annet Mahendru) all add their own compelling elements. What I can't figure out is what the endgame is. Why bring Daisy and Mark together with Theo? I'm certain it will become clearer as the episodes continue, but I'm not entirely convinced that I want to know. One thing is clear: it WILL take a village to fill James Purefoy's shoes.
Can we talk about Ryan's Joe visions for a second? Is Ryan going to become a serial killer? Or is he just going to get blackout drunk all the time because he can't deal with how much like Joe he is? I'd prefer the latter, but the former would make for some SERIOUSLY compelling television. That's all I have to say about that.
I predicted that Tom was going to kill Erin, though I admit I expected it to be a little more cold-blooded. I mean, how can you watch this show and not expect cold-blooded? I think the Tom situation gets overlooked, but it's brilliantly compelling. He couldn't resist spying on his girlfriend and now someone is dead because of it. I'm looking forward to seeing how that story continues to play out. It's a sorely underrated element of the show.
All in all, I'm pretty ambivalent about this episode. There were some really great things happening, but I'm concerned about the future of the show post-Joe. I know, I know, last week I praised Joe's exit (let's be honest, it was REALLY good), but the fact that he couldn't possibly come back from the dead worries me just a little. There are still tons of things that The Following does well, though, and this was still a riveting, thrilling hour of television. It felt like a short horror film, and I loved that element.
What did you guys think? Are you still watching post-Joe? Let us know!
The Following airs Mondays at 9/8c on FOX.
[Photo via FOX]