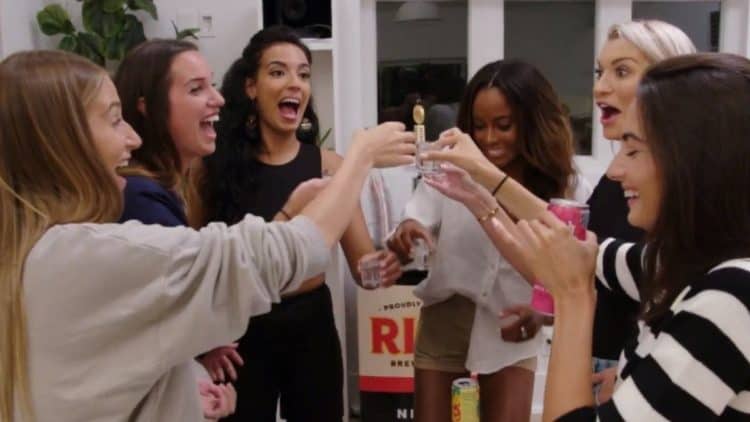 Who wouldn't want to spend the summer living in a beautiful mansion with their friends? That's what the reality show Summer House is all about. The show, which airs on Bravo and debuted in 2017, follows a friend group of young professionals who are living in a beautiful house New York for the summer. Although the show has lots of great friend moments, there is also plenty of drama. As you can imagine, a group of people living under the same roof is going to come with its challenges. That, mixed with frequent drinking and partying can often be a recipe for disaster.
Now gearing up for its fifth season, Summer House continues to entertain viewers. At the same time, however, people who have seen the show can't help but think that it's all manufactured. Summer House isn't the first show on Bravo to be accused of being fake, but it is one of the series that people are most skeptical about. Is Summer House scripted? Keep reading to find out.
Is The Show Scripted?
When people suggest that a reality show is fake, what they usually mean is that they believe it's scripted and that the cast members are essentially acting out story lines created by producers. When it comes to Summer House, there doesn't seem to be any evidence that the people on the show are simply acting out a script. Lindsay Hubbard, who has been on the show since season one, told In the Know, "Everything you guys are seeing was very, very real and authentic, and the feelings were real, whether they were romantic feelings or me having hurt feelings."
Lindsay also said, "Anyone who knows me — especially viewers at this point — four seasons in and especially my close friends, knows I do not know how to be fake. I think I actually could probably be a little bit more fake for my own good. But I don't know how to be fake. I don't know how to contrive feelings in any which direction for somebody. And it's really disheartening when some viewers say that this was a scripted storyline for the show. There was nothing scripted about this!"
Overall, Lindsay's story seems to check out. Nobody on the show appears to be a professional actor, and most viewers would probably agree that if the cast is acting – they could be doing a much better job.
Hearing someone from the cast say that the show isn't scripted isn't too surprising. For starters, if the show was scripted, they probably would've been made to sign an NDA that prevents them from talking about it. Additionally, the show not being scripted doesn't necessarily mean that it's 'real'.
Why Is The Show So Dramatic?
Let's be real, drama is the main reason why most people tune into the show. Even though most people don't like to admit it, there's something about watching drama unfold in other people's lives that can be oddly entertaining. Needless to say, Summer House has enough drama to fill multiple summer houses. As Lindsay Hubbart said, that drama wasn't written into any script.
The cast on Summer House may not be acting, but the dynamics of the show have created the perfect storm for plenty of drama. Living in close quarters, having situations slightly manipulated by producers, and regular relationship issues are all the necessary ingredients for tense situations. Essentially, it's impossible for people not to fight and get on each other's nerves in an environment like the ones created on the show. On top of that, reality TV has been known to edit things in a way that can completely change the context of a scenario. There's also a very good chance that some cast members like to play things up because the cameras are around.
What To Expect From Season 5
If you thought the first four seasons of Summer House were crazy, you're in for a real treat. Season five is set to premiere in February 2021 and viewers can rest assured that there will be no shortage of drama. According to Bravo, many cast members will find their relationships being put to the ultimate test. In addition to dealing with every day issues, they're also facing all of the challenges that come along with being in a pandemic. Basically, there's going to be stress coming from every direction.
If you've been a fan of Summer House since the beginning, season five is one you don't want to miss. It might just end up being the most eventful season the show has ever seen.