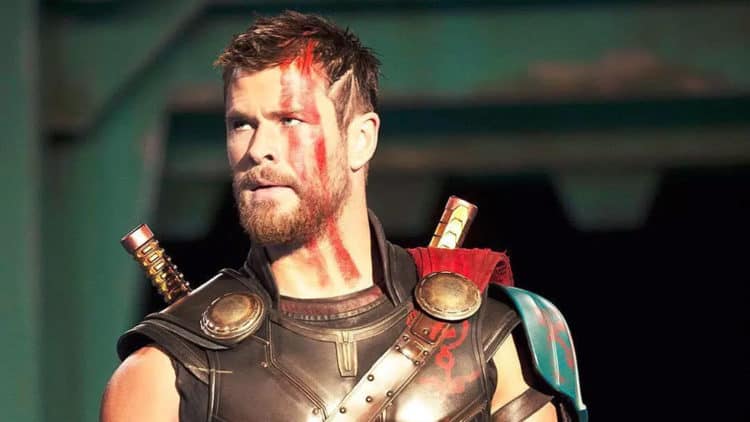 Chris Hemsworth and Marvel in the same sentence just make sense. Marvel without Chris Hemsworth? Well, it makes less sense, but it's what the world is wondering now that the latest installment of the Thor franchise has hit theaters – with vigor – and Thor: Love and Thunder is no longer a mystery. The question of whether Chris Hemsworth with reprise his role as Thor in another Marvel Cinematic Universe movie is the question fans are asking. It's somewhat of a natural progression for many of Marvel's characters to naturally make their way out of the business after a few years. Think about it like this: There are 29 Marvel Movies with Thor in theaters, and they've been made over the course of 10 years. While 10 years might not seem like much time, it's a lot of time for an aging action hero (and we are talking about both the actor and the character). With that in mind, is Chris Hemsworth finished with Marvel?
When Did Hemsworth Begin His Marvel Career?
It was 2011 when Hemsworth was cast as the legendary God of Thunder – and it wasn't without some serious work on his behalf. How did he do it? He knew that being part of the MCU was his dream, and he knew he had to make his audition count. He worked hard prior to beginning his role as Thor, which entailed gaining a lot of muscle. In fact, he beat out Tom Hiddleston for the role by gaining more than 20 pounds of pure muscle to take on the God-like character's role. Fun fact – Hiddleston isn't Thor, but he did land a role in the movie as Loki. It's been 12 years since Hemsworth began living life as Thor, and the actor was only 27 when he took on the role. That's not quite young in Hollywood, but it's not quite old, either. However, the actor is now 38. He was born on August 11, 1983, and he'll turn 39 in the summer of 2022.
Is Hemsworth Really Aging Out of Roles Like This One?
He's only turning 39, so no; he's not aging out, per se. However, it's a common misconception that men of a certain age can no longer play a superhero such as this one despite the fact that the MCU movies obviously point out otherwise. Nick Fury – a legendary Marvel Superhero – is successfully portrayed by none other than Samuel L. Jackson himself, and Jackson is turning 74 in 2022. Tony Stark of Iron Man fame is played by the famous Robert Downey Jr., who turned 57 in 2022. They're not alone in being on the older side of superherodom, either. But, it's the point that at the age of almost 39, there's no reason to believe that Chris Hemsworth cannot play Thor for years to come. With 11 movie appearances as Thor under his belt, we cannot see him forgoing a few more. It's big business in every sense of the word.
Marvel Spills Many Secrets in the Post-Movie Credits
For those who worry there is a chance Chris Hemsworth is letting go of his Thor reign after Thor: Love and Thunder, there is no apparent reason to worry. Marvel is good about sharing secrets once the credits start rolling, and the latest movie in the Thor Franchise was no different. There's no sense in spoiling anything for fans of the MCU's newest movie, but we will share that there are a few major things happening in the credits – and one of them leaves us feeling really confident that Hemsworth is not going anywhere. He'll be adding a 12th appearance as Thor to his movie career – and very likely more than that. After all, why would Hemsworth want to ruin a good thing? There's nothing more certain than the fact that Marvel will keep the movies coming. It's job security, he's young, he's handsome, he's talented, and his fan base is among the biggest in Hollywood.
Why Do People Think Chris Hemsworth is Finished with Thor?
At the end of the day, people like to worry for no good reason. Right now, it's really a matter of looking at the other Avengers movie stars. Of the six originals, it's not exactly a secret that three have allowed their character storylines to end naturally and with much fanfare, and we do think Hemsworth will eventually go this way with Thor – but eventually is not now. In fact, it's him along with Jeremy Renner and Mark Ruffalo who continue to take on their roles as Marvel superheroes. In fact, it's worth pointing out that Mark Ruffalo is the notorious Bruce Banner – or The Hulk – at the tender age of 54 (55 in the fall of 2022). Jeremy Renner is known as Clint Barton – or Hawkeye – and he turned 51 in 2022. Long story short, it's because other actors have let their characters die a natural death that fans are worried that after 11 films in which he's played Thor, Hemsworth might take the same route – and it's just not happening. Chris Hemsworth will reprise his role as Thor in a future Marvel movie, and you can all rest easy.
Tell us what's wrong with this post? How could we improve it? :)
Let us improve this post!