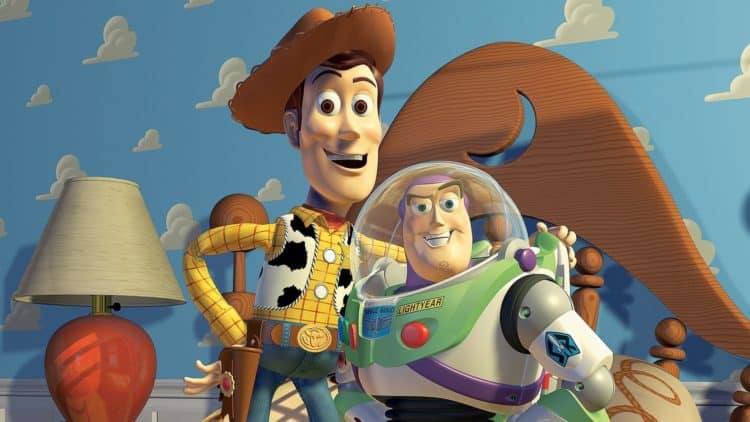 In one of the more unexpected spin-offs, Toy Story's Buzz Lightyear is getting an origin story, though this time it's not about Woody's rival-turned-best friend, it follows the man himself, which is loosely based on the direct-to-video feature Buzz Lightyear of Star Command: The Adventure Begins. The origin story follows the astronaut during his test flight as he explores new galaxies for Star command to come in peace. Interglacial warlord, Emperor Zurg, tries to threaten all that comes his way, and it becomes Buzz's mission to stop him at any cost. The film is set for theaters this summer, but the question is, does a Buzz Lightyear movie really need to exist?
Here's the thing, the inspiration behind a Buzz Lightyear movie is actually good. The concept behind the feature stems from Angus Maclane's pitch of what attracted Andy to be so interested in a buzz lightyear toy in the first place. Now, let's not pretend that Pixar and Disney didn't see potential money investment as Toy Story is a popular brand and Buzz Lightyear is part of the reason why. In fact, Toy Story is the film that got Pixar up and running from the beginning. The charm of the original film attracted both adults and kids because of how relatable the story was. It's a simple premise about a boy and his talking toys, but the themes of love, friendship, identity, and community resonated with everyone. Who doesn't wonder what their toys do behind closed doors? Pixar wonderfully tapped into the magical element and made the characters relatable and fun. However, there was never any mention of an actual human form of Buzz Lightyear throughout the franchise. The natural conclusion over Andy's excitement about Buzz was that the toy was a hot commodity amongst kids, which is natural when you're at such a young age.
The reason I bring up why Toy Story was such a gem, and the importance of the film is because that magic won't likely transfer over to the human version of Buzz Lightyear. Let's be clear about something, this is a Pixar film so the likelihood that this movie is going to be bad is slim to none. It could just end up being bland like the Cars franchise. There's nothing about the premise that really sparks that magic that the Toy Story series had. Sure, these were fictional talking toys, but the attraction is that every kid plays with a toy at some point in their lives. But it's not just because of that fact, but the adventures that Buzz, Woody, and the gang went on felt like an imaginative adventure that we would come up with. This isn't to say that Lightyear isn't going to tug at the heartstrings like the original series did. However, the spin-off, while it doesn't sound like it was made for the sole purpose of money, it feels like an unnecessary cash cow banking off the success of the brand. Did anyone really wonder what the origin story of Buzz, Woody, or anyone else would really look like?
Understandably, the writers of these films likely having character sheets detailing the main cast so it's not impossible that someone came up with the idea, but there's never been any tease that the toys were anything other than…toys. Plus, there was never a reason to explore the origins of these characters to begin with. There are times where origin stories make sense, though often, its due to the studio simply looking to gain a quick buck. Again, I don't expect this to be a bad film because it's under the Pixar brand. This could actually turn out to be the best animated feature in the history of cinema. However, this film isn't exactly on most fans wanted list in terms of characters that needed origin stories. If Pixar can find a way to have Lightyear tap into the world of Toy Story that doesn't feel cheap or a knockoff, then there's a good chance that the feature will capture the hearts of original fans. Obviously, I don't expect talking toys to pop up, but just the whimsical fun nature and the colorful characters that inhabit the Toy Story world. Hopefully, Lightyear turns out to be an amazing, animated feature that dismisses the notion of being made for purely money based reasons, but as it stands, the stand alone feature just isn't necessary. Not everything needs an origin film, especially a toy that wasn't teased to be something more than.
Tell us what's wrong with this post? How could we improve it? :)
Let us improve this post!