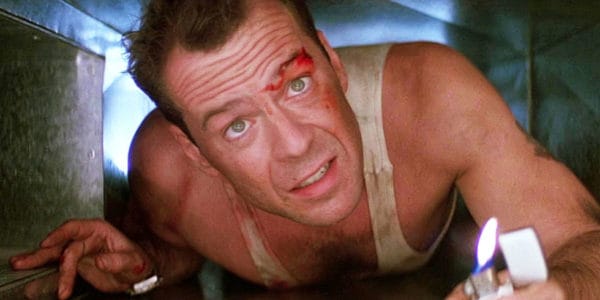 Do you ever get the feeling that some folks just have too much time on their hands? One thing is for certain though, this guy has a pretty good imagination and is able to put it to interesting use. A John McClane duct light is definitely something you don't see every day, but it's also something that might be used as a gag to freak people out if one is really interested in doing such a thing. It's a fairly simple thing to do if you have the necessary tools and the idea to do it, as the only difficult thing would appear to be mounting the light and deciding how to deal with the cord unless of course, one finds a battery-operated light that can be used, as this would be the wiser course. The construction of the piece is pretty simple, but the mounting might cause a few issues if a person isn't mechanically-inclined. It's a pretty easy fix though if one can figure out just how to suspend this picture in a duct or even just on the wall to give the illusion that McClane is coming through. For fans, this would be a nice DIY project that wouldn't end up costing an arm and a leg as it might if a person went online to find something similar.
Die Hard is still one of the most classic movies ever made in the opinion of many fans and as it's said, 'It's not Christmas until Hans Gruber falls from the Nakatomi building'. So it's a little early, but the saying still goes since the argument is mostly settled that Die Hard is in fact a Christmas movie, no matter how many people might still have an issue with it. But the idea of John McClane shimmying around the ventilation ducts might make a lot of people a little claustrophobic, so maybe this wouldn't be a good project for everyone, especially since just imagining what it might be like in the ducts could make it a little hard to breathe. When you're on the run from terrorists though and don't have much of a choice since the duct is where you landed, one tends to make do as they can, especially in a movie where belief is often suspended so that we can enjoy what we're watching. If anyone really thinks that a New York detective could take on a trained band of mercenaries that have superior firepower and possibly superior tactics, then this movie is for you. Those that like to stick with reality a little more might still get a good kick out of it since Die Hard does deliver a few class lines and it is a fun action movie no matter how many times John gets to cheat death or buck the odds.
Interestingly enough the duct scene is one that a lot of people happen to like for one reason or another and has been the subject of many a meme over the years since it is kind of amusing and put the protagonist in a very tight spot, literally, and managed to create what felt like a very dangerous predicament that McClane had to work his way out of. A building such as the one he was in had to have a vast network of ducts to navigate, and trying to find the right one to traverse would likely be insanely difficult, especially with no real knowledge of the building and no way to tell just where he was going. The only to tell this would be if John had a working knowledge of the building and an astounding amount of awareness when it came to understanding his surroundings. Otherwise, if he landed in a random duct and had to make his way back to a familiar point, he could be wandering around for quite a while. Realism tends to kill an action movie though, so it's not too hard to figure out why since realism reminds us that human beings have limits, and defying gravity and common sense tend to test and sometimes break those limits when it comes to movies. But then, if all action movies were entirely realistic then the average cinematic experience would be kind of boring, to say the least, and it would likely mean a big problem for the movie since anything that went too far out of bounds wouldn't be nearly as popular if people were entirely into realistic scenarios. John McClane and many others that have given us movies that aren't entirely realistic but are a lot of fun tend to be lauded as real action heroes since their exploits are a bit unorthodox and wouldn't be practiced in real life, but on the big screen, they're easy to justify and a lot of fun to watch.