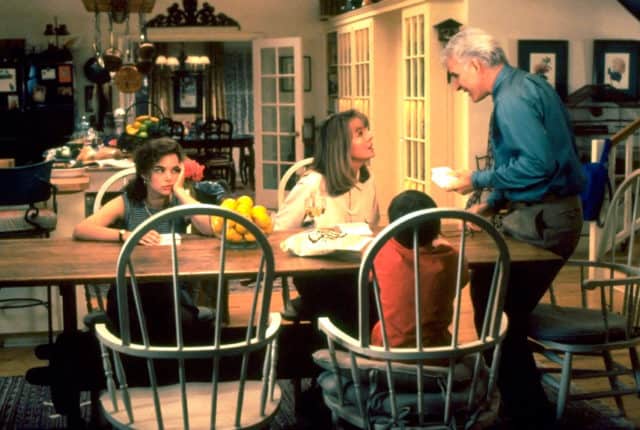 Some of the most meaningful conversations can take place in the kitchen. Why? Because it's where the family goes to eat, to congregate, and in a lot of cases it's sometimes the place where the easiest access in and out of the house is located. It's also the room that houses the food so of course it's going to see a lot of traffic. The trick to any kitchen, be it in a movie or in real life, is that it's big enough to be accessible by multiple people and not feel like you're squishing each other into a sardine can. Otherwise it's where you can talk to people and feel like you're on neutral ground.
Here's a few instances in which the kitchen is the place to be.
5. Father of the Bride
Planning a wedding is not easy for anyone that's ever done it. Even having a wedding planner doesn't make it any easier since the demands usually start with and end with the bride. Trust me, the groom has a say now and again if the bride allows it but this is the bride's day more than anyone else's. If things aren't going the bride's way then the wedding might be a disaster. This is when a kitchen becomes more like a war room.
4. Julie and Julia
The kitchen can also be a place of great joy as well. When you first learn how to cook and how to enjoy the process at the same time it's very liberating since you've come to a point in your life that you are nearly one hundred percent self sufficient. It's a moment of pride that usually can only take place in the kitchen because it's rather hard to cook anywhere else.
3. Ratatouille
Normally you wouldn't be so calm seeing a rat in the kitchen, and most of the cooks in this film are anything but calm when they see Remy. But much like the description above this is the place you can find yourself and lose yourself all at once in the joy of cooking and the revelation of what an experience it is to cook and cook well. It is a thing that exceeds most expectations when you're actually in the mood to do it.
2. The Help
During the days when indentured servitude, not slavery mind you, was still a thing, the kitchen was one area where women were allowed to talk among themselves so as to gossip and perhaps just unwind a bit. It was here that they finally got to say what they wanted to say and laugh when they felt like it. Nowadays this kind of service is a lot different seeing as how people are in many areas treated a heck of a lot better.
1. Uncle Buck
Thank goodness for wide open kitchens. No, not because Candy was a big man, but because he liked to cook big and live big. Uncle Buck was the kind of guy that used grease on dang near everything and fried or deep fried a lot of his meals just on basic principle. Can anybody say with all honesty that they don't miss this guy? He was one a million to be sure.
So there you go. The kitchen is just as important of a room as any other room in the house.
Save
Tell us what's wrong with this post? How could we improve it? :)
Let us improve this post!