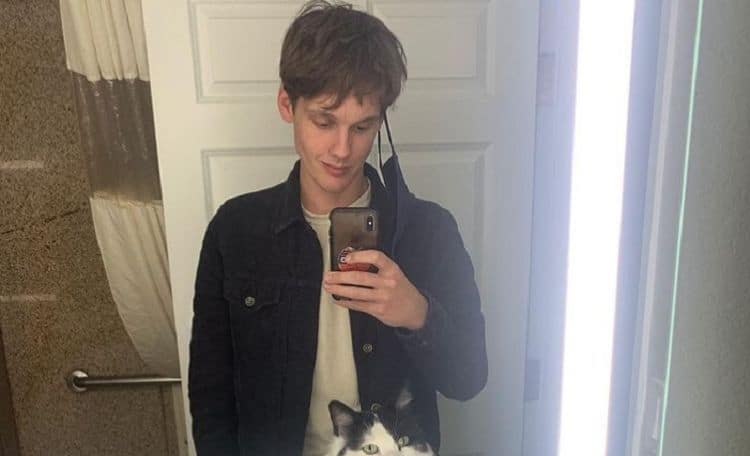 Hunter Doohan might not be a name you're familiar with yet, but he is hoping to change that soon. The talented young actor has been doing his thing for nearly a decade and all of the time and energy he's put in have started to pay off. He earned his first significant TV role in 2019 when he was cast as the teenage version of Warren Cave in the Apple TV series, Truth Be Told. In 2020, he got an even bigger opportunity when he landed a main role in the Showtime miniseries Your Honor which will debut on December 6. With lots of momentum working in his favor, the future is looking lovely for Hunter. Keep reading to learn 10 things you didn't know about Hunter Doohan.
1. He Got Into Acting During High School
Hunter may not have known he wanted to act when he was a little kid like some people, but it didn't take him long to discover that acting was his passion. Hunter told The Film Frenzy, "…when I was a sophomore in high school, I tried out for a play and pretty much ended up spending most of the next three years of my life in that drama department."
2. He Is A Director
Even though he's still young, Hunter is enjoying getting the opportunity to try different things within the industry. He made his directorial debut in 2017 with the short film Travel. He also directed another short film that year called Far from the Tree. Additionally, Hunter has done some writing. There's a good chance that he will do some more behind the scenes work in the years to come.
3. He Loves Nature
Hunter was raised in different places across the southern United States and he grew to love the beauty of nature. He loves spending time outdoors whenever he gets the chance. Some of his favorite outdoor activities include going hiking, camping, and swimming.
4. He Has Some Gymnastics Skills
Apparently acting isn't the only thing that Hunter is good at. In an Instagram post in 2014, he shared a video of himself doing a serious of flips. It was very clear that he wasn't new to this, but even some of his followers were surprised at his gymnastic abilities.
5. He Is Passionate About Human Rights
Some people find it difficult to speak up about things because they fear judgement or alienation, but Hunter isn't one of those people. His social media makes it very clear that he is passionate about human rights — especially LGBTQ+ rights and the fight to end racism — and he isn't afraid to share his opinions.
6. He Likes To Watch TV
Hunter doesn't just like to be on TV, he likes to watch it, too. During his interview with The Film Frenzy he said, "I try to watch at least the first episode of everything and I always feel like I'm watching too many series." Fortunately for him (and the rest of us), there's no shortage of things to watch.
7. He Planned On Going To Oklahoma City University
No matter how much you try to plan for something, sometimes the universe has something else in mind for you. After high school Hunter planned on attending Oklahoma City University to earn a BFA in theater. Instead, however, he ended up taking an internship in Los Angeles.
8. He Is Signed To A Talent Agency
Signing with an agent is one of the first major moves an actor can make. Early in 2020, Hunter signed with United Talent Agency (UTA). The agency has a long history of representing some very high profile clients including Johnny Depp, Jim Carrey, and Dave Chappelle. Now that he has the backing of an agency, Hunter will probably be able to access a lot of new opportunities.
9. He Doesn't Have A Big Social Media Following
Social media has become an almost necessary tool, especially for people who work in the public eye. Despite the fact that Hunter is pretty active on Instagram, he hasn't built up a large social media following yet. At the moment, he has just 1,844 followers on the platform. This will likely change once Your Honor is released and more and more people get familiar with who he is. Outside of Instagram, it doesn't appear that he has any social media accounts.
10. He Loves Animals
There's just something about knowing that a person is an animal lover that tends to warm people's hearts. Judging by his Instagram account, not only does Hunter love animals, but he's a member of team dog and team cat although it looks like a cat is the only animal he actually has.
Tell us what's wrong with this post? How could we improve it? :)
Let us improve this post!