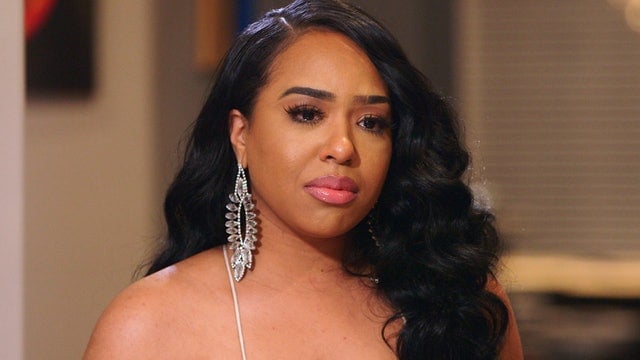 As is true with any celebrity (or anyone we meet personally, for that matter) there are many things we do not know about them, and many more we will never learn. Everyone has a personal life that most prefer to keep under wraps, particularly celebrities, and R & B sensation B. Simone is no exception. But there are some things which, thanks to the Internet Almighty, have managed to find their way to the hungry ears and eyes of her fans. Some personal tidbits, on the other hand, have been kept under such secure lock and key that you really have to be a fan digging for information to find them. Here we offer you some information on this gorgeous singer that falls somewhere in between. Below are ten facts about B. Simone that aren't detrimental enough to bury in the ground for the sake of her privacy and personal life, but simply didn't get included in the mainstream information that the press put out…at least, not very often. And when it was put out, the info was only to be given by obscure sources, and couldn't be shared until verified. So, if you are a fan of this rhythm and blues songstress and star of the movie 'Aaliyah', as most are, you will be thrilled to learn…
10. 'Wild 'n' Out' was not the singer's maiden voyage in show business.
MTV's 'Wild 'n' Out' may have been the basic catalyst for B. Simone's rise to fame and fortune, but it isn't where she started. It seems that she actually wanted to be an entertainer from a fairly young age. In fact, in 2012 the Dallas native auditioned for the BET television program 'The Search', and in 2014 she released a debut EP entitled 'Lost Soul.' Simone was 22 when she put in her audition, and 24 at her album's release. But was it always in her blood?
9. Well, according to B. Simone it has been
In her blood, we mean. In an interview with a popular online teen magazine, she reveals that when she was a child she dreamed of being a famous singer. Since then, however, her priorities have shifted a bit, though they haven't changed altogether. Rather than claim her fame from the actual limelight, the successful singer and entertainer simply desires financial stability and to be recognized as a successful artist rather than simply a 'singer'.
8. Cosmetology is one of her favorite gigs
As a child as young as six years of age, B. Simone loved doing hair and marveled over anything having to do with looking beautiful. As a matter of fact, some assumed she would someday be a beautician. Today, her life presents a much different picture, however she is still eyeballs-deep in beauty regiment and technique. Simone currently has her own channel on YouTube called BeautyByBSimone, on which she shares her own ideas and beauty routines, as well as fresh new information on the topic. She also has an Instagram account which garners a lot of attention. When added to her busy career in entertainment, these things make B. about as busy as a bee!
7. Not only that, but she's taking a 'Girls' Cruise' to boot
VH1's 'Girls' Cruise', which premiered in July of 2019 and is produced by Li'l Kim, is something of a reality show which has Li'l Kim taking the most amazing vacation ever aboard a cruise ship on the Caribbean. B. Simone just happens to be one of the girls, and together they not only sail the vast sea, but they engage in self-introspection and build close relationships while enjoying their once-in-a-lifetime adventure. With so much on her plate already, it's simply incredible that she managed to find time for this project as well.
6. Busy, busy, busy! But which project is getting her the most attention?
So, we know that she has been on 'The Search', in the movie 'Aaliyah', has a popular beauty blog on YouTube, and has cut an R & B album, not to mention going on a 'Girls' Cruise'. But you'd be surprised to learn that she is best known for her YouTube channel's blog above all else! It seems that all the rest is just the icing on the cake for the popular entertainer. What more could a girl want?
5. What is her astrological sign, anyway?
Born in the first part of April 5, 1990, the 29-year-old B. Simone is…drum roll, please…an Aries. With that being said, she is obviously creative, independent, and very energetic, all traits of the Aries female, among many others. Both her energy and creativity are immediately obvious, and the trajectory of her career makes her independence shine brightly through it all.
4. Sure, she's popular, but are all her pursuits making her any $$$?
As far as money goes, by all appearances she is prospering. Her friends are part of the 'In' crowd, and she seems to attract fans like flies. But working is about the bucks, after all; that is why we do it to begin with. From her record album to her acting, and including her YouTube pursuits, B. Simone is reputed to have a net worth estimated at approximately $6 million, which jumped up dramatically from between only $500k-$600k in 2017. Not too bad for a girl doing what she loves.
3. What about her love life? Does she have a boyfriend?
It seems that Simone has kept this particular area successfully under wraps for some. Resources consistently report that her relationship status is 'unknown', and it is said that there is no evidence that she has ever been in any type of serious relationship. But The Zeus Network claims that the social media sensation has simply not found 'The One' during her active seven year search, so the fact is that she is indeed looking around. It's hard to invest in a relationship when one's schedule is so jam packed, that's for sure!
2. What was her life like growing up in Texas?
Born and raised in Dallas, B. Simone's life was likely fairly normal. Her father was the pastor of a church, so she has a religious or spiritual background. Her mother, on the other hand, suffered an unknown type of accident when she was young, which resulted not only in disability, but in the divorce of her parents. She and her sister, Jordyn, were raised by her father and stepmother.
1. Certainly 'B' isn't her real first name. So, what is it?
While it was difficult to narrow down this information, we have it for you here. B. Simone is satisfied to continue her career using the moniker we all know her by…'B. Simone'. But of course 'B' isn't her first name. The truth is that her first name is Braelyn, which we think is not only fitting, but beautiful as well. But celebrities need unique things to help them stand out, and adopting the single initial has likely helped her more than we know career-wise. Anyway, we love the real thing, nonetheless.
So, there you have it: The low down on celebrity B. Simone in a group of ten things that you likely didn't already know. If you want to get to know her better, check her out on VH1's 'Girls' Cruise', listen to her EP 'Lost Soul', or check out the movie 'Aaliyah' or some of the other programs she has been on. Her YouTube channel is another great B. Simone resource, for those interested in beauty and fashion. This woman has a promising career, and we're sure her future holds more success for her. She worth checking out, so discover more about her as soon as you can.