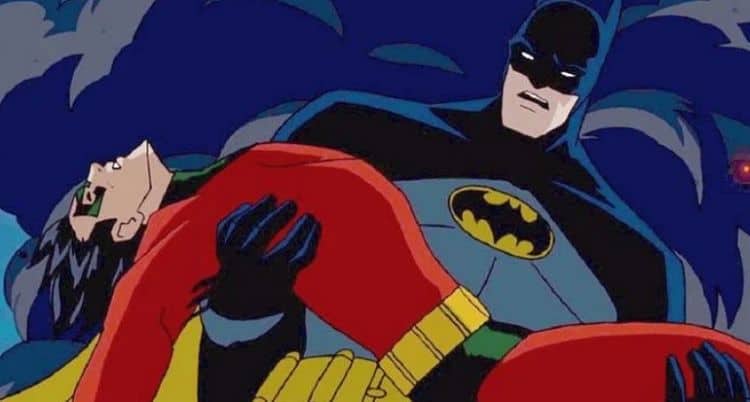 The better question is why more heroes don't fear Batman since the fact that he's one of the few superheroes without superpowers has never slowed him down one bit. In fact, it's been as much of a strength as it is a weakness considering that Bruce Wayne is rich beyond measure, can easily afford the best and most updated technology, and has the means to get pretty much anything he wants no matter the cost. What this means is that in his universe, Batman really is one of the most powerful characters since he has the kind of access to just about anything he'd ever need to use against anyone that he comes across, be they an enemy or an ally. The scary part of this is that it's been proven that he has contingency plans to deal with his friends in case they ever get out of control since he's so extremely paranoid that he can't even conceive of a possibility that his allies would be able to control themselves in such a situation. This is why Batman is one of the worst and one of the best characters in the DC universe since his level of access is astounding. Think of it, he's been a founding member of the Justice League, he's trained several young fighters that are at his level or slightly lower. He's taken on villains that should have ended him by all rights simply because he has more money and can afford the care and technology that can help him in various ways and can counter just about anyone. The legend of Batman has literally been built on the idea that if he has prep time then he can beat anyone, no matter how far beyond his capabilities anyone happens to be.
This is a character that's put Superman on the ground thanks to a kryptonite ring that should have been priceless but obviously was still within Bruce Wayne's price range. He had ways of beating every Justice League member and kept them around 'just in case'. Many people have said that there's literally no hero that Batman couldn't beat with prep time, which is essentially just lazy writing and the near-deification of a character that has allowed a lot of fans to think that he's entirely unbeatable. Obviously, that has been tested and Batman has been found wanting in a few ways since throughout pop culture a few people have beaten Batman, such as Bane, who broke his back, Wolverine, who beat him in an online deathmatch, and Spider-Man, who also beat him in an online deathmatch. Obviously, these last two aren't canon since they're not in the comics, but a lot of people would gladly argue that Batman without a contingency plan is just another skilled guy in a suit with a lot of toys to draw upon. He's an awesome character to be certain, but the enemies he's gone up against should have ended him a long time ago, and have only been kept from doing this by the simple fact that the writers haven't been given the go-ahead to pull the plug.
It's not likely that this is ever going to happen since Batman is too popular of a character to ever just be let go entirely, but as things change and a new Batman steps up and takes the mantle one has to wonder if we're going to see the same formula, meaning superior intelligence, superior detective skills, superior fighting skills, etc., or if the next person that takes on the role will be someone that's a little different and has actual character flaws beyond being a brooding, paranoid individual that will keep a watch file on his friends. One of the only things saving Batman from a savage beatdown and full-on expulsion from the superhero world has been the fact that he tries to do good and protect people, but with questionable methods that some people can't help but wonder about since the guy is certifiably nuts when it comes to how prepared he stays for anything that might happen. The whole idea of keeping one's allies at arm's length when it comes to wondering if they're ever going to lose control implies that there isn't a lot of trust and that Batman is even more mentally disturbed than people might think. The intelligence and the need for justice aren't enough sometimes to mask the fact that Batman is, for the most part, someone that has massive trust issues and is still very broken deep inside. Obviously, losing his parents was bound to keep him from ever becoming a truly functioning human being, but the fact that he allowed this to rule his life didn't help.
Any time an ally decides to keep tabs on the weaknesses and strengths of their friends, it's an obvious sign that things aren't as okay as they want others to believe.