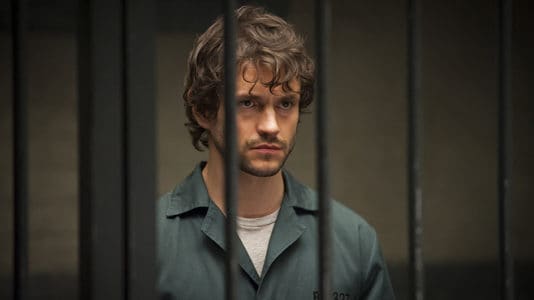 Hugh Dancy was born and raised in England. However, due to his success in the American entertainment industry and he's flawless American accent, many people assume he is from the United States. Still, however, Hugh is proud of his British roots, and he enjoys working on UK-based projects when he gets the chance. Recently, he joined the Downton Abbey family as a cast member in the 2020 movie, Downton Abbey: A New Era. That said, his work across the pond isn't the only thing that's been good to him this year. He also got to play the role of E.A.D.A. Nolan Price in the reboot of Law & Order. While he doesn't have any new projects in the works at the moment, we know Hugh still has a lot more to show us. Keep reading for 10 things you didn't know about Hugh Dancy.
1. He Enjoys Working with Sam Waterston
Sam Waterston is a legend in the entertainment industry. Over the course of his career, he has made nearly 100 on-screen appearances. Hugh is fortunate that he and Sam have gotten the chance to cross paths on Law & Order and he really enjoys being able to work alongside him. He is looking forward to working with him more now that Law & Order has been renewed.
2. He's Not Into Social Media
Most of us probably spend a lot more time on the internet than we'd like to admit. That isn't a problem Hugh can relate to, though. He doesn't use the internet very often and he doesn't have any social media profiles. This isn't too surprising considering the fact that he is a very private person.
3. He's Also a Producer
It's very clear that acting has always been Hugh's main priority. However, he has also shown an interest in other areas of the entertainment industry. He made his debut as a producer in 2018 when he directed 8 episodes of The Path. I think there's a good chance that we could see him do even more production work in the future.
4. He Studied English
Now that many of the traditional jobs once held by English majors are on the decline, most people see majoring an English as a waste of time. But Hugh is proof that a degree in English can be helpful in more ways than people think. Like lots of other successful actors, Hugh studied English in college. He attended St. Peter's College in Oxford.
5. He's a Proud Dad
Hugh's career isn't the only area of his life where things have gone well for him. He has also gotten to have lots of great experiences in his personal life. Hugh has been married to American actress Claire Danes for more than a decade. The couple has two children together.
6. He's Been on Broadway
Actors typically tend to gravitate towards on-screen work because it can pay well while also offering lots of exposure. At the same time, though, many actors also enjoy being on stage, and Hugh is one of them. He has been on lots of theater productions over the years including the Broadway run of Journey's End.
7. He's Worked with Burberry
Hugh knows how to make magic every time he steps in front of a camera. For that reason, it's easy to see why he's gotten some modeling opportunities over the years. In 2004, Hugh got the chance to work with well-known fashion brand Burberry as the face of the company's men's fashion campaign.
8. He Was Almost Cast In Batman Begins
While it's true that Hugh has gotten lots of great opportunities during his career, he has also had quite a few opportunities that didn't pan out the way he was hoping. One of them was the title role in the 2005 film, Batman Begins. He was one of several actors who was being considered for the role which ultimately went to Christian Bale.
9. He's Never Wanted To Be A Star in Hollywood
Hugh loves what he does, but chasing fame has never been his thing. He has been quoted saying, "I don't have any aspirations to be a leading man in the Hollywood sense. You have to be very specifically ambitious to be bankable in that way; to have a studio sign off on you, which is an entirely different thing from being good. You have to do the type of work to signal to people in Hollywood that you want to be "that guy" and I've realized I just don't want to be "that guy".
10. He Wasn't a Downton Abbey Fan
During its time on the air, Downton Abbey attracted attention from people all over the world. Hugh, though, wasn't into the show. He told W Magazine, "I remember the borderline hysteria that greeted it when it first came out. I was in England briefly at the time of the first season and I just remember, you turn on the radio and it's all anybody was talking about. But for whatever reason, it passed me by. Then, you know how it goes when you're three seasons in and you've missed the boat?"
Tell us what's wrong with this post? How could we improve it? :)
Let us improve this post!