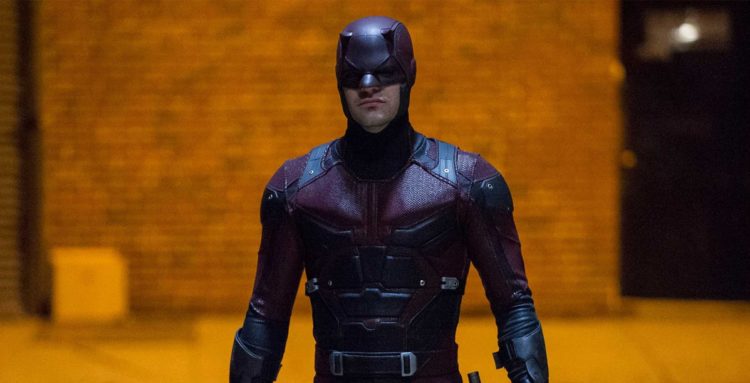 One of my favorite comic book heroes of all time is Matt Murdock, aka Daredevil. He's one of the first superheroes who actually got me into Marvel Comics. What I loved most about him is that he was one of the most unique superheroes ever. Why? Because he's blind. How many other blind superheroes are there? In fact, how the heck does that even work? By day, he's Matt Murdock, the defense lawyer who always fights for the innocent. By night, he's the vigilante known as Daredevil. He beats up criminals, saves innocent people, and uses some awesome gadgets. Basically, he's the Batman for the working class. He has a rogues gallery that stretches from the wickedly supernatural, to the fancy suit-wearing gangsters, to the downright weird. Oh, and he takes on all of this while being blind.
He's not completely blind though. A world on fire. Sound familiar? If you're a fan of Marvel and own Netflix, you probably checked out the Daredevil show. If you did, you're most likely pretty upset that it got cancelled after three seasons. I know I'm speaking for every Marvel fan here, but this is something we need to talk about. In fact, now more than ever, this subject should be touched on because technically speaking, the rights to Daredevil have been reverted back to Marvel. The show was cancelled back in 2018 on November 29th. After the show's cancellation, Marvel was unable to use Daredevil for two years, due to the deal they made with Netflix. Well, we're past the 29th of 2020 now, so that means Marvel can now use Daredevil again. The only question is, how exactly will Daredevil make his official debut in the Marvel Cinematic Universe?
Now if you kept up with those shows, you'll know that they were technically a part of the MCU. I say "technically" because while the shows referenced the movies occasionally, the movies didn't acknowledge them at all. The Marvel Netflix shows were run by Jeph Loeb, not Kevin Feige. Feige has always been adamant about keeping the MCU under his own vision, so it's not totally unexpected that he would largely ignore the Marvel shows. Now that all the Marvel Netflix shows have been cancelled, I'm not sure if he's going to honor their existence for the future.
This raises many questions for the future of Daredevil in the MCU. I loved that show and I loved his development. Most of all, I loved Charlie Cox as Matt Murdock/Daredevil. He was a fairly unknown actor before being cast as the hero and only after a few episodes in, I became convinced that he owned that role. Like Robert Downey Jr. as Iron Man and Ryan Reynolds as Deadpool, Charlie Cox really captured the best qualities of Daredevil and quickly proved that he owned that role. Just like many fans, I would like to see him put on the horns again. Speaking of which, legions of Marvel fans have been rallying to an online campaign to, quite literally, #SaveDaredevil.
This campaign has drawn the attention of Vincent D'Onofrio, the actor who very brilliantly played Wilson Fisk, aka the Kingpin. He's been rather vocal about wanting to return to the role and quite frankly, he very well should. Even Clark Gregg, the actor who played Agent Phil Coulson, has openly supported the movement and believes Charlie Cox should return as Daredevil. We fans couldn't agree more, but can we really expect it? Well, the Snyder Cut was able to become a reality due to avid fans continuously talking about their support for it. It shows that studios will indeed listen to fans if they speak loud enough. For me, it's basically an "if it ain't broken, don't fix it" scenario.
Not only do we need Charlie Cox back as Daredevil, but we need that whole cast back as well. Now, best case scenario, Marvel does greenlight a season four of Daredevil and releases it on Hulu. In fact, why not Disney+? A few weeks ago, I would've said that would be impossible, but after hearing they're pursuing Deadpool 3 with an R-rating, I'd say it's a strong possibility.
Now the big rumor is that Daredevil will appear once again in Spider-Man 3 as Peter Parker's lawyer. That's possible, although Charlie Cox himself has said that he hasn't gotten a call for it. That doesn't mean he won't get a call to return, but there's certainly a place for him. Can he appear in the upcoming She-Hulk show as a rival lawyer to Jennifer Walters? It would be a good way to reintroduce him as the MCU's official Matt Murdock and he can eventually suit up again to finally join the MCU heroes. As I said earlier, the Netflix shows were considered to be canon with the MCU, but Kevin Feige himself has never watched them. Maybe that's changed recently, but since they weren't created under his direction, he might not use them. Heck, that's basically why he doesn't acknowledge Agents of Shield and that has Coulson in it.
Now that sounds bad, but there is a loophole they can find. A good example is Jamie Foxx's return as Electro in Spider-Man 3. Frankly, no one really wanted him back, but now, he's returning and apparently donning a new look. Foxx himself implied that he won't be blue, which tells me Feige is basically rebooting the character because he liked Foxx as the character. If Feige wants all the characters to be under his direction, that's fine with me. He's done right by Marvel and the fans so far, so I'm confident he won't disappoint us with Daredevil. If he's going to bring back Charlie Cox, then it'll be like he's "reborn" a second time. Feige might not make too many references to the actual series, but if he doesn't include the rest of the cast, he'd be making a mistake.
Feige's new Daredevil can fight alongside the MCU's heroes, but he still needs to fight Bullseye again. Seriously, that cliffhanger got me so pumped up for the next season. Wilson Bethel's performance was both terrifying and sympathetic, a fresh take on one of Marvel's most sociopathic villains. Now that his spine is repaired and laced with (possibly) adamantium, he's more dangerous and angrier than ever. His rampage will lead to a bloody confrontation with Daredevil. As for Kingpin, we do need Vincent D'Onofrio. His Kingpin was a special kind of villain, since he was diabolical, but obviously an insecure and shy man. If he does return, he doesn't have to fight Daredevil. He's also a prominent Spider-Man villain and he can easily make life hell for Tom Holland's young and naive Peter Parker. That's where Charlie Cox's Daredevil can come in and help him.
If Kevin Feige brings the original cast back, he'll find a way to make them more his own. He'll change their looks, add a little extra to their backstories, whatever the case, he'll find a way. I'm just saying Charlie Cox can certainly return and I hope Feige takes the #SaveDaredevil movement seriously.