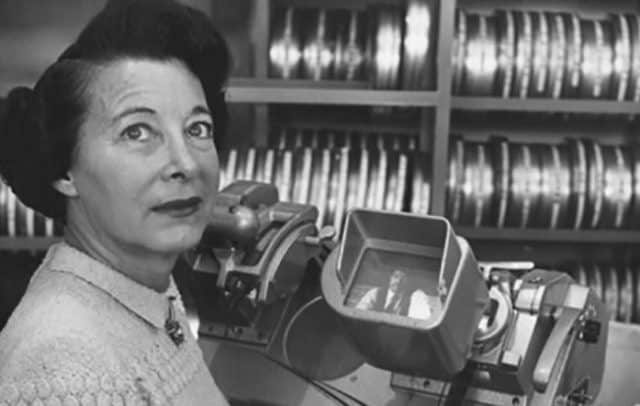 When thinking of people who have influenced the history of the film industry, it is often men's names that spring to mind first. Male directors are often credited with having the greatest influence on cinema history with people who work in other roles paling into insignificance. However, in the last century, there are many women who have been very influential to film history. These talented women have taken on various roles within the movie industry. Their work has led to new techniques, the introduction of different cinematic styles, and the creation of storylines that are written form a unique angle. March 2018 is Women's History Month, so here are just five of the most influential women in film history.
1. Margaret Booth
Margaret Booth was the first ever film editor. Working-class women who wanted to work in the film industry were often given roles as cutters in early Hollywood days. This was one of the lowest paid jobs, but it gave women the opportunity to get into filmmaking and to have some say over the final cut of a film. Booth was a pioneer of film cutting. She first worked for D.W. Griffith, the director of 'Birth of a Nation', from 1915 when she left school. Her role was as a patcher before she became a negative cutter. When Griffith moved to the East Coast, Booth had full charge of print production. She then moved to MGM, which was newly formed at that time, working alongside Irving Thalberg. It was he who gave Booth the title of film editor as he found her work insightful. Booth was nominated for an Oscar for her work on the 1935 movie 'Mutiny on the Bounty'. In 1978, she was awarded an honorary Oscar from The Academy of Motion Pictures, Arts, and Sciences. This award was given in recognition of the contributions she had made to the motion picture industry.
2. Alice Guy
Alice Guy was the world's first female film director. This Paris-born woman laid the groundwork for the use of visual language in narrative films. She was inspired by the Lumiere brothers' use of cinematography. She asked her boss at the time, Leon Gaumont, to allow her to use the cameras from his shop to make a movie of her own. Her first film was 'The Cabbage Fairy'. This was the first of over 750 films that Alice Guy made for the Gaumont Film Company. She became known for using ground-breaking techniques, such as film tied to sound, split screen, and double exposure. She is also credited with inventing the close-up and for inspiring Alfred Hitchcock's work. She moved to New York and it was there that she started her own company, Solax.
3. Verna Fields
Verna Fields was born in Missouri. However, she moved to Hollywood as a child with her family because her father wanted to pursue a career as a screenwriter. Fields' first role was a sound editor. Her career progressed and she was editing feature films by 1960. As an editor, she helped to shape the careers of many top directors. She worked on 'American Graffiti' with George Lucas, 'Jaws' with Steven Spielberg, and 'Paper Moon' with Peter Bogdanovich. She was affectionately known in the film industry as 'Mother Cutter'. It is 'Jaws' that has defined her career. Not only was this was the last film she cut, it was also 'Jaws' for which she won an Oscar.
4. Melissa Mathison
Although Melissa Mathison is best-known as the first wife of Harrison Ford, to whom she was married from 1983 to 2004, she has actually been very influential in the film industry. She wrote the screenplay for the successful 1979 film 'The Black Stallion'. She was on set for 'Raiders of the Lost Ark' with her husband the following year when Steven Spielberg spoke to her about an idea he had for a movie. He was interested in her working as a screenwriter for this film. Thus, 'E.T.: The Extra-Terrestrial' was born. Spielberg felt that her Mathison's writing style had the right flair for this type of storyline. For this film, she won an Academy Award for Best Original Screenplay. She went on to work alongside Steven Spielberg on several other films, including 'The BFG' and 'Twilight Zone: The Movie'.
5. Leigh Brackett
Writer Leigh Brackett was so acclaimed that she earned herself the moniker of 'The Queen of the Space Opera'. She began her career writing pulp crime fiction and science fiction scripts. At the time, these types of scripts were often looked down on. However, Brackett continued to write for these genres as it was for these genres that she felt most passionate. She went on to become an inspiration for George Lucas and a mentor of Ray Bradbury, both of whom are extremely important people in this area of filmmaking. According to urban legend, after George Lucas made 'Star Wars', someone handed him a copy of Brackett's books, telling him that she had done the Cantina scenes better. Apparently, it was for this reason that he hired her to write the first draft of 'Star Wars: The Empire Strikes Back'. Other big classics she scripted include 'Rio Bravo' and 'The Big Sleep'.