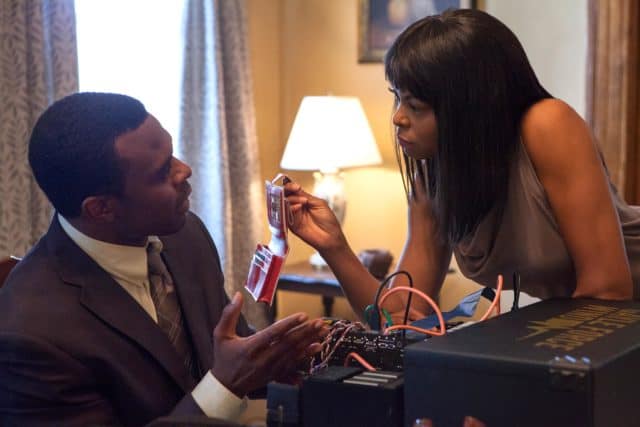 Obviously Tyler Perry isn't going that far when he searches for a title of his movie but once ads for his movie Acrimony came out people did start picking up the dictionary to find out just what it means. More or less the word means bitterness and anger, a feeling that comes when you're simply too mad for any simple word to describe and too hurt to really call it anything else. In fact Perry admits that once the current POTUS was called acrimonious, which seems about right some days, he decided to look the word up and eventually settled on it as a title for his next movie. So no, it wasn't just the dictionary search that helped give this movie it's name, but instead a description of the POTUS. The search just kind of finalized it really.
The movie in question is about a woman that during her youth gave everything to the young man of her dreams, staying with him through everything and eventually becoming his wife later on in life and doing everything right by him. The only problem is that at some point we learn that her husband has started to keep his hands off of her and has obviously strayed since he doesn't seem to be lacking for physical attention. This puts her on the trail as it would with any woman until she finds out that he's not only betrayed her, he's just about replaced her. Imagine meeting someone that identifies herself as your husband's fiance, how mad would you be as a woman who's been supporting her husband for nearly two decades?
The mayhem that this is bound to cause is something that a lot of women might relate with since the idea of cheating on your spouse is first and foremost not a good idea. But cheating on them and then attempting to marry another woman seems like the mother of all bad ideas. Taraji P. Henson looks like she's about to give another stellar performance as a jilted housewife that is sick and tired of supporting a man that can't do anything but lie to her face while he runs around behind her back. The idea of trying to marry someone behind your wife's back is more than just abhorrent, it's simply too much to believe that it could and has happened in the past. Tyler Perry has gone kind of dark before but this is pushing a new envelope that might see him in line for the next awards season if things go well. It seems kind of morbid to already be counting on success with such a story loaded and ready to release, but so far it looks like something that could be a cautionary tale for men everywhere.
The film will be coming out at the end of March, which of course is rapidly approaching, and it should be something that a lot of people find interesting enough to take a look at. Just remember that hell hath no fury like a woman scorned.
Tell us what's wrong with this post? How could we improve it? :)
Let us improve this post!