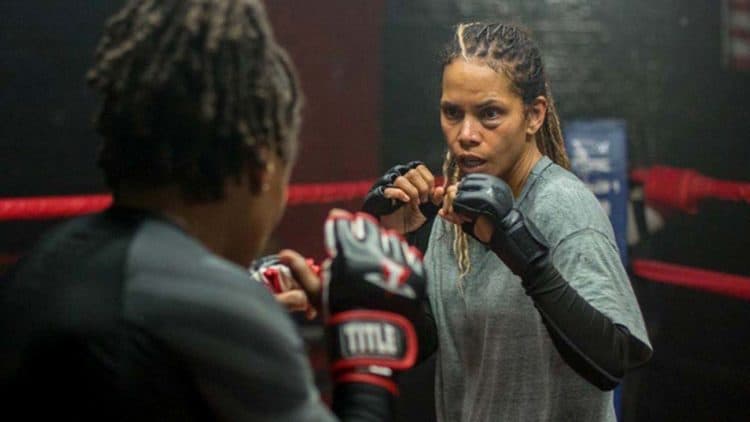 For Sheila Atim co-starring in Bruised as Bobbi Buddakhan, the tough trainer turned certified lover girl was a dream come true as Halle Berry has always been her heroine. In a recent interview with Guardian, Atim's quick to give Berry her flowers by pointing out that Halle Berry is the first black woman to ever win an Oscar and that she's a trailblazer but helped paved the way many African-American actresses like her.
How Does Atim Feel About Her Character On Bruised?
Atim does a phenomenal job playing Buddakhan, the infamous MMA trainer that helps restore Jackie's fighting spirit and gets her in shape to take on a major comeback fight with a big cash prize that's going to change her life. Like Jackie's character Buddakhan has her own wounds. There's past relationships that have left deep scars all of which has shaped her into a rigid person that practices zen and meditation to cope with life. Before, this movie all the MMA experience that Atim had was a couple of martial art classes when she was younger and compilation clips on YouTube. Prior to filming this project, MMA fighting actually made Sheila squeamish. After learning a few moves herself, she now has much respect for MMA fighters and their ability to use different parts of their body to deliver force. Although the script was written for an American Actress, the British Actress didn't have a hard time nailing the cockney accent producers wanted Buddakhan's to have. Atim contributes that to her years of growing up in East London, where she was surrounded by people with cockney accents which is a distinctive English dialect.
How Did Atim Prepare For The Role?
Men are often at the forefront of Mixed Martial Arts and it was important for Sheila to understand a woman's experience in the industry specifically. So she drew inspiration from Anne Wolfe a world-renowned fighter, trainer and actress while preparing for her role as Bobbi. In preparation for her role, Atim also took a few MMA classes in London. She was able to get some insight from friends that are fighters on the training aspect of fighting. Of course, once she got to New Jersey to start filming Atim had stunt training to morph into the skilled fighter/trainer that Bobbi Buddakhan was.
How Did Sheila Atim Land The Role?
Atim was pretty sure that she wouldn't get the role. After all, everything that could have gone wrong while she was filming her audition tape actually went wrong. Atim was forced to record her audition tape in a a window sill at the hotel she was staying at because it was the only place there was adequate lighting and a clear background. It took several weeks for Atim to get the video right because in Savannah, Georgia, where she was located there were tour buses in the background making their rounds giving historical tours. Sheila didn't think the audition tape would be good enough,but it turned out to be perfect. Sheila got the call that she had landed the role in Bruise while on set of Underground Railroad. "It was out of the blue and at the time seemed like a dream," Sheila said during her Guardian interview.
Where Have You Seen Sheila Atim Before?
Although Bruised is one of Sheila's biggest roles to date the thirty-year old Uganda born actress has been putting in work for some time now. Her first television role was in a Hulu series called Harlots. Most of Sheila's experience comes from theatre. Sheila has prominent roles under her belt like Donmar Warehouse Shakespeare trilogies. She also won a 2018 Laurence Olivier Award for Best Supporting Actress in Marrianne Lane's Girl from the North Country. However, you might recognize Sheila Atim most from her performance in Underground Railroad and Amazon Prime series written by Barry Jenkins.
How Was Atim's Experience Working With Halle Berry?
Bruised was Halle Berry's first official directorial debut. Fortunately, Atim has previously worked with directors that were also actors which she says is always a much smoother process because they understand performer's thought process. According to Atim, Berry's wealth of experience made it relatively easy to direct others. It was her genuine gentle nature and kind yet assertive character that resonated most with Atim while filming Bruised. In an interview, Sheila says that she felt very supported by Halle Berry and comfortable enough to ask her for help if she needed it any time. She also loved the fact that Berry trusted her enough to sit in her role and do her job.